About
Type: Extant
Parish: St.John
Founding date: 1668
See on Google Maps!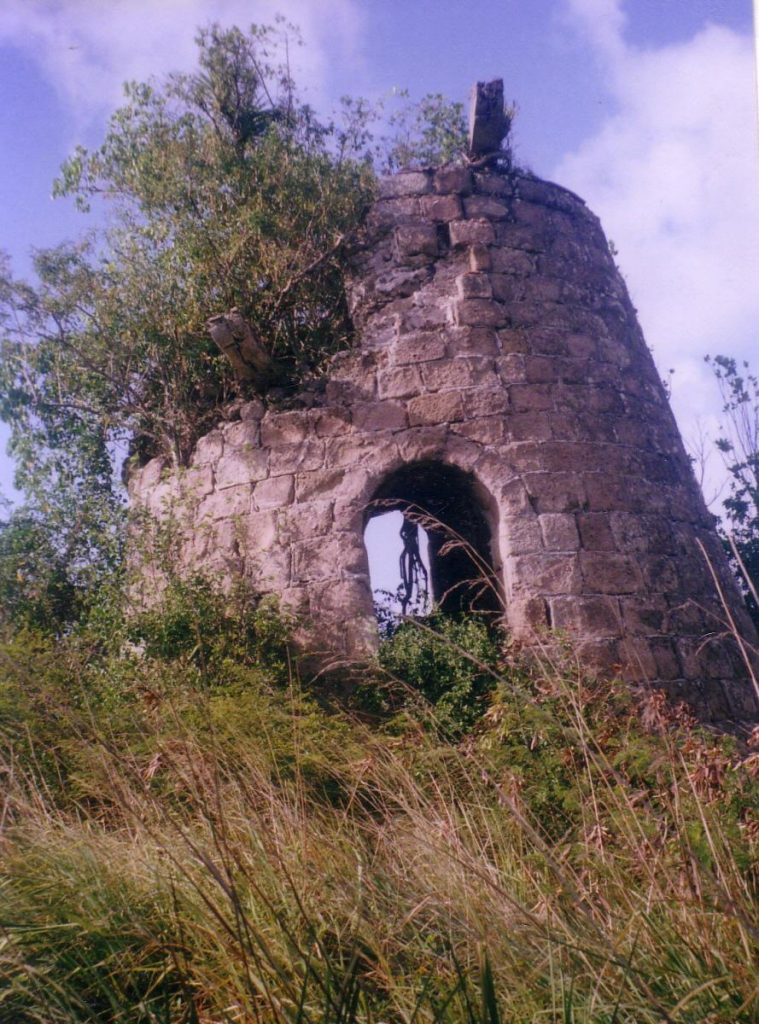 Current Status
The sugar mill still stands, although trees and roots are causing considerable deterioration of the stonework.  The mill is situated on McNish Hill, one of the highest in Antigua.  The mill was often called by that name.  Reaching the mill is a difficult climb, prompting one to wonder how slaves ever cultivated, harvested, and ground sugar cane at that altitude.   The elevation does provide an amazing view of the surrounding countryside from atop McNish Hill, and one can understand why the estate was named Mount View.  Partway down the hill are the remains of a building that may have been part of the works.  There is also a brackish Salt Spring which never seems to run dry, plus the old site of Hamilton (Hambleton) Village which was destroyed by hurricanes in the 1950s.  Three families were living in the Village at the time and were forced to relocate to Bendal's (#37).  Huge royal palms, flamboyants, lilies, and mother-in-law tongue continue to grow on the slopes.
Estate Related History/Timeline
William Allen's only son was murdered in 1768, his 20th year, by soldiers in St. George's Field. The inscription on his tombstone asserts that he was "inhumanely murdered on the 10th May by Scottish detachments of the army." Vere Oliver, Volume I.
An unsourced family tree, produced in 1734, notes that Robert McNish was born in Antigua and married Mary Brodie on November 2, 1796. One of their sons, the Rev. Alexander William McNish, was Robert's trustee. Their other two sons were Brodie George McNish, Alexander's executor, and John McNish. All three sons were jointly awarded compensation for Antigua claim No. 1009.
William McNish is recorded in Antigua as having died in 1798, but it is not known if he owned this estate prior to Robert McNish, a planter, who died in 1828. The Rev. Alexander William McNish died in 1829, all of the same family.
With the abolition of slavery by the British Parliament in 1833, Allen's estate was granted a Legacy award (Antigua 137) of £1,369. 19s. 3p. For granting freedom to 99 enslaved.  The awardees were James H. Barker, Robert McDonald, Brodie George McNish, and Mary Elizabeth (Johnson) McNish.  Robert McNish and Rev. Alexander William McNish, both deceased, were beneficiaries.  Unsuccessful were William Croll, R. Louisa Eldridge, and Benjamin Nicholson.
         There also was a secondary Legacy compensation (Antigua 1009) where all three sons — Brodie George McNish, the Rev. Alexander William McNish (born 1708, died 1837) and John McNish were granted £143. 10s.9p.  The Reverend McNish was the Rector of St. Peter's Church.
The 1777/78 map produced by John Luffman shows a "Biffan's" estate near the McNish property (Allen's). "Biffan's" is shown as owned by Ledwell & Scott, but the name is no longer used and the estate seems to have disappeared over the years; may have been annexed to Allen's.
Rowan Henry purchased the Allen's plantation in 1965 for $16,000. He was one of the few Antiguans who went to England during World War II, where he joined the RAF. Upon his return to Antigua, he became a leading attorney and aspired to challenge V. C. Bird for the office of Premiere. Rowan and his wife were murdered by a crazed gardener; the details are in a 2003 book on diplomatic wanderings written by Bill Cordiner, Cyclones & Cucumber Sandwiches.
         "I was with John Henry on 37 Squadron; we lived in the same tent when we were based at Misurata and Kairouan.  At the end of our tours, was also a Wireless operator, and air gunner.  We both were posted back to Egypt.  I last saw John at the training camp in Tunis.  I would love to hear from him or his family.  All the best, from Tommy."                   Oberser Radio, 91.9 FM.
In 2004, a year after Allen's property was acquired by Winston Derrick, a road was cut following a 100-year-old path through Jennings (#187) and by the dam at Dunnings (#190) to provide easier access to NcNish.  A communications tower was installed on top of the hill by Observer Radio.  Derrick was co-founder of Observer Publications with his brother, Samuel "Fergie" Derrick, who predeceased him.  Winston was described as "fearless", "fair-minded", "humble", "confident" and a "man of indelible character." Observer Hitz 91.9 FM, the Daily Observer, and Observer Printery were all part of the Winston media empire founded in 1993.
Enslaved People's History
Legacies of British Slave-owners: Based on contemporary research, we have little information to share about the enslaved peoples from this plantation at this time. They probably had a maximum of 85 people working at that plantation. With the abolition of slavery by the British Parliament in 1833, Allen's estate was granted a Legacy award (Antigua 137) of £1,369. 19s. 3p. for granting freedom to 99 enslaved. Reaching Allen's mill is a difficult climb, prompting one to wonder how slaves ever cultivated, harvested, and ground sugar cane at that altitude. We will continue our quest for more information about these vital individuals.
Ownership Chronology
1668 William Allen. Granted 297 acres
1720 Robert Allen d. 1730
1730 William Allen (1709-1804) 232 acres, 71 slaves.
1780 William Allen. 182 acres, 85 slaves.
1785 Thomas Allen (1777/78 map by cartographer John Luffman.)
1790 Robert McNish (1755-1828) 239 acres, 81 slaves.
1852 Heirs of Richard McNish. 239 acres.
1933 John Davis
1965 John Rowan Henry
2003 Winston Derrick, owner of The Antigua Observer. d. 2013.