About
Type: Extant
Parish: St.Peter
Founding date: 1698
See on Google Maps!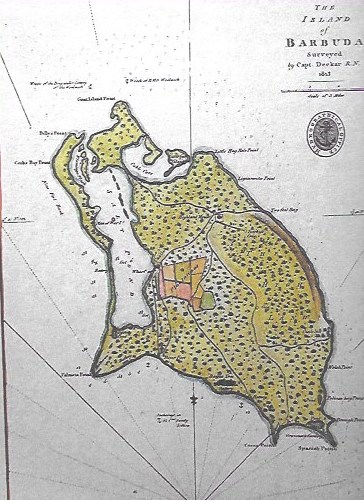 Estate Related History/Timeline
1628: Barbuda was visited by Captain Littleton who named the island "Dulcina" because of its beauty. He was, however, driven away by the Caribs in residence who called the island WaO'moni. Antigua's carib name was Waladli which over the years became Wadadli. Barbuda is 160.56 km, is extremely flat with an area known as the "highlands" rising to 125 ft and a large lagoon in the northwest corner, home to one of the world's largest colonies of frigate birds. The population today is approximately 1,600.
The first Amerindian artifact was discovered by David L. Watters around 1978 and various sites suggest human habitation around 3685 BC. Amerindian sites have been found in Suffra in the Spanish Point area of the island and Indian Town, near Two Foot Bay. Because Barbuda has essentially remained undeveloped, pristine, many archeological digs have been conducted over the years and still remains a favourite in the archaeological world.
1685: Barbuda was leased by the Codrington family from the English Crown for one fat pig or sheep per year. A map made in the second half of the 18th century shows a large plantation in Meadow and Guava area and another large plantation in the Highlands area. There was a fort at River, now known as the Martello Tower and houses at Palmetto Point, Coco Point and Castle Hill. Barbuda was said to be a place to raise slaves for the Codrington estates, not necessarily true, and they certainly raised provisions for their estates on Antigua. Fishing was their main concern an activity still true today, and it was said they lured ships on to the reefs in order to collect the bounty. Barbuda is ringed by reefs with many shipwrecks logged, and I do remember hearing as a child that there was some lovely china being sold in St. John's by Barbudans that came off some ship!
1804: Letters of interest by John James who was the estate manager of Barbuda and Clare Hall for Christopher Bethel Codrington family from 1804-1826 are held by the archives of the University of Texas, Austin, TX. USA. He was an attorney and resident of Barbuda from 1804-1828. In a letter to his superior, Samuel Byam Athill, dated 5th June 1805, Barbuda at that time consisted of 314 slaves, about 500 head of cattle and 20-25,000 sheep. John James died in St. John's in 1826 and though no cause was given, many of his letters to Christopher Codrington state that he suffered a debilitating fever which could have been malaria or Yellow fever, both prevalent at that time.
| | | | |
| --- | --- | --- | --- |
| Attorney Name | Manger Name | Dates | Notes |
| Colonel Benjamin King | | 1740-1746 | |
| | Thomas Beech | -1741 | |
| | Simon Punter | 1742-1743 | |
| | McNish | -1745 | Murdered in slave |
| Rebellion of December 1745 | | | |
| Martin and Byam | | 1746-1761 | Held a lease from the Codrington family |
| Samuel Redhead* | | 1761-1779 | |
| Richard Oliver | | 1779-1783 | as assistant only |
| Richard Clarke | | 1779-1782 | |
| Langford Lovell | | 1783-1792 | |
| | Dennis Reynolds | 1782-1793 | |
| Joseph Walrond | | 1792-1797 | |
| Samuel Byam Athill | | 1797-1805 | |
| | William Collins | 1793-1801 | Dismissed |
| | William Huggins | 1804 | Interim |
| John James | | 1804-1805 | Died 1826, not residents after 1822 |
| Langford Lovell Hodge | | 1805-1816 | |
| Samuel Martin | | 1809-1811 | Was asked by Christopher Bethell Codrington to oversee the management of John James |
| John Osborn | | 1816-1828 | |
| Robert Jarritt | | 1828-1830 | |
| | John Winter | 1827-1830 | |
| John Winter* | | 1830-1836 | |
During Thomas Beach's tenure there was an insurrection in Barbuda known as Beach's Rebellion arising from cruel and inhumane treatment. Several animals were killed, the Codrington property damaged and some slaves ran away and absented themselves from work. The most serious of the rebellions was in 1834 when an attempt was made to ship all Barbudans to Codrington estates on the mainland and secondly, Barbudans were omitted by the British Parliament from the Slavery Emancipation Act of 1834, so numbering about 500, they freed themselves.
1833: In 1833, Parliament finally abolished slavery in the British Caribbean, Mauritius and the Cape. The slave trade had been abolished in 1807 but it took another 26 years to effect the emancipation of the enslaved. The legislation of 1833 was the result of a combination of factors where it was felt that the plantation owners should be compensated for their slaves who were to be freed. The amount of 20 million pounds, a huge amount in those days, was divided up between all slave owners. Sir Christopher Bethel-Codrington Bart(Barbuda a dependency of Antigua) view – £6286 18s 11d (492 enslaved).
1947: Codrington Village was given roads called after war time Premier Churchill and his Naval Military and Air Force Chiefs according the Syndicate Estate minutes.
Legacies of British Slave-ownership claimants
**See Joy Lawrence's book on Betty's Hope and Barbuda for further information**
Enslaved People's History
Based on contemporary research, we have little information to share about the enslaved peoples from this plantation at this time. We know that Samuel Byam Athill, in a letter to his superior dated June 5, 1805, Barbuda at that time had 314 enslaved people, about 500 head of cattle, and 20-25 sheep. We also know that the estate was awarded £6286 18 s 11 d for the liberation of 492 enslaved people after the abolition of slavery in 1833. We will continue our quest for more information about these vital individuals.
Ownership Chronology