About
Type: Extant
Parish: St.John
Founding date: 1682
See on Google Maps!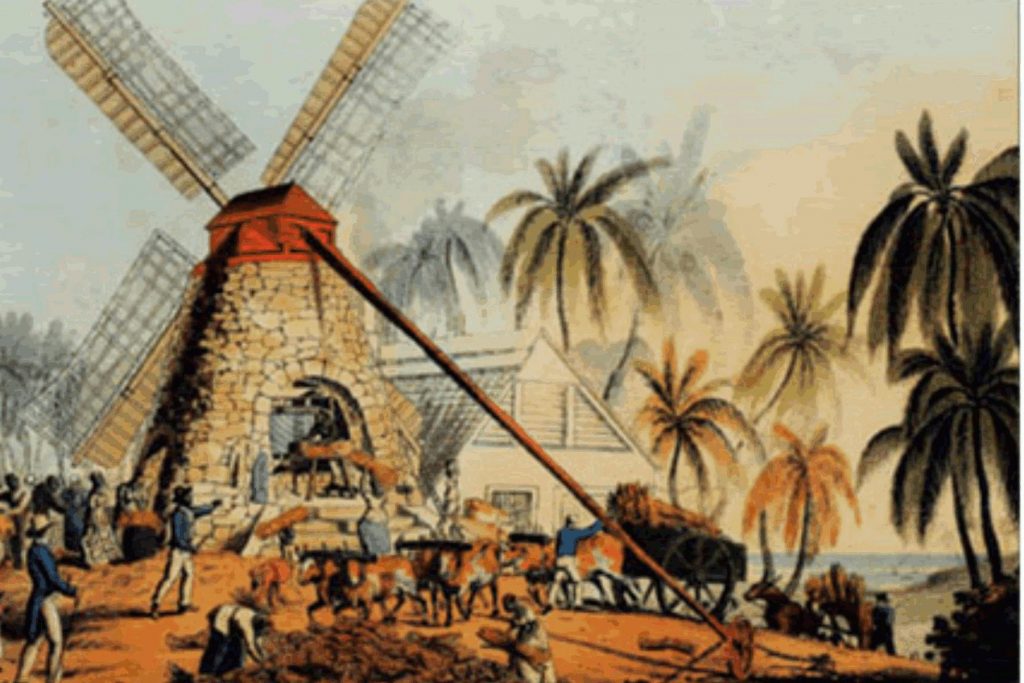 Current Status
The estate house still exists on the hillside with views over the valley extending to Body Ponds (see St. Clair #35 and Body Ponds #41). The sugar mill no longer exists, but it is known that this mill, together with Belvedere's (#38), Bendel's (#37) and George Byam's (#39) were converted to steam in the mid-1800s.
         This estate was visited by Gay Byam around 2009 as she attempted to trace the footsteps of her ancestor, Lydia Byam (c. 1800), who had kept a diary then in Gay's possession.  The diary extolled the beautiful gardens on the estates, and Belvedere was described as one of the most beautiful, with walled tiers accessed by steps and planted with tropical plants.  Gay did find several of the steps and old walls and entered the foundation below the house, which is still standing. The foundation had walls three feet thick with narrow slits for shooting at marauding Caribs or French.  When approaching from the direction of the Bendal's estate there are the remains of an old structure which may have been the works for Belvedere.
Estate Related History/Timeline
When the French captured the island of Montserrat in 1676, Lieutenant Colonel Sutton of that island escaped into the woods and found "Henry Ashton, Esq., son of ______ Ashton, formerly Governor of Antigua and a current resident of Monserrat, lying desperately wounded."  He carried [him] into the house of Mr. Angus, "which the Indians then burnt down and they said Henry Ashton was burnt alive."   Vere Oliver, Volume III.
In 1682, carpenter Edward Horne held a patent for 400 acres, and in 1702 he was granted another patent for 750 acres in the Body Division of Antigua. A letter dated c.1697 states that "Sam Horne, Collector of ye Duty in Antegoa [sic], a man of very morose temper, who by his trading and concessions has got a great Estate [and] a few years ago was servant to one Mr. Cole in Nevis." Vere Oliver, Volume II.
(A comprehensive history of the Morris and Horne family, from Wales, may be found in the National Library of Wales Journal.)         In 1787, there is an indenture record which shows "Horne's containing 247 acres, 3 roods, and 30 perches. Schedule 1.  Belvedere Plantation [with] men 44, women 73, children 30, mules 12 and 1 old, cattle, 9 oxen, 7 bulls, 11 cows, 5 calves."  Also owned Pare's Plantation (#84).                     Vere Oliver, Volume III.
"There were hard times on the estates around 1846, but even then there was the occasional spark of new enterprise. One gentleman, Mr. Fryers acquired eight Antiguan properties: Bendel's (#37), Belvedere (#38), George Byam's (#39), Bath Lodge (#33), Halliday's Mountain (#49), Bodkins (#142), Green Castle (#163) and Rigby's (#162). [His] intention was to introduce a shortened manufacturing technique. The cane juice was to be brought in as rapidly as possible by evaporation to a solid state of 'sugar concentrate' which would be exported in 'blocks' to Britain for processing and refining. A patented 'concretor' costing about £1,000 had been designed and was to be manufactured by Messre. Manlove, Elliott & Company of Nottingham for Fryer's Concrete Company. The enterprise was not successful." Robert Hall, "First of the Leewards".
"If we wish to know, after the composition of concrete sugar and good 4th, what would be the return in concrete sugar No. 4 and molasses, we arrive at the following result:
Extractible sugar calculated……………….58%
Molasses……………………………………………16%
Or in good sugar No. 4……………………..74%
In Colonial Molasses………………………..26%
"The above 74 kilos are worth, in Paris, 46.9 francs to which must be added the value of 26 kilos of colonial molasses; considering that the 74 kilos of good 4th have paid less freight than 100 kilos of Fryer concrete sugar, it is plain that there will be more profit in making good ordinary or white sugar at the Antilles, than in making the Fryer concrete sugar. Mr. Dubrunfaut does not recommend the adoption of the fryer system into the French colonies, where the sugars are poor in refined sugar and rich in molasses, but he thinks it well adapted for the Antigua sugars." Chemical Notices from Foreign Sources, 1878.
In 1941, the Antigua Sugar Factory Ltd., estimated cane returns from Belvedere at 3,344 tons from 218 acres including 160 acres of peasant land, 4,348 tons of cane delivered averaging 12.52/acre.
Enslaved People's History
Based on contemporary research, we have little information to share about the enslaved peoples from this plantation at this time. They probably had a maximum of 125 people working at that plantation. We will continue our quest for more information about these vital individuals.
Ownership Chronology
1682: Edward Horne.
1760: Valentine Morris Horne b. 1739. Sold to –
1771: Honorable Dr. Ashton Warner
1789: Mary Ann Massett. The heir of Dr. Warner, who left her "all liquors in my house at St. John's and on my estate called Belvedere. I do not wish Belvedere to be sold. 1/2 of the plantation and slaves in the Old north Sound Division (Pares) and also a plantation I purchased of the late Valentine Morris Horne, Esq."
1820: Messrs. Robert & Thomas Hyndman. By 1829, the estate contained 361 acres worked by 125 slaves
1843: T. Sanderson
1852: Heirs of T. Sanderson 361 acres.
1872: Fryer's Sugar Concrete Company
1891: Lee Spooner & Company
1921: Lee Spooner & Company
1930: M. V. Camacho
1933: E. L. Ward. (1933 Camacho map.)
1940's: John I. Martin