About
Type: Ruin
Parish: St.Mary
Founding date: 1696
See on Google Maps!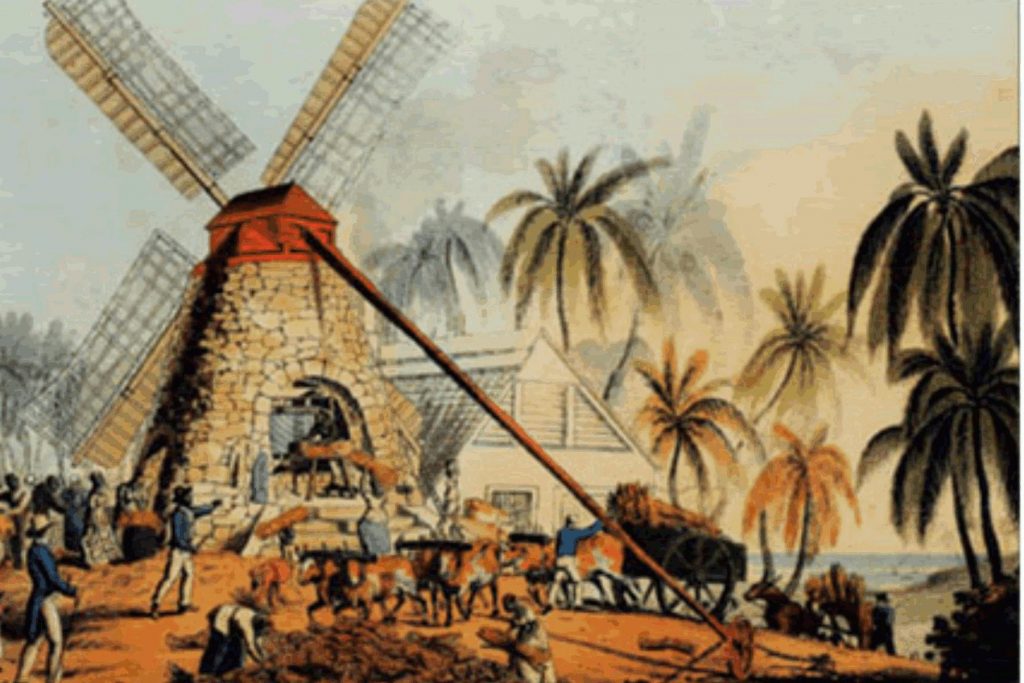 Current Status
There is no longer a mill at this site.
Estate Related History/Timeline
1685: Capt. John Lingham (d.1685 )seised of a plantation called Blubber Valley and Musketo Cove. Kathryn Lingham in 1688 rated on 850 acres and 78 negroes. Vere Oliver Vol.II p.187
1696: Capt. Henry Pearne a member of the vestry of St. Mary's Parish, was rated on 750 acres and 74 slaves.
1706: Col. Henry Pearne's estate in St. Mary's Parish was rated on 665 acres and 150 slaves.
1710: Robert Pearne (d.1718) owned Blubber Valley of 1200 acres and Musketo Cove of 60. Vere Oliver Vol.III p.18
1712: In the Court of King's Bench and Common Pleas Mary Lingham and the Guardians of Robert Pearne, are the Blubber Valley and Musquito Cove Plantations of 1200 acres and 100 negro men, 20 women, 20 boys, and 20 girls. Vere Oliver Vol. III p.19.
1737: John Dunbar lived at Blubber Valley Plantation. 1737 Thomas Dunbar (d.1734) of the Leeward Islands, assumed the name of Parke (as stipulated in Daniel Parke II's will) becoming Daniel Parke, when he married Lacey Chester, Parke's natural daughter. Parke's family believed Dunbar's brother Charles, was among those responsible for the general's death. They had three children, Daniel, Lucy and Elizabeth. The Letterbook of John Custis IV
1757: Will of Robert Pearne (d.1757), "1/2 of my plantation in Antigua to John Willes for life then to his first son John Willes. The other 1/2 to Chas. Spooner and his heirs". In 1787 Dr. John Dunbar lived at Blubber Plantation. In 1829 this Estate, combined with Rose Valley, contained 1164 acres and 240 slaves.
1851: The Antigua Almanac shows Blubber Valley, & c. of 1164 acres belonging to Heirs of F. T. Shaw.
1852: Blubber Plantation was owned by W. Dunbar and contained 165 acres. Vere Oliver Vol.I p.225
1943: August 1st Gunthorpes Estates Ltd. was restructured (see #64 Gunthorpes) into a 'new' company renamed Antigua Syndicate Estates Ltd. The Bennet-Bryson estates were Sanderson's, Long Lane/Lavingtons/Ffryes, Burkes/LaRoche/Willis Freemans, Jolly Hill (Jolly Hill, Blubber Valley, Ffryes, Montrose, Yorkes, and the Cove), Hawes and Mercer's Creek, Cochranes and Thomas's, and were bought for 39,000 pounds.
1945: It was agreed by the Syndicate Estates to rent a coconut grove on the estate to Arthur Hallpike to increase the growth of coconuts for pig feed. ASE Minutes. Archives of Antigua & Barbuda.
Enslaved People's History
Based on contemporary research, we have little information to share about the enslaved peoples from this plantation at this time. We do know that the number of enslaved peoples at this estate fluctuated over time, reaching its peak in 1829 of 240 individuals. We can learn from this documentation that the Blubber Valley and Musquito Cove Plantations of 1200 acres had "100 negro men, 20 women, 20 boys and 20 girls" in 1712. We will continue our quest for more information about these vital individuals.
Ownership Chronology
Ownership from 1696 Capt. Henry Pearne.
1710:Robert Pearne (d.1718)
1750:Robert Pearne (d.1757). 1743 acres.
1787:Dr. John Dunbar.
1790:Spooner & Willa.
1829:P.T. Shaw.
1843:P.T. Shaw. F. Shand & Co. Lessee. 1164 acres 240 slaves.
1846: Horsford Almanac
1851:Heirs of F.T. Shaw.
1852:William Dunbar.
1871:W.H. Edwards Dr.
1878:G.W. Bennett. 664 acres leased to W.H. Edwards
1878 Horsford Almanac
1891:Heirs of G. Bennett.
1933:G.W. Bryson & Co. Ltd.
1933 Camacho map.
1943:became part of the Jolly Hill estate