About
Type: Extant
Parish: St.John
Founding date: 1679
See on Google Maps!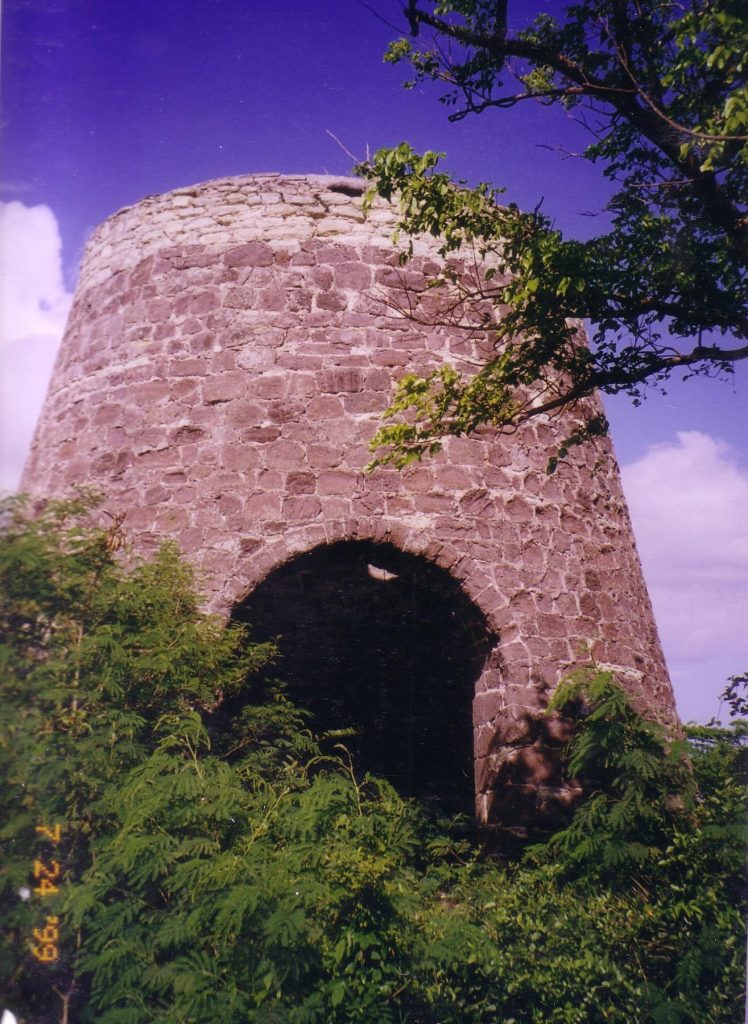 Current Status
The sugar mill still exists, and a chimney gives evidence of having been converted to steam. The estate house was constructed of stone. Not only has it survived, but it has been completely refurbished by the current owner, Rob Sherman, and his wife Bernadette. It features an unusual hexagonal brick entryway similar in style to that which had been used at Milly Byam (#145), now in ruins, and the Pare 's Estate (#84). The valley below the house is very fertile thanks to abundant rain and its proximity to Body Pond. That catchment was used by the residents of St. John's as their primary source of fresh water. The original pumping equipment decorates the old Redcliff Tavern in St. John's, which is now a clothing shop.
Estate Related History/Timeline
In 1912, when the Wallings reservoir was empty, a water supply from Body Ponds was considered for St. John's. That same year Body Ponds was dammed and water wells dug. In 1925, Governor Ffiennes had Body Ponds enlarged from four-to-five times its original size. In 1933, the first water treatment plant for Body Ponds was built at Grays Hill. The Antigua Times, in July 1863, referenced the existence of "rivers" at Body Ponds, Tom Moore's Old Mill Estate (#175) and the Jonas Estate (#85).
Body Pond is actually a series of three ponds — Fisher's, Fiennes and Swetes — northwest of the village of Swetes and quite close to Wallings. They cover an area of 2,000 acres with a water storage capacity of 96 acre/ft. The name, Body Pond, most likely is derived from the following quotation in an 1801 diary: "We passed what are called the Body Ponds, that is a circle of spacious ponds in the body of the island. These are surrounded with trees under the shade of which we observed a table spread, and a company of gentlemen at dinner. It was a meeting of the Sprat Club…."
At the time of his death in 1686, William Stapleton owned, or had an interest in, sugar plantations on four islands, and had become a very wealthy man. His first acquisition was on Monserrat, where he was granted the Waterwork plantation in St. Peter's Parish. He also owned a plantation on Nevis, where he resided. He granted this estate to Major Charles Pim on May 1, 1678, and then re-purchased it on the same day for 400,00 pounds of muscovato sugar! But, William wasn't done!
He also owned two plantations on Antigua, called Carleton, which he granted on behalf of the Crown, to his brother, Redmond Stapleton, in 1679. Three years later, in 1682, William re-purchased these two estates from his brother for 100,000 pounds of muscovado sugar. (He must have loved muscovado sugar!) Then, in 1684, Philip de Nogle assigned his plantation in Cayon Quarter on St. Kitts as a gift to Stapleton.
William died, in Paris, on August 3, 1686. In his will, he bequeathed half of his Nevis plantation and all of the storehouses in Charleston to his wife, Anne Rusell, for her life. The other half of the estate he bequeathed to his eldest son, James (1672 – 1690), his main heir, or in default to his second son, William, or his third son, Miles, and their respective male heirs.
         He left his plantation on Monserrat to his son William and the two Antigua plantations to his son Miles.  He also directed that Philip de Nogle's plantation  on St. Kitts was to be sold after the present occupier's death, and that an estate in Ireland should be purchased for his son William.         Bangor University Stapleton-Cotton Manuscripts.
         "Probably the oldest conservation law in the Caribbean was enacted in 1721, the Body Ponds Act, No. 14.  It prohibited the felling of trees within 30 ft. of the edge of the ponds.  It stated that the trees 'keep waters fresh and cool, (for if they are) exposed to heat and exhalations of the sun, the waters are in great danger of being dried up." Desmond Nicholson, Heritage Landmarks.
By 1831, the Moravian community represented two-thirds of the slave population on Antigua.  The Rev. Maynard said Sister Salome Cuthbert, who was born at Body Pond, was one of the negro helpers when the Grace Hill Church was still at Bailey Hill.  Sister Cuthbert had been a slave of Mrs.  Cuthbert, of Falmouth, and when her mistress died she willed that Salome should be set free and given £10 annually from her estate. Hewlester A. Samuel, Sr.
When the British Parliament abolished slavery in 1833, the Body Ponds estate was granted a Legacy award (Antigua 91) of £1,704. 6s. 11p. for granting freedom to 102 slaves. The sole awardee was John Hyde Doyle; Charles M. Clarke was listed as "other association".
It appears that both George Doyle and his son John Hyde Doyle were absentee landowners as both lived in England, yet John's marriage license from 1830 states that he resided in Antigua. The genealogy site states that he was married at St. James Church to Laura Sarah, second daughter of the late Vincent Kennet, Esq., of Portland Place.
John was awarded compensation for the Body Ponds estate on Antigua, although the estate had belonged in part to Mary Doyle, presumably John's mother. The will of John Hyde Doyle, proved in 1830, makes no reference to Antigua nor the Body Ponds estate, which was registered to George Doyle in 1821, 1826 and 1828. The will of George Doyle, late of Barton Street but then of the War Office, Horse Guards, proved 19/07/1830, Pro. 11/1773/307.
It is said that David "Justice" Cranston owned Body Ponds estate and left it to his son, John Duer Cranston.  For further information on the Cranston family, see Cochranes (#139).
Jules Walters recalls white swans swimming in the dam. A photograph of the swans is located in the Antigua & Barbuda Museum. There is a small grave marker made of green stone on the hill above the Body Ponds estate house, but weather has obliterated the words engraved on it.
         The Harney family were at Body Pond at some point in the 1930s. Mortuary records discernible at the Harney burial site on Monserrat include demographic, burial and artifact information derived from 17 skeletons, 19 unmatched bones, 10 graves, and 134 artifacts.  The cemetery dates from the late 18th century and provides data on the mortuary practices of enslaved people at a time when sugar production dominated the economy of the West Indies. (The National Archives at Kew hold some papers relating to J. A. Harney, Ref. CO 950/470 Memorandum of evidence 1938/39.)
In 1941, the Antigua Sugar Factory, Ltd., reported cane returns from Body Ponds from 82 acres of peasant land on the estate, and 582 tons of cane delivered'.
Richard Burton, CBE, (1925-1984) was a famous Welsh stage and cinema actor noted for his baritone voice and great acting talent.  He established himself as a formidable Shakespearean actor in the 1950s; later married actress Elizabeth Taylor.  It is purported that he purchased the Body Ponds buff house but it is doubtful that he actually ever lived in it prior to it being  resold.                                                                                               Wikipedia.                 
Enslaved People's History
Legacies of British Slave-owners: Based on contemporary research, we have little information to share about the enslaved peoples from this plantation at this time. When the British Parliament abolished slavery in 1833, the Body Ponds estate was granted a Legacy award (Antigua 91) of £1,704. 6s. 11p. for granting freedom to 102 slaves. The Harney burial site on Monserrat dates from the late 18th century and provides data on the mortuary practices of enslaved people at a time when sugar production dominated the economy of the West Indies. A fact of interest is that by 1831, the Moravian community represented two-thirds of the slave population on Antigua. The Rev. Maynard said Sister Salome Cuthbert, who was born at Body Pond, was one of the negro helpers when the Grace Hill Church was still at Bailey Hill. Sister Cuthbert had been a slave of Mrs. Cuthbert, of Falmouth, and when her mistress died she willed that Salome should be set free and given £10 annually from her estate. Hewlester A. Samuel, Sr. We will continue our quest for more information about these vital individuals
Ownership Chronology
1679: Redmond Stapleton d. 1688. 700 acres.
1750: William Young (1726-1788) He was a surgeon
1777: Richard Adney (1777/78 map by cartographer John Luffman.)
1790: Thomas Oliver (1733c.-1815) Lt. Governor of Massachusetts
1829: George Doyle 210 acres; 102 slaves. d. 1830.
1843: John Hyde Doyle (1805-1894)
1877: Heirs of John Hyde Doyle. They owned 210 acres which they leased to E. Melchertson; another 20 acres were owned by James Barrett
1880c: David Cranstoun
1880c: John Duer Cranstoun
1891: Charles Shand
1915: Langford Sully Cranstoun d. 1920.
1921: J. A. Harney
1960's: The actor Richard Burton, the Buff only (1925-1984)
1994: Rob Sherman, the Buff only