About
Type: Extant
Parish: St.John
Founding date: 1718
See on Google Maps!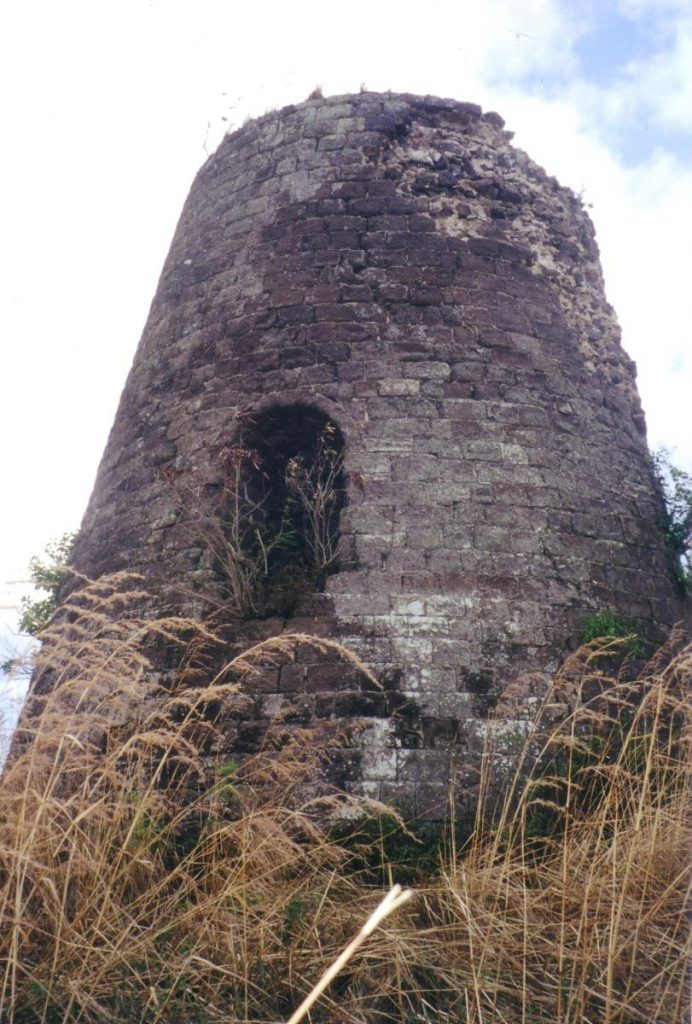 Current Status:
This estate has essentially disappeared with the ravages of time. The sugar mill still stands, but is deteriorating on the windblown hill. The land was quite fertile, and received a considerable amount of rainfall, which made it conducive to growing sugar cane, other crops, and for grazing cattle. The view north of the estate is spectacular, overlooking valleys and water reservoirs.
Estate Related History/Timeline:
Between Brecknock's and Allen's (#48) there was an "estate" called "Hamilton's", which is shown on the 1777-78 map produced by cartographer John Luffman (see #39). It is shown where the small village of Hamilton — or Hamberly, as it is usually called — was obliterated in the hurricanes of the 1950's.
Peter Gaynor was the father-in-law of Sir George Colebrook. He was born in the village of Longwood, County Meath (Ireland), and was encouraged at an early age to migrate to the West Indies. His nickname was "Peter Big Brogues" because of the huge shoes he wore when he left home. He left an estate worth £200,000 to his daughter, Mary Gaynor, when he died in 1738. He made his fortune in sugar and rum.
The merchants and planters of Antigua were far more likely to pay for their provisions and supplies shipped from Ireland by shipping the merchants in that country rum rather than paying cash. Antigua was Dublin's largest source of rum in 1744, and like Peter Gaynor, several Irishman on Antigua grew rich from their combined businesses as merchants and planters.
"Not many people hear of Breaknock (sic) nowadays.  In earlier times people referred to it as the Evergreen Village because it was not known to be every really out of water.  The frequent drought from which Antigua suffers never had the kind adverse effects on Breaknock as on other places.  Its green surroundings and high trees protected the water from rapid evaporation.  The water would get very low at times when the drought was extremely hard and long, but luckily the rain would come in time before the water dried up completely.  The estates surrounding Breaknock were fruitful.  The  belief  was  because  the people  of  Breaknock  and  the surrounding estates were not that badly off because they did not have to bear the extreme hunger and starvation that was the main taker of life on the island.  This does not mean that life was not bad with them.  The circumstance was, the people living there could find a little thing to bite when people in some other places had nothing or very little to eat.  Breaknock  was in the rain belt of the island.  There were gardens with all types of fruit trees, sapperdilla, marmiesupport, custard apple, breadnut, breadfruit, mango, sugar apple, guava,  lime and oranges are some that I can remember.  I would say that Breaknock is close to the mid-south of the island. "It is a little south of Warner and lies east of the Hamilton Estate.  It is west of Body Pond Estate (#41) and close to Body Pond that became well known because it was the main source of water for the whole island for many, many years.  Breaknock is also a stone throw from Sawcolts (#174) in the south."   Keithlyn B. Smith, "A Symbol of Courage".
In 1833, when the British Parliament abolished slavery, Brecknock's estate was granted a Legacy award (Antigua 93) of £989. 10s. 1p. for granting freedom to 63 enslaves.  John Adams Wood was the sole awardee.  Sir James Colebrook appeared under "other association".
John Bennett, who arrived in Antigua in 1830, was an Agent for Lloyd's of London and resided on the island until 1863. He was acting for Joshua Kentish, according to a newspaper story dated July 26, 1830. There was a court case John A. Wood vs. John P. Anderson, and later John Horsford; the partnership between Wood and Bennett was taxed !!!L2. 8s. on property owned on Newgate Street. Bennett acquired Brecknock's in 1843, a small provisional estate of 220 acres. He was appointed Coleboork's attorney in 1833.
In 1864, "the daily yield from the three principal springs, all situated about six miles from St. John's, was measured during a period of drought.  The water from these springs was collected and carried by pipes to a large reservoir situated at Barnes Hill (#71) to the southwest of St. John's: Sawcolt's 12,960 gals.; Mill Hill (#176): 20,160 gals.; Breaknock's: 8,640 gallons."      Vere Oliver, Vol. 1.
Breaknock's village is a small place where the Mullins, Lewis, Jarvis and Philip families come from.  An Englishman call "One Man Band" lived up there and was murdered around 2000 walking home late at night.  He was an entertainer, hence his nickname. Roland Morris, 2004.
Enslaved People's History
Based on contemporary research, we have little information to share about the enslaved peoples from this plantation at this time. They probably had at maximum 234 people working at that plantation.
Legacies of British Slave Ownership: In 1833, when the British Parliament abolished slavery, Brecknock's estate was granted a Legacy award (Antigua 93) of £989. 10s. 1p. for granting freedom to 63 enslaves. We will continue our quest for more information about these vital individuals.
Ownership Chronology
1718: Peter Gaynor d. 1738.
1750: Miss Mary Gaynor (1754-1818)
1777: Sir. George Colebrook to 1790 (1761-1839) He inherited the estate from Mary Gaynor. He was Chairman of the East India Company and a banker in London.
1829: Messrs. Turner 220 acres, 234 slaves.
1833: John Adams Wood.
1843: John W. Bennet. Arrived in Antigua in 1830.
1872: Heirs of John W. Bennet. 234 acres.
1891: Heirs of John W. Bennet
1933: Thomas Symister (1906-1971) 89 years old. (1933 Camacho map.)