About
Type: Extant
Parish: St.Paul
Founding date: 1675
See on Google Maps!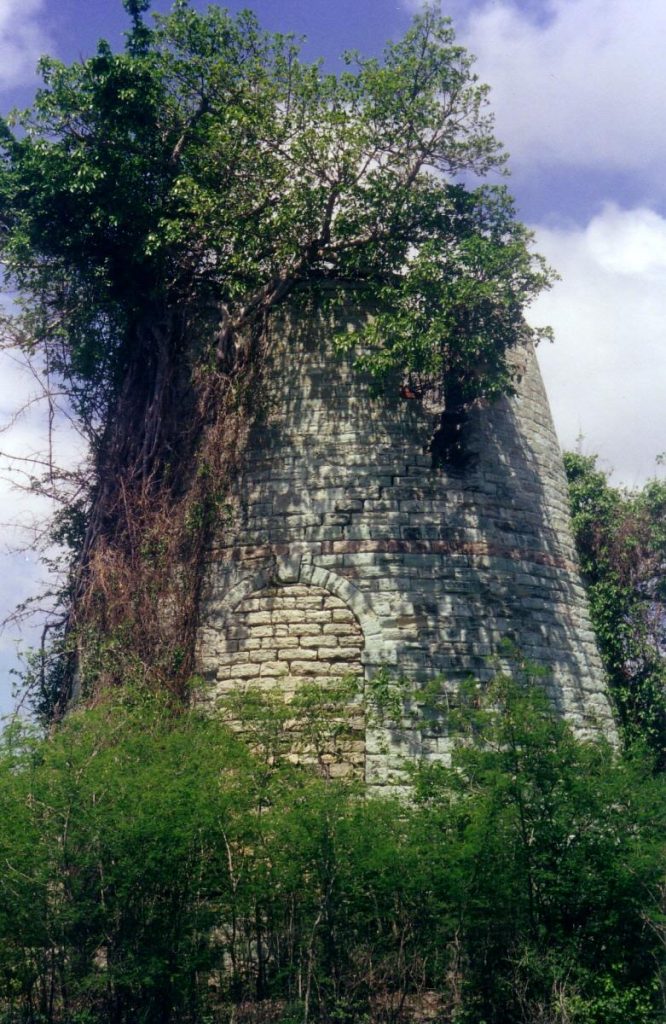 Current Status
The mill has been shortened and turned into a cistern and there is evidence that this estate converted to steam.
Estate Related History/Timeline
"John Burke marriage settlement dated 13 March, 1745, Living 1756. Owned `Burke's' of 450 acres in Falmouth Div., St. Paul's Parish" Vere Oliver Vol.I p.84.
"Indenture 1767. John Burke sells to George Crump, his heirs and assigns all that plantation in the Parish of St. Paul…….. called Burke's Plantation now in the possession and occupation of James Athill of Antigua, surgeon, containing 450 acres…." It tends to get very confusing when it seems impossible for John Burke to sell to George Crump an estate in the possession of James Athill.
"Indenture 1768 John Burke (sell) slaves for Amand and Charity Bonevil." Vere Oliver Vol.I p.84
"Indenture made the 17th August, 1770 between John Burke of Antigua, Esq. and Frances his wife, of the one part, and George Savage of Antigua Esq. on the other part. whereas on the 17th August last past a fire happened in the town of St. John's in Antigua, which consumed the buildings then erected on a piece of land hereinafter mentioned to be conveyed ….etc." Vere Oliver.
1786: In St. John's Churchyard is the headstone "Here Lyeth the Body of Mr. John Burke oblit 8 October 1786, Aged 50 years and also three children, Mary, Thomas & George."
1829: In 1829 Burke's contained 374 acres and 170 slaves.
1851: The Antigua Almanac shows Burke's of 364 acres belonging to Samuel Nelson.
1895: When James Maginley died he was a very wealthy man who owned Glebe House in Killukin, Ireland along with several plantations on the island of Antigua. Burke's (#133) estate, Cedar Hill (74) in the parish of St. George, Sanderson's (#86) in the parish of St Peter, Long Lane (#107) in the parish of St. Paul, Comfort Hall (#103) in the parish of St. Paul and Lavington's (#121) in the parish of St. Paul. James Maginley had two daughters Annie Letitia (Holbrow) and Isabella Maud (Thomas) and one son John William Arthur. On his death while residing at Burkes estate, his properties and wealth in Antigua were divided among his three children, but his Killukin House and lands were left to his son. It is thought that he may have purchased Burkes in 1865 before he invited his wife to join him, which means that he had been working and saving for seven years. Burkes was the estate that the family lived in. It is noted that in 1872 Burkes and Lavingtons had produced 66 hogsheads and 5 tierces of sugar and 27 barrels and 48 puncheons of molasses. (a hogshead is approx. 16-18 hundredweight and a tierce was a third of that).
A record detailing the livestock on the two estates were as follows:
Burkes Lavingtons
Horses 5 3
Mules 1 6
Asses 6 20
Steers 2 –
Cows 4 1
Bull calves 1 1
Heifer calves 1 –
Sheep 56 –
Totals 106 55
In addition at Burkes "one cow and calf kept for Wm" which is thought to refer to William Maginley, his brother.
Of the 5 horses at Burkes, two went in the carriage used by the ladies of the house, two in the buggy driven and used almost exclusively by James Maginley. The fifth horse was a hack.
The social life at Burkes was constant if not dramatic in character. In the first quarter of the year 1889 there were only seven days on which there was no social activity. On 5th January "it was very wet and we did not go to Gilbert's but amused ourselves at home" and again on the 10th but was "saved by having Jem Goodwin in the evening for tea." On the 9th January "The Maginleys came down to spend some time with us and in the evening we had Mary Jane, Eva and Bobby G (Goodwin) for dinner and for tea we had Jem, Thomas and Jane. Had a little dance that evening."
"On the 20th had James R and Mrs Gilpin for dinner and on 6th February Mrs. Thompson and Mrs Hart called to see us, also Mrs Goodwin, Mary Jane and Miss Johnston. including Mrs. Clark and Aunt Hannah. Then on the 15th Maud, Papa and self went to a ball. We danced a good deal especially Maud with young H. We did not come home 'till morning.' Next day we were very tired after the ball, our first."
Later entries denote visits to Gilbert's, where they often played tennis and held musical evenings, The Gardens, Cassada Gardens and Vernon's. Horseback riding was the norm. The young ladies travelled in a carriage which was large and imposing, with a coachman and two black horses It was often mentioned that the vehicle should have been purchased by Government House, as it outshone any on the island. Church also played a large part socially.
Diary of James Maginley & History of The Glbe House, Killukin, Ireland.
James Maginley died after a short illness of eight days. His funeral which took place at 3:30pm was most impressive, and was attended by persons of all classes, thereby testifying to the esteem in which he was held. No less than one hundred carriages were in attendance, so that as Burkes is only about half a mile from All Saints Church, when the funeral service was going on in the Church the carriages were still streaming out from Burke's.
Writing of Mr. Maginley a correspondent Planter wrote "For the planting industry generally on Antigua the late Hon: James Maginley undoubtedly did much by his example. Early in his career he saw the capabilities of our soil and that a generous outlay on it was the right policy to pursue. Neither low prices nor dry seasons abated his confidence. By his steady and persistent efforts he greatly increased the productive power of some of the best lands here, and as regards the less fertile, it is probable that but for him many acres now heavy with cane would be given over to acacia and wire-grass. Many excellent methods of cultivation in vogue today of estates all over the island originated with him, or were adopted to suit local requirements."
In 1921 Burke's consisted of 1091 acres.
1872: An example of a newly arrived family that benefited from act was the Maginleys. Two brothers, John and Robert, arrived from Ireland sometime between 1852 and 1872—they are not listed as owning estates in the 1852 almanac, but are 1872. The story is that they came as apprentice planters, or managers, but quickly set about acquiring estates of their own. Using both the court and private sales, they had, by 1878, accumulated almost 4,500 acres and together were the largest owners in Antigua. Their estates (Comfort Hall, Gilbert's, Long Lane, Lavington, Lyons, Willis Freemans, and Burke's/LaRoche/Table Hill) were primarily in the fertile southeast. By 1891—again using the court—these had been supplemented by Cedar Hill and Sanderson's, for a total of nine estates. John served on the Legislative Council for twenty years, as well as on a number of public boards, and was a leading member of the plantocracy.
Charles "King" Ralph (b.1916) of Liberta – tales passed down by his great-great grandfather.
"Burke's was owned by Nelson Burke (1829 Samuel Nelson?) who treated his slaves very badly. To the east by La Roche Hills was the dungeon, the walls of which are still visible today. When a slave was old and of no use, he would be put in a barrel studded with nails and rolled down Bull Tree Hill. The Moravians were given a piece of land on Burke's Estate to build the second Moravian Church. The first Moravian Church was built in 1773. When Burke's was not available, they walked towards Falmouth to a hill called Bailey Hill owned by Joseph Bailey from Ireland, who gave them land. So the second Moravian Church was built on Bailey Hill around 1774.
Buxton Estate moved from Bailey Hill and built here and that is how the village of Liberta was built.
The Adventist Church at Grace Hill burnt to the ground on Easter Sunday and everyone from Liberta went down to give assistance. A new Church was built on Tyrell's Estate called Bethel Adventist Church."
Mr. Ralph's house is on a hill overlooking the ghut below Liberta and Brooke's Estate.
Early Missions were called "stations". The first was built by Mr. Gamble's estate in 1761. Thereafter, the building boom continued apace with Falmouth (1774), Gracehill (1782), Old Road Town 1797, Gracebay (1822), Newfield (1818), Mt. Joy (1821), Cedar Hall (1822), Seaview Farm (1830), Gracefield (1839), Greenbay (1845), Johnson's Point (1860). This within 100 years of establishing the first station, the Moravian stations dotted the entire landscape of the island of Antigua, often including schools for both slave children and adults. Schooling was done both in the day and the evening. The estates of Mt. Pleasant, Bizzards, Drehilll, Popeshead, Casada Gardens, Galley Bay, McKinnons, Winthorp's, Coates, Sir George Thomas, Gaynor's, Gibbs, Bannacha and Skerrett's all had schools.
Soon "Education" and "Moravian" had become almost synonymous.
Magazine Moravian Church Antigua Conference, 250 years by Lorna Simpson.
1941: Antigua Sugar Factory Ltd Cane Returns for 1941 Crop. Burkes. Estimated 4460 tons, 152 acres estate, 60 acres peasants on the estate, tons of cane delivered 3774 at 20.75 tons per acre.
1943: August 1st Gunthorpes Estates Ltd. was restructured (see #64 Gunthorpes) into a 'new' company renamed Antigua Syndicate Estates Ltd. The Bennet-Bryson estates were Sandersons, Long Lane/Lavington's/Ffrye's, Burke's/LaRoche/Willis Freemans, Jolly Hill (Jolly Hill, Blubber Valley, Ffrye's, Montrose, Yorke's and the Cove), Hawes and Mercer's Creek, Cochranes and Thomases, and were bought for £39,000. All of the Bennett-Bryson estates were transferred to the Antigua Syndicates Estates, Ltd..
1952: the Antigua Syndicate minutes show that in 1952 that the Manager was Norris Abbott and the Overseer Ronald Baynes.
1955: In 1955, Burkes was in Group A under Superintendent N.C. Abbott with Lavingtons and Delaps for a total of 541.1 acres.
In 1955, a fire completely destroyed the manager's house on Tuesday 12th July, 1955.   A loan of $1,200 was made to Mr. Norris Abbott, the Manager, who had lost all his personal belongings in the fire.   Mr. & Mrs. A. Chambers of All Saints provided shelter for Mr. Abbott and family the night of the fire.   Mr. I.E.A. Barnes was asked to supply a quotation for building a house to the Company's plan, the cost of which was $20,000.    Antigua Syndicate, Ltd.  Minutes
1969: The Lands of Antigua & Barbuda Sugar Factory Limited and The Antigua & Barbuda Syndicate Estates Limited (Vesting) Act. 30th December, 1969.
All that piece or parcel of land forming part of Burke,s, La Roche,s, Willis Freemans and Table Hill approximately 769,999 acres as contained in Certificate of Title No.211944 dated 17th February, 1944 and registered in Register Book Q Folio 47.
Enslaved People's History
Based on contemporary research, we have little information to share about the enslaved peoples from this plantation at this time.
We only know that, in 1829, Burke's contained 374 acres and 170 enslaved people, and Burke's was awarded £2,866 11 s 9 d for the liberation of 153 enslaved people later that year.
We will continue our quest for more information about these vital individuals.
Ownership Chronology
Ownership from 1675 Wiliam Bourke
1750: John Burke
1790: Hon. John Burke – 1777/78 Luffman map
1829: Samuel Nelson
1851: Samuel Nelson
1865: James Maginley (1835-1895)
1921: J.W.A. Maginley
1933: G.W. Bryson & Co. Ltd. 1933 Camacho map
1943: Antigua Syndicate Estates Ltd
1969: Antigua Government – Crown Land