About
Type: Ruin
Parish: St.John
Founding date: 1700
See on Google Maps!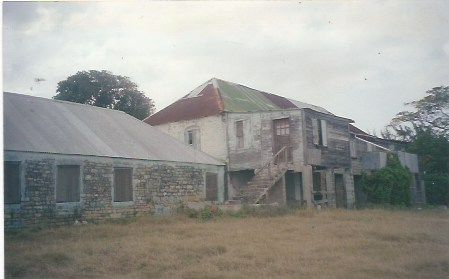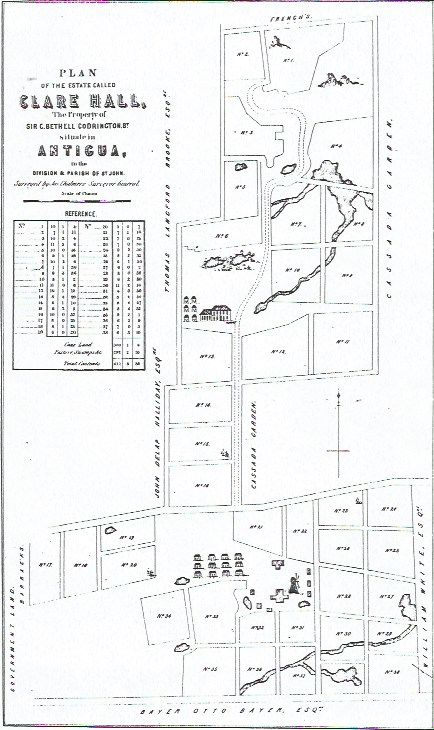 Current Status
The mill no longer exists on this site, but there is a detailed plan of the estate's entire layout.
Estate Related History/Timeline
Robert Skerrett Nugent, who took possession of the estate in 1765, was Irish and owned property in County Clare, Ireland. He considered himself a "near relative" of Walter Nugent, who owned this estate seven years earlier. He married a Miss Craggs and obtained the title of Baron Clare. "My father, having about this time built a house on his estate in Antigua, obtained His Lordship's consent to call it Clare Hall, by which name I always heard it called while I had connection with a hope from it."
An excerpt from a letter dated December 27, 1844, written by a Major Nugent-Dunbar to his son states: "Walter Nugent was the first Nugent to settle in Antigua following the family's forfeiture of lands in Drumcree, County Westmeath, Ireland around 1720. He acquired two portions of land at St. John's town. The Robert Baker map of 1740 shows four plots of land to the north and east of St. John's belonging to Walter Nugent." Nugents of Antigua.
In 1721, Robert Skerrett, of Nugent's, sold the 500-acre estate in St. Philip's Parish. He died in 1771.
Oliver Nugent, first son and heir in his family, was baptized May 22, 1737 at St. John's, is credited with building the Clare Hall manor house. He was a member of the Council, sold his estate to Robert Skerrett, a resident of Dominica, in 1773. Oliver went bankrupt in 1777 and died in North America in 1802. Vere Oliver, Volume II.
According to an October 22, 1936 circular of the West Indies Committee (and subsequently published in the Antigua Star), the Nugent estates were sold in 1765 by Oliver Nugent, the son of Walter Nugent and grandfather of Sir Oliver, to Robert Skerrett, who had married his sister, Antoinetta, the daughter of Walter and Antoinetta Skerrett. This created the Skerrett estates.
By 1768, the Skerrett family had relocated from Galway, Ireland and, like the Nugent's, were one of the original Irish families to settle in Antigua. Robert and Antoinetta Skerrett had no children, so some of the estates owned by the family, variously known as "Skerrett's" or "Nugent's", reverted in due course to Nugent ownership. This same year a small part of the estate called Dunning Hill was sold to the island's Assembly for £2,000 to erect Government House. The sale was completed by Antoinetta Nugent the widow of Walter Nugent, and her grandson Nicholas Nugent.
Oliver and Bridget (Lynch) Nugent's second son — Nicholas Nugent — became a doctor and lived most of his life in Antigua. He became Speaker of the Assembly, and in 1829 he either bought or inherited the Nugent/Skerrett estates from his cousin, John Lynch, Antoinettea Skerritt's nephew. Nugget's of Antigua, and Vere Oliver, Volume III
John Kirwan secured possession of the numerous Nugent's estates in 1774 as mortagee, and held them for 24 years until his death in 1806. He had amassed a fortune of £150,000; was known as "a rough Irishman noted for his blunders." Vere Oliver, Volume II.
Joseph Liggins lived in London, and was absentee proprietor of Clare Hall, Lyons (#123) and Ffrye's (#118) estates. He was buried at Kensall Green Cemetery. St. Phillip's Anglican Church, Antigua.
The Clare Hall estate, alias Nugent's alias Skerrett's, runs almost a mile on the road past the barracks on the edge of St. John's. It was described by Ms. Janet Shaw, author of Journal of A Lady of Quality as a plantation "belonging to a Lady, who is just now in England. From her character I much regret her absence, for by all accounts she is the very soul of whim. Her house, for she is a widow, is superb, laid out with groves, gardens and delightful walks of Tamarind trees, which give the finest shade you can imagine. "Here I had an opportunity of seeing and admiring the palmetto tree with which this Lady's house is surrounded and entirely guarded by them from the intense heat. They are in general from forty to sixty feet high before they put out a branch, and as straight as a line. If I may compare great things with the small, the branches resemble a fern leaf, but are at least twelve or fifteen feet long. They go round the boll of the tree and hang down in the form of an Umbrella; the great stem is white, and the skin like Satin. "Above the branches rises another stem, of about twelve or fourteen feet in height, coming to a point at the top, from which the cabbage springs, tho' the pith or heart of tree is soft and eats well. The stem is the most beautiful green you can conceive, and is a fine contrast to the white Boll below. The beauty and figure of this tree, however, rather surprised than pleased me. It had a stiffness in its appearance far from being so agreeable as the waving branches of our native trees, and I could not help declaiming that they did not look as if they were of God's making. "We walked thro' many cane pieces as they term the fields of Sugar-cane and saw different ages of it. We returned from our walk, not the least fatigued, but the Musquetoes had smelt the blood of a British man, and my brother has had his legs bit sadly. Our petticoats, I suppose, guarded us for we have not as yet suffered from these gentry."
With the abolishment of slavery by the British Parliament in 1833, a legacy payment of £4,442. 2s. 0p. (Antigua 101) was made to the owners of Clare Hall for granting freedom to 296 enslaved.
In 1847, the estate was sold at public auction, according to Vere Oliver. "Particulars of a freehold plantation called Skerrett, otherwise Clare Hall, situate in the Parish of St. John's . . . which will be sold . . . at the Public Sale Room of the said Court, at Gray's Inn Coffee House, Holbourn, London, on Monday, the 13th day of September, 1847. Containing about 612A 3R 39P of land, more or less, of which 320 acres are cane lands and the remaining pasturage and swamps . . . together with the messuage or dwelling house thereon, managers' and overseers' houses, labourers' cottages, windmill boiling and airing houses, still with their fittings and appurtances, stills, coppers, worm tubs, clarifiers, coolers and all other matters and things there to belonging, store rooms, Stables, and cattle sheds, also farming utencils, carts, harrows, agricultural implements, cattle, horses, mules and asses, with harness, saddles, bridles and other gear, and other matters and things of the said estate. Sir Oliver Nugent."
Vere Oliver, Volume II.
Five years later, in 1852, Skerrett's 314 acres was described as "a boys' home very near Clare Vue Hospital ("crazy" house) that dealt with truant boys." Nearby was also Lady Nugent's Cemetery which was the pauper's burial ground which was later moved out of town to the site that the new Market now stands. A nearby street still bears the name of Lady Nugent.
"In 1902, the Botanic Garden was transferred from Clare Hall to Victoria Park immediately east of St. John's, now known as the Botanical Gardens. It was argued that Clare Hall was too exposed to hurricanes, etc. . . . and a sheltered spot was found in an abandoned quarry thirty feet deep that was about half an acre in size. Along with the environs the area composed of some nine acres.
"The settlement known as Clare Hall was, in 1913, laid out as a model village. It was clean and exhibited as the prime example of what a rural development ought to be. Because of its proximity to St. John's, Clare Hall became one of the early land settlement schemes. "Prior to 1913, Clare Hall and Skerritt's represented the prime agricultural land, so fertile, that in October 1899 the first Botanical Station in Antigua was established there. Two supplementary Botanic Stations were established, one at Cobbs Cross and the other at Body Ponds. Clare Hall was the headquarters. Nearby in Skerritt's a sugar cane experimental station was established to deal with the ravages caused by sugarcane diseases, particularly the Rind fungus that affected the Bourbon cane which was the most popular variety of cane grown in the island at the time."
Selvyn Walter, "Not A Drum Was Heard".
In 1941, the Antigua Sugar Factory's return from the sugar cane crop at Clare Hall and Golden Grove was estimated at 1,240 tons; actual tonnage was 1,247. Vere Oliver, Volume II – contains a plan of Clare Hall.
Enslaved People's History
Based on contemporary research, we have little information to share about the enslaved peoples from this plantation at this time. When the British abolished slavery in 1833, a legacy payment of £4,442. 2s. 0p. (Antigua 101) was made to the owners of Clare Hall for granting freedom to 296 enslaved. We will continue our quest for more information about these vital individuals.
Ownership Chronology
1700: Richard Oliver. d. 1716. 520 acres, St. John's Division
1716: Richard d.1763, and Rowland Oliver d. 1768
1737: Oliver Nugent. d. 1802. 500 acres
1758: Walter Nugent.
1765: Robert Skerrett Nugent. Married to Robert's sister. d. 1771
1774: John Kirwan. d. 1806.
1777: Sir Peter Parker. (1777/78 map by cartographer John Luffman.)
1790: Charles Warner Dunbar
1800: Joseph Liggins. d. June 22, 1800
1806: Nicholas Nugent
1820: John Lynch
1829: Nicholas Nugent, MD
1851: Sir. W. C. Codrington. 613 acres
1872: Henry Liggins. 613 acres, leased to a Dr. Edwards as a grazing farm
1900c: Sir C. Bethel Codrington
1913: Clare Hall model village
1960c: Ellis Dowe. He later turned the buff house into apartments