About
Type: Ruin
Parish: St.Mary
Founding date: 1652
See on Google Maps!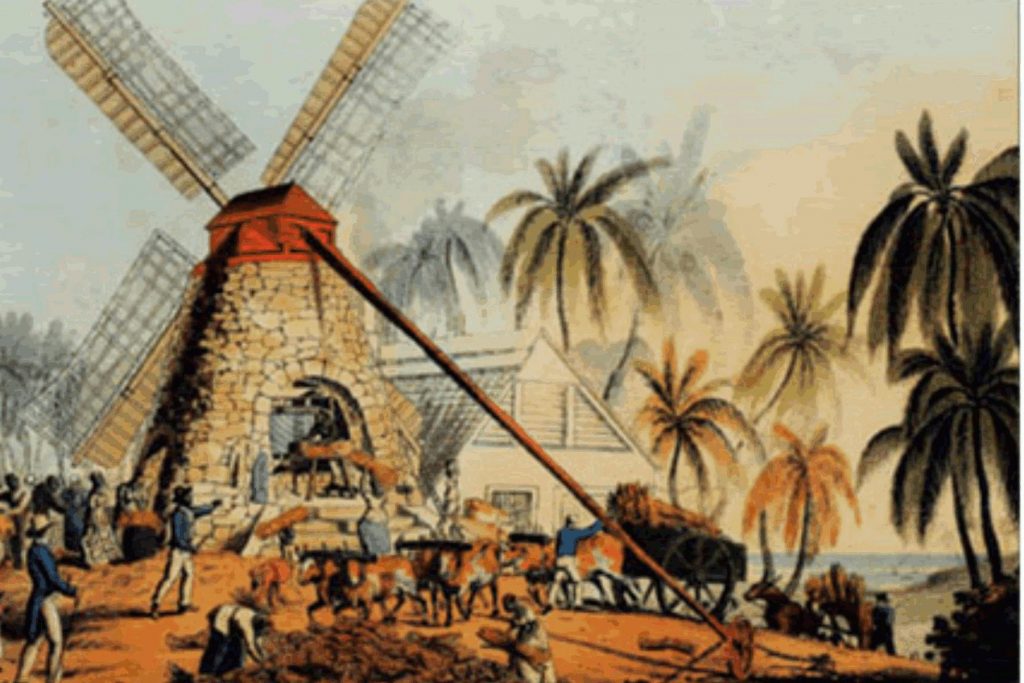 Current Status
There is no longer a mill at this site and in fact the only structure left standing up in the mountains is the estate house. It is spectacularly situated no more so than the approach up the mountain and through a stone gated arch with stone walls. The views are spectacular. It is thought that the name Claremont may have derived from 'Claremont Estate' situated SW of London and now a National Trust site. The Williams family who were associated with Claremont here in Antigua, lived and came from the area nearby the estate in England. Owned in 1714-69 by the Duke of Newcastle, 1769-86 by Lord Robert Clive of India, in 1865-1901 by Queen Victoria Claremont was among the most famous landscape gardens in Europe. The area is now one of two farms on the island producing the Antigua Black Pineapple, this one being privately owned by the Browne family. The estate house was used in the filming of the movie "Fire Power" and was accidentally partially burnt. Concrete cannons still ring the property, 'props' from the movie industry and what is left today no longer resembles the imposing building of the past. Goats roam freely in the house and the estate bell which used to be out front was removed (stolen) around 2006. Two stone structures remain near the beach below not far from the Cades Bay property, which were probably lime kilns used for heating conch shells which were pounded into lime to make a cement type product. All estates bordering the sea had a kiln or two in order to make the lime used in the mortar for building.
Estate Related History/Timeline
"Williams, settled at the Old Road in St. Mary's Parish."
1668: "Col. Rowland Williams, the first male white child born on the Island, granted patent for 300 acres 1668."
1675: "Colonel Rowland Williams was appointed lieutenant-governor of Antigua. This gentleman was possessed of eminent qualifications, which honorably distinguished him among his contemporaries. He was alike conspicuous as a wise councillor and a skillful commander; whether in the senate or the field, he equally merited applause. The father of Colonel Williams, was one of the earliest settlers in Antigua, and even in those times was famed for noble virtues – virtues which have descended from father to son, down to the present day and centered themselves in the person of the Hon. Rowland E. Williams, the present possessor of "Claremont," the family mansion." Having survived for eighty years he was buried in the church in Old Road in 1713 where his epitaph lies beneath the altar. It is rather lengthy extolling his virtues and is written in Latin. An English version can be found on p.183. Antigua and the Antiguans p.49
1743: "Edward Williams Esq., at Road Division, Tom Moore's Plantation of 120 acres and 50 acres. The Cistern Plantation of 150 acres and the Road Plantation of 954 1/2 acres. Surveyed 19 Sep. 1743." Vere Oliver Vol.III p.235." Cistern contained 120 acres bounded by Tom Moore's, Road Plantation and Gardiners in possession of Mrs. Rachel Russell. "Cistern's" used to produce ground ginger. Vere Oliver Vol.III p.232 "….. to my trustees my 3 plantations called the "Road", the Upper" or "Tom Moore's" and the "Cistern" all in St. Mary's Parish in trust for Rowland Edward Williams and his heirs."
1784: "Rowland Edward Louis Charles Williams, Member of Council and Puisne Baron of Exchequer, Antigua. Captain 10th Hussars; born April 1784; bur. 2 June 1852 at 68 at St. Mary's. He called his ancestral home "Claremont". Vere Oliver Vol.III p.231.
1829: This Estate (Claremont), combined with The Mountain, contained 938 acres and 252 slaves. "Mountain" in St. Mary's Parish of 938 acres owned by Rowland E. Williams.
1851: The Antigua Almanac shows Claremont and Mountain of 938 acres belonging to Rowland E. Williams.
1867: Rowland William Edwards of Claremont Antigua. Vere Oliver Vol.III p.237 Sammy Smith in "To Shoot Hard Labour p.108" says "The first sugar mill tower was put up at Clairmont on Old Road in 1670 or there about. That was a very small mill, but that area was supposed to be the best in the land so maybe that's why they start the process there. I also hear that water was not such a problem there. The famous Tom Moor Spring is on that side." Attorney and Manager for the Shand estates was —— Ross, of which there were four: Cedar Valley(#42), Cassada Gardens (#13a), Claremont and Cades Bay (#191). More to follow.
1940's/50's: "Walter McSevney of Diamond estate would periodically go south to manage the Claremont estate. His wife was not happy having him so far away from home, but my grandmother, Margaret Conacher, who lived in town, said it was wonderful when he would return bringing with him the fresh pineapples and mangoes of the region", Agnes Meeker.
Enslaved People's History
Based on contemporary research, we have little information to share about the enslaved peoples from this plantation at this time. We do know that, in 1829, there were 252 enslaved peoples working on the estates of Tremontaine and Claremont combined. We will continue our quest for more information about these vital individuals.
Ownership Chronology
Ownership from 1652 Williams.
1700: Col. Rowland Williams (d.1713)
1750: Edward Williams.
1777/78: Luffman map
1790: Rowland E. Williams (b.1748 d.1826). 852 acres, 254 slaves.
1843: Rowland Edward Louis Charles Williams. (b.1784 d.1852)
1852: Rowland Edward Louis Henry Williams (b.1828-1867)
1872: Charles Shand steam factory (Claremont and The Mountain)
1872: Horsford's Almanac
1878: G.W. Bennett.
1891: George McAndrew.
1921: W. Scott-Johnson.
1933: D.S. Herd.