About
Type: Extant
Parish: St.Peter
Founding date: 1750
See on Google Maps!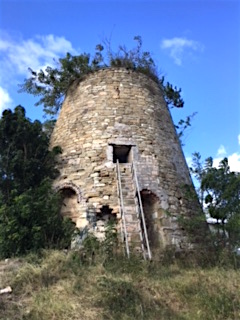 Current Status
There are two "Cochran's" estates, this one in Bethesda and the other near to the Diamond (#) estate in St. _ Parish. The mill is adjacent to Bethesda Secondary School on the hill above the village and is in excellent shape. Various ruins can be seen in the bush below. The village of Bethesda refers to itself as the Christian Hill/Bethesda community and does not seem to take into account the Cochran's estate at all. Further information on the area can be had in Joy Lawrence's book on the Village of Bethesda.
The bakery in Bethesda built the oven for baking bread from bricks taken from Cochran's estate ruins. The shop is owned by Ashton and Dora Thwaits.
Mr. James in the village of Bethesda remembers back to 1924 when the estate was producing muscovado sugar. Field #7 for the estate is just below the school on the eastern side, now the playing field.
Estate Related History/Timeline
1703: "Archibald Cochran 1/2 of William Cochran's (d.1714) estate of 327 acres + Richard Cochran 1/2 153 acres each. Moved to Barbados 1703. Several Indentures (1) to Rowland Frye (2) Samuel Otto-Baijer. Finally sold in 1817." Vere Oliver Vol.I p.139
Bethesda means "House of Mercy by Streams of Water."
In 1829 Cochran's contained 545 acres—147 slaves.
The heirs of Robert French owned Elliot's estate and a monument to Robert French who died on the 13th of December 1843, was erected on the estate (Elliot's) on a block of marble in his memory by his affectionate wife, Sarah Lee French (nee Harris).
Legacies of British Slave-ownership. www.ucl.ac.uk/lbs/search
1943: All seventeen of the Bennett-Bryson estates were purchased by the Antigua Syndicate Estates Ltd.
Enslaved People's History
Based on contemporary research, we have little information to share about the enslaved peoples from this plantation at this time. We only know that, in 1829, Cochran's contained 545 acres and housed 147 enslaved people. We will continue our quest for more information about these vital individuals.
Ownership Chronology
1790: Archibald Cochran – 1777/78 Luffman map
1829: Robert French (d.1843)
1843: Heirs of Robert French
1878: Heirs of A.N. Sheriff.
1891: Robert Sheriff.
1918: Langford Selly Cranstoun (d.1920) – with Thomas' (#138) a total of 640 acres
1932: Heirs of Langford S. Cranstoun
1933: George W. Bennett Bryson & Co. Ltd.
1943: Antigua Syndicate Estates Ltd.
1967: Antigua Government – Crown Land