About
Type: Extant
Parish: St.Peter
Founding date: 1698
See on Google Maps!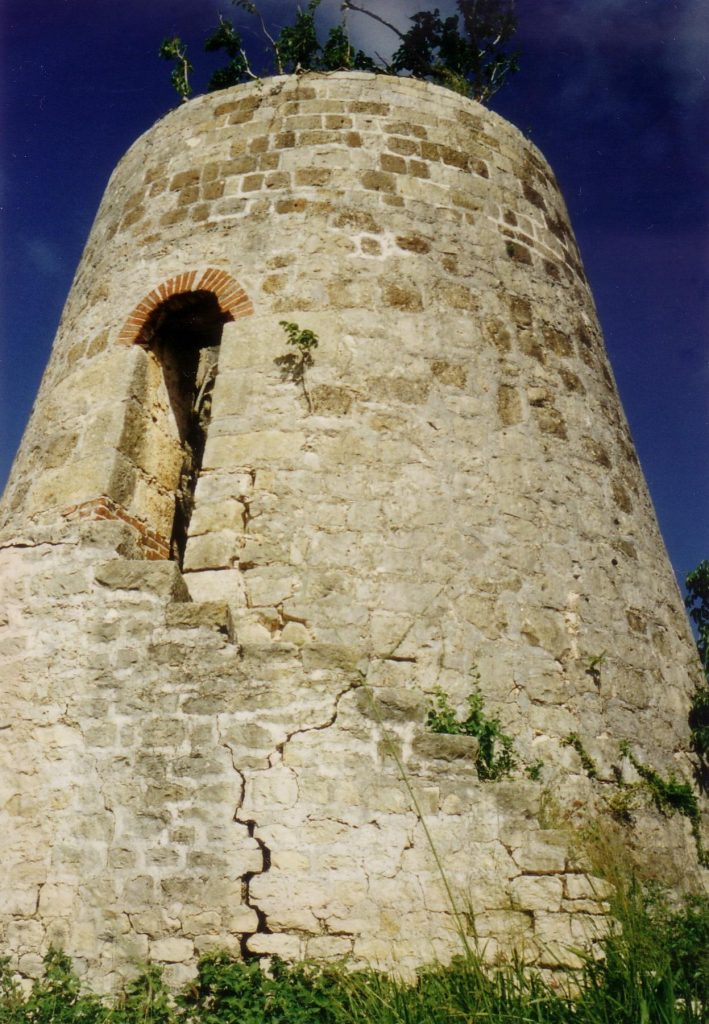 Current Status
A very interesting mill with a large staircase winding around on the outer side. Other than a few cracks, this mill is in quite good condition. An old picture exists showing the estate mill and the works at the chimney. All of the workers are lined up for the picture with horse and buggy in the forefront.
Estate Related History/Timeline
1949: Mill Reef paid 10 pounds an acre to Crumps, Cotton Garden and Montpelier Estates.
www.tombstones.bb (2005)- Recorded not found. Codrington/Chris.
"Potworks Dam is reputed to be the largest expanse of freshwater in the Caribbean. It covers 300 acres and holds 1 billion gals. of water when full. (This includes Delaps dam to the south). The reservoir is named after an 18th century pottery works at the Garden estate, which was owned by the Codrington family from the early 18th to the end of the 20th century. The pottery works provided the pots in which the sugar was packed and were cone shaped, allowing any excess molasses to drain from the bottom.
A part of the dam was built over the site of the works and a 19th century bridge. A portion of the bridge was relocated to the little park above Potworks Dam which bears the date 18–."
Enslaved People's History
Based on contemporary research, we have little information to share about the enslaved peoples from this plantation at this time. We only know that this estate contained 146 enslaved people, all of whom were liberated by the British government after the abolition of slavery in the Caribbean. However, we will continue our quest for more information about these vital individuals.
Legacies of British Slave-ownership claimants: In 1833 Parliament finally abolished slavery in the British Caribbean, Mauritius and the Cape. The slave trade had been abolished in 1807 but it took another 26 years to effect the emancipation of the enslaved. The legislation of 1833 was the result of a combination of factors where it was felt that the plantation owners should be compensated for their slaves who were to be freed. The amount of 20 million pounds , a huge amount in those days, was divided up between all slave owners. Sir Christopher Bethel-Codrington Bart – absentee/resident – owner-in-fee – Antigua 332 (Cotton. St Peter's) view – £2,078 1 s 7 d (137 enslaved). Sir Christopher Bethel-Codrington Bart – Antigua 338 (Garden. St Peter's) view – £2,227 13 s 8 d (146 enslaved).
Ownership Chronology
Ownership from 1698 – C.C. Codrington II and remained an extension of Betty's Hope. The Garden, combined with Betty's Hope, contained 1689 acres.