About
Type: Ruin
Parish: St.Paul
Founding date: 1750
See on Google Maps!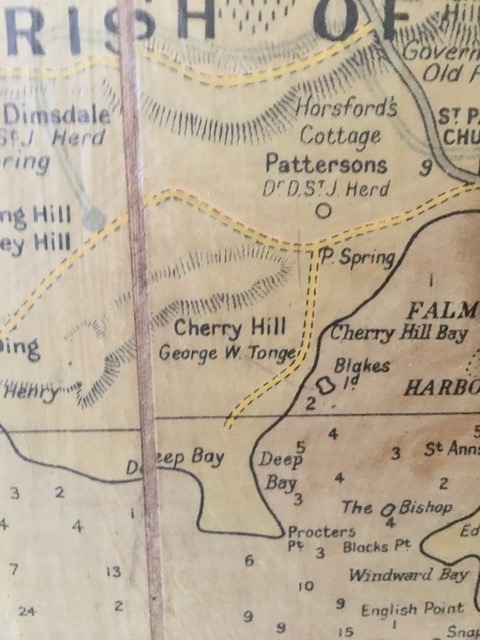 Current Status
There is no longer a windmill at this site and it is known that cattle were raised on this estate. Note the variance in Deep/Dieppe Bay which can be seen on various maps throughout time. This estate borders Cherry Hill estate to the north-west. Dieppe Bay was to be developed as an hotel in the 1960's but the project went bankrupt and never got off the ground. It later became a housing development.
Estate Related History/Timeline
"George Bladen, 9 April, 1737 at …… bur. at St. Paul's, 24 May, 1758. Married Mary Brown St. Philips 2nd April, 1737."
Slave Manumissions – April 2, 1826.
George Bladen male, Samuel Bladen d*, William Bladen d*, Henry Syms Bladen d* – George Samuel Bladen at whose expense affected – fee paid at the Registrar's Office one pound 16 shillings. "Deaths – 1840 Jun.5 John Wlm. Bladen, planter of Deep Bay, Aged 45." V.Oliver Vol.II P.51.52
Enslaved People's History
Based on contemporary research, we have little information to share about the enslaved peoples from this plantation at this time. We will continue our quest for more information about these vital individuals.
Ownership Chronology
Ownership from 1750 George Bladen (d.1758)
1758: Heirs of Bladen
1777: Hon. W.C Athill, M. Mary Willis, Heirs of Nanton and Heirs of Bladen – 1777/78 Luffman map
1826: George Samuel Bladen
1830: John Wlm. Bladen (d.1840)
1878: J.W.B. Sheppard