About
Type: Extant
Parish: St.Peter
Founding date: 1700
See on Google Maps!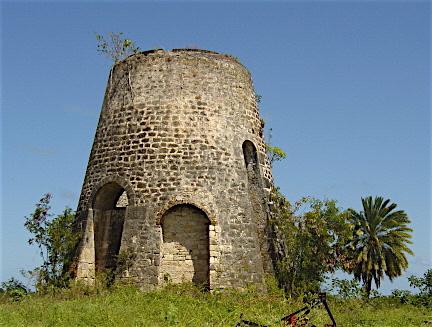 Current Status
The mill is in excellent condition and the nearby cattle pen still stands. The house was small compared to many of the estate houses, but it was well built with 2'-3' thick walls. It was built of stone, two stories tall with the ground floor used for storage. Stairs led up both to the front and back of the house, as well as from the kitchen into a walled courtyard. There was a garden on either side of the front which was wide enough to provide an open garden seating area straight out from the living room which gave a view from on high over the estate. It was an extremely compact and sturdy structure built for safety. There was a tennis court on the front lawn with a bench beneath a Scarlet Cordia tree for viewing the friendly matches between family and friends and large mahogany trees shaded the area. The surrounding land was flat and extremely arable. Nearby estates are Cochran's (#83), Sanderson's (#86), Duer's (#89) and Parry's (#88). Diamond Estate was taken over as an Agricultural Farm by Government when the Syndicate Estates collapsed. It fell into disuse in 2001 but was brought back by the Government in 2007.
Estate Related History/Timeline
1700: "Samuel Martin 122 acres in St. Peters."
"Joseph Martin (d.1778) was the Governor of North Carolina."   Vere Oliver Vol.II p.240
1748:  "Valentine Morris (d1748) owned Crabbs, Martins and Willoughby Bay." Vere Oliver Vol.II p.272    
Valentine (Mary) Morris sold this to James Gordon in 1767, who had held it by lease since 1738.
1755: The test of an indenture shows Lavington conveying his property on Antigua (3 freehold estates and 2 leasehold estates) to James Brebner in exchange for Brebner taking on Lavington's debts up to £4,000, paying Lavington £1,300 and granting Lavington an annuity of £500 p.a. in addition to the annuity his wife already held of the same amount.
Mary Morris sells to James Gordon all that plantation called "Martin's" plantation in Antigua, containing 126 acres in the Parish of St. Peter's, part of which whereon the works are built.
1790: "Francis Martin Esq. on the Diamond Estate in the above island (Antigua) informed me that, some years ago, seven acres and one fourth, made forty-eight hogsheads of sugar of an exceeding good quality.   This little plantation is esteemed among the finest in Antigua.   "A Treatise on Planting" by Joshua Peterkin 1790 p.49.
1821: Richard Oliver (d.1821) owned The Diamond.   Vere Oliver Vol.II p.318
Maj. Francis Frye Brown of 'Diamond' plantation near Willoughby Bay of 50 acres (b. 1842)." Vere Oliver Vol.I   
The Brown family has been recorded in Antigua since Major Anthony Brown was granted 105 acres in 1668.   He was buried at St. Phillip's in 1723.
1829: In 1829, The Diamond obtained 134 acres and had 84 slaves.
1852: The "Diamond" in St. Peter's Parish in 1852 contained 134 acres and was owned by F.B. Ottley.   "Weir's" of 136 acres in St. George's Parish was owned by Miss Ottley and "Parry's" of 22 acres by George W. Ottley.   Vere Oliver Vol.III p.1
G.A. Macandrew, a merchant based in Liverpool who had been the Shand's agent. Macandrew had ties in Antigua that went quite far back and he had replaced the Shands as lessor of the Diamond Estate in 1878 and owned it by 1891.
Arthur Cranstoun (d.1932) was the manager of Diamond estate when his father Langford Selly Cranstoun (d.1920) died and he took over the running of the family estates Cochran's (#138) and Thomas's (#139). It was said that he was not particularly interested in assuming this duty.
There have been tales of people being buried alive and it is known to have happened.
Sometimes the person was in a coma be it from an illness or abuse. Two stories coming out of Diamond attest to this.
"Douglas Myers of Parry and Diamond Estate was pronounced dead.   Them even have the wake.   Douglas was placed in his coffin and we was singing funeral hymns.   Douglas parents was just waiting on the hour to put the lid on him when he suddenly start to turn and twist.   The people saw the hands and then his head move sure scamper out of the house quick.   Douglas get up out of his coffin.   The case of Missy Count Paul at Jonas was different.    She perish from deliberate murder.   After being deliberately run over by Massa Ben horse she was comatose, but was ordered to be placed in a coffin and buried alive."  Sammy Smith in "To Shoot Hard Labour," p.53
"Martin Byam, Esq., a very respectable proprietor, called upon me this morning for the purpose of inviting me on an estate which he has lately gone to reside.   "…. you go frequently to Parry's which is the next estate, I think you might occasionally preach at Martin's instead of there.   The people at Parry's know the value of preaching.   It is different with my people who do not know the worth of such things.    Most of them are Africans and many, I believe, have never heard a sermon.   This is the second application I have had within these eight days.   (these men) are powerful and I feel that I cannot refuse them." Caribbean Adventures, Journal of Thomas K. Hyde. p.51
"At Martin's this evening, I visited a man who was reduced to a state of great debility because he was convinced that someone had set obeah on him and consequently poisoned him.   For some time, the poor creature has been miserable beyond description and Mr. Byam entertains serious fears that his state of mind will soon kill him." Caribbean Adventures – Journal of Thomas K. Hyde, edited by David U. Farquhar. p.59
Mary Reid, who was a visitor to the Diamond, gives us a little insight into her day. Mrs. Roden was a doctor and known for travelling around the island at all hours in her carriage to treat the sick.
1887: 19th.  The Diamond is a very pretty place, the air is delightfully cool.   Got on with my work during the day, and went for a walk in the evening.   Gathered some squash and ate some cane.
20th.  Mrs. Roden, John, Bob and George came out about noon to spend the rest of the day.   We could not go to Church as the carriage had come into town to fetch the others out.   After dinner we went for a walk to Parry's and had some new sugar from the coolers." From the diary of Mary Emma Read, 1887
1892: Sold as a package for the low price of £10,000 (Cassada Garden, Donovans, and Gunthorpes alone had sold for £6,500 the first time they went through the court), the estates were bought by G.A. Macandrew, a merchant based in Liverpool who had apparently been the Shands' agent. (Macandrew also had ties to Antigua that went quite far back: he had replaced the Shands as lessor of the Diamond estate by 1878 and owned it by 1891.) The Shands did not give up total control, however, because they are still listed as Shand estates in 1897, when they went into receivership.    antiguahistory
Robert Bryson by 1921 owned Bodkin's & Willis Freeman's (778 acres), Diamond (134 acres), Dimsdale (809 acres), Isaac's Hill (100 acres, Looby's & Parry's (222 acres). He acquired an interest in Geo. W. Bennet-Bryson & Co., Ltd. in 1895 and retired around 1921.
1941: Antigua Sugar Factory, Ltd. Cane Returns for 1941 Crop.   Parry & The Diamond.    Estimated 3846 tons, 167 acres estate, 3 acres peasant land on the estate, tons of cane delivered 3865 at 23.14 tons per acre.
George W. Bennet-Bryson & Co., Ltd. was one of the largest and most powerful companies of their time in Antigua and owned many estates. The Company was established in 1835 and today still offers a wide range of insurance and shipping services. They represent Lloyds of London in both Antigua and Montserrat, which they have done since 1876. In 1933 the estates owned by the company were: Blubber Valley, Bodkin's, Cochran's, Diamond, Ffrye's, Freeman's Upper, Jolly Hill, La Roche's, Lavington's, Long Lane, Looby's, Monteroe's, Sanderson's, Thomas, Yorke's & Bendal's.
1943: August 1st Gunthorpes Estate, Ltd. was restructured (see #64 Gunthorpes) into a 'new' company named Antigua Syndicate Estates, Ltd.   The Bennett-Bryson/R.S.D. Goodwin estates (owned 2/3 by Bennett-Bryson and 1/3 by Goodwin) were Morris Looby, Bodkin's, Parry's and the Diamond, all bought for 7,400 pounds.
1943: The estates of George W. Bennett Bryson & Co. Lavingtons – the house purchased – shares of the agreed valuation issued.   The stallion "Battling Ben" treated as special purchase.   Isaac's Hill is shown on certificate of purchase of title of Parry's (#88) and the Diamond (#87) included in the transfer, it being considered that revenue would meet the land tax.    Antigua Syndicate, Ltd. Minutes.   The Diamond had leased Isaac Hill from Miss Ottley and it was included in the sale when purchased with Diamond by Robert Bryson.   The two pieces of land are quite distant from one another.
1943: The Lands of Antigua and Barbuda Sugar Factory, Limited and the Antigua & Barbuda Syndicate Estates, Limited (Vesting) Act.   All that piece or parcel of land forming part of Diamonds as contained in Certificate of Title No.3011943 dated 3rd August, 1943 and registered in Register Book Q Folio 30, less that area known as "Isaac Hill" sold to W.T. Camacho. (Diamond & Isaac Hill are nowhere near each other!)     There were now 17 Antigua Syndicate Estates, Ltd.
The estate was managed by Walter McSevney in the 1930's and 40's, who was my great uncle. He attended the Antigua Boys Grammar School and was renowned for his cricket, captaining the Leeward Islands Cricket Team with Sydney Wallace as his Vice Captain.
When the estates were in their hey-day, horse racing was big business between the estates and neighboring islands. Races were held at Cassada Gardens race track and were a big social event opened with pomp and ceremony by the Governor. During the 1940's a beautiful black horse with a white star on his forehead, named "Starlight" from the Diamond stables, won many a race.
A little before my time in the 1930's, my Grandmother, Mrs. Conacher, her sister, Annie Duncan and my mother Mae, used to prepare the 'teas' for the races at Cassada Gardens.   In my mother's hand written recipe book is a list of what to take and how much it would cost.   Of particular interest are the last three lines, "Hire of Crockery 2/-. 200 lbs Ice, Bryson for Spoons, Porter 2/-, Lorry Men 2/-. Servants 3/-." I spent many a weekend growing up, out at The Diamond and always used to visit the rabbits that Uncle Wal kept in hutches under a large tree.   As children we always were taken for a walk at four o'clock for our constitution, be it to Duers estate down the road or just around grounds of The Diamond.   We were always on the look-out for Whitehead, a weed that has lots of small white flowers, or a vine called Wina, for rabbit feed.   On the afternoon walk to Duers we would pass the blacksmith who had his work shed near the road beneath a large calabash tree.   We loved to stop and watch him fashion horse shoes over the fire and hammer them into shape.    Agnes Meeker (nee Watson)
1945: W.J. Mc Sevney (dec.19 May, 1952) was the Superintendent of Diamond, Mercer's Creek (#78), Betty's Hope (#77a), Delap's (#137) and Cotton (#77b).   In 1947, the Overseer was A.C. Romeo (dec.1945)   In 1955, Diamond was part of Group B of the Syndicate Estates with Tudways (#76a), Gilbert's (#80), Comfort Hall (#103) and Betty's Hope (#77) for a total of 857.0 acres.   The Manager was E.G. Derrick.
1947: The Overseer A.C. Romeo deceased.
1952: In 1952, the Manager for Diamond was R.S.S. Mason and the Overseer Humphrey Dickinson and A.G. Tomlinson.   
1955: In 1955, the Diamond was in Group B with Tudways (#76), Gilbert's (#80), Comfort Hall (#103) and Betty's Hope (#77a) with Superintendent E.G. Derrick.
"Sybil Taylor was visiting Eunice Mason (Richie Mason was Manager of Diamond in 1952) her sister, when one evening she heard the bath water running and asked who was taking a bath at that odd hour.   Her sister replied to just ignore it for it was Mr. Mac (Walter McSevney) taking his shower on his return from the Men's Club and she would shortly hear him walking down the passageway to the kitchen to get his dinner.   Well, Sybil could not wait till the morning to leave Diamond." Margaret White (niece)
After Richie Mason, Norris Abbott became Manager and an extension was added to the house in order to accommodate his larger family. I approached some of the Abbott girls for photographs, but they were all destroyed during one of the hurricanes. Heather (Abbott) Dorham, well known Antiguan artist, once gave a talk to the International Women's Club and mentioned that she and her sisters had a wonderful time growing up on the estates. Their childhood could not have been happier.
Diamond Estate was taken over as an Agricultural Farm by Government when the Syndicate Estates collapsed. It fell into disuse in 2001 but was brought back by the Government in 2006. The house has been reduced to a total ruin yet one can still see the basic layout, the steps and the thick walls of the structure.
Enslaved People's History
Based on contemporary research, we have little information to share about the enslaved peoples from this plantation at this time. We do know that The Diamond obtained 134 acres and had 84 enslaved people in 1829, 72 of whom were liberated for a sum of £1,115 2 s 9 d after slavery was abolished in the Caribbean. We will continue our quest for more information about these vital individuals.
Legacies of British Slave-owners:  Antigua 331 The Diamond was awarded £1,115 2 s 9 d for 72 enslaved.
The awardees were Andrew Colville and Alexander Seton.
Ownership Chronology
Ownership from 1700 Samuel Martin (d.1701)
1750: Hon. Joseph Martin (d.1778)  
1760: Valentine Morris
1767: James Gordon.   Sold by Valentine Morris to James Gordon who had held it by lease since 1738
1777: Samuel Martin (d.1777)    1777/78 Luffman map
1790: Francis Martin    
1799: Trustees of James Brebner Gordon  (1724-1807)
1820: Heirs of Sir Henry William Martin. (d.1842 )
1821: Richard Oliver (d.1821)
1851: F.B. Otley
1822: Heirs of  F.B.Otley
1843: Maj. Francis Frye Brown.    Bapt. 1745  d.1842 
1871: Francis Shand (1800-1868)   (leased)
1878: Messrs. O. Ottley.  (leased by F. Shand)    1872 Horsford Almanac
1891: George A. MacAndrew.  (leased from 1878 before purchasing)
1921: Robert Bryson.
1933: G.W.B.  Bryson & Co., Ltd.    1933 Camacho map
1943: The Antigua Syndicate Estates, Ltd.
1968: Antigua Government – Crown land