About
Type: Extant
Parish: St.Paul
Founding date: late 1600s
See on Google Maps!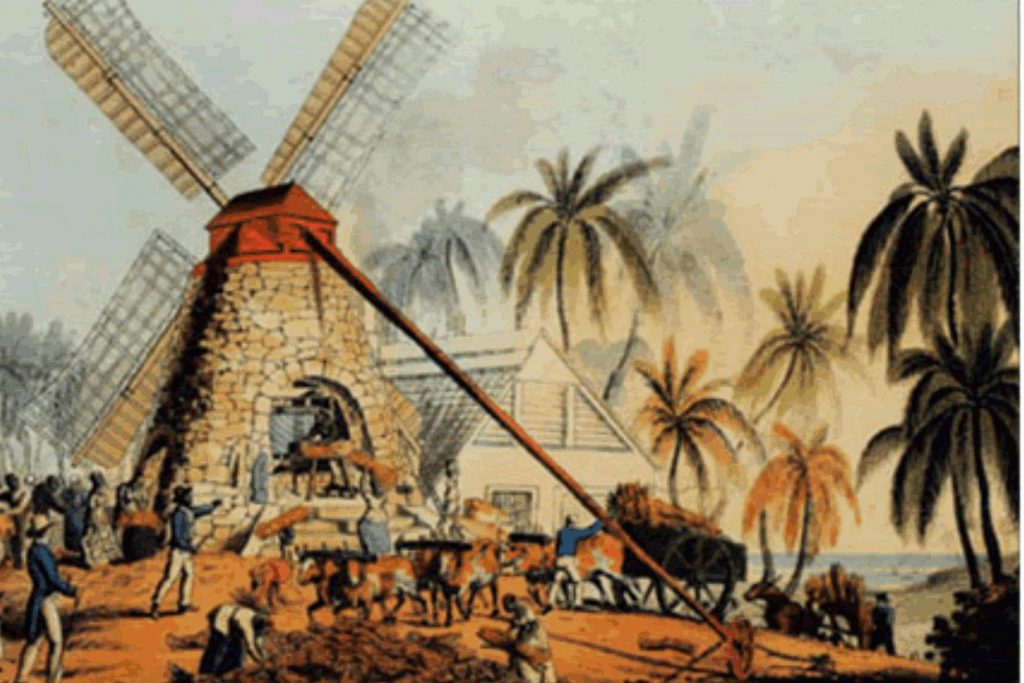 Current Status
Doig's estate is in a spectacular location off Rendezvous Bay but due to the difficulty in accessing over the hills, it tends to be rather cut off. It is often referred to as Rendezvous Bay Estate. There was a footpath due north in a break through the hills of Barters to Howards and on to the village of Sweete's and old maps at one time show a road along the sea coming in from the west. Today there is a road past Spring Hill Riding Stables that gets graded periodically and when in good shape gives access to Rendezvous beach which remains pristine.
Estate Related History/Timeline
1667: Capt. John Cade owned 410 acres at Rendezvous Bay in 1667 in right of his wife by patent from Governor Bouncle to Thomas White. Thomas White sold it to Governor Bouncle and Governor Bouncle gave it to his niece ye wife of ye said Cade.
1677: Rendezvous. John Fry granted 180 acres on North side of Rendezvous Bay mountains. Not certain if Doig's or proximity of.430
1679: Alexander Rollo, planter, sells to Ens. Robert Smith, 21 acres at Rendezvous Bay Division.
1680: Robert Barker and Margery his wife sells to Ensign Robert Smith 23 acres at Rendezvous Bay. (Rollo/Smith – many small holdings – could have been part of Doig's or Barter's).
There is a website for all members of the Dog Clan from Moneith, Kilmadock Parish, Perthsire, Scotland (Doig, Doigg, Doeg and Doegge. "Yield Not to Adversity" and in Gaelic "Na geil do cruaidh-chas").
1668: Ann Doig b.1688, d.May 1st. St. Paul's, Antigua. md. William Franklin (d. 20 Jan., 1721 St. John's, Antigua). The Doig's came from Brechin, Angus, Scotland.
1727: In a marriage settlement dated 1st July, 1727 between James Doig b.1702 and Dorothy Thibou – "in consideration of 1000 pounds sterling as a marriage portion, Ann Franklin grants to Jacob Thibou a plantation in Rendezvous Bay, (Doig's) also 80 acres and a messuage in St. John's Town for the use of herself and James Doig and his heirs, and to pay to Dorothy if she survive her husband 200 c pounds sterling yearly" Vere Oliver. Vol.I p.206
1742: April 26, James Doig paid 126 pounds sterling for 9 gun carriages. (Minutes of Council).
1767: The estate of James Doig (an infant) was rated on 320 acres and 122 slaves. Likewise in 1780.
Doig's contained extremely fertile land and was known to produce 50 tons of cane the acre (high yield). In order to bring the cane out they were brought by donkey to the end of the road near Janie Easton's house and trucks owned by Charles would take it to the back of Liberta to the railway siding for transport to Antigua Sugar Factory.   On the property is an enormous black rock the size of a house that catches water during a good rain.   There is an area known as Upper Doig's north west of Doig's which indicates a secondary estate at one time.
It is said that the remains of the building found near the property line of Doig's and Barter's, was a distillery and people would come to dig out the lead pipes embedded in the stone. There is also a deep stone well, 12-15ft. deep. The ruins are there today and it is estimated at 446 acres. Sir George Walter.
1941: Antigua Sugar Factory, Ltd. Cane Returns for 1941 Crop. Rendezvous Bay. Estimated 200 tons, – acres estate, – acres peasants on the estate, tons of cane delivered 142.
The last Doig died in Antigua c1960's. He used to repair clocks and lived in St. John's.
1975: St John's Antigua. Forty-eight-year-old gardener, Charles Joseph, was executed by hanging for the murder of prominent lawyer-politician John Rowan Henry and his wife Gwendolyn.
John Rowan Henry fought in WWII in the 37th Air Squadron, part of the Caribbean squadron in the RAF.
2000: In the small bay at Tuck's Point on the beach are two ruins which appear to be lime kilns.
Enslaved People's History
Based on contemporary research, we have little information to share about the enslaved peoples from this plantation at this time. We only know that the estate of James Doig (an infant in 1778) was rated on 320 acres and 122 enslaved peoples. Likewise in 1780. We will continue our quest for more information about these vital individuals.
Legacies of British Slave-ownership: Antigua 401 Rendezvous Bay was awarded 587 lbs 9 s 10 d for 42 enslaved.   Awardees were Joseph Leaver Binden and Henry Martin Dyer.   Beneficiaries were Ann H. Doig and W.H. Doig while Alexander Coates was 'other association.'
Ownership Chronology
Ownership from late 1600's Ann (Doig) Franklyn & William Franklyn
1727: James Doig. b.1758 d.1807

1807: John Hurst Doig b.1793 d.1833 Rendezvous Bay. 

1790: Walter Riddell  1777/78 Luffman map

1933: Heirs of Lynsey Charles(Uncle Arthur Bailey from Panama bought it for wife of Charles who was a Bailey)  

1940's: John Rowan Henry purchased from Maisie Christian/Astor family.  

2000: Heirs of Rowan Henry.