About
Type: Extant
Parish: St.John
Founding date: 1690s
See on Google Maps!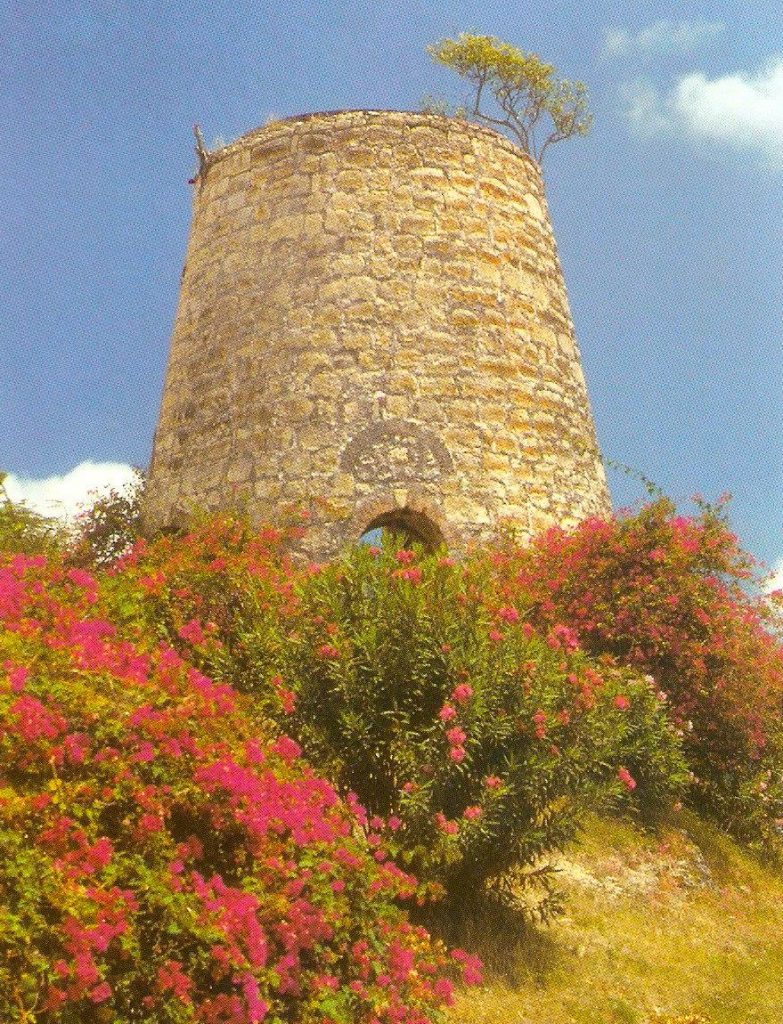 Current Status
The sugar mill on this plantation is in excellent shape and has been landscaped with bougainvillea plants all along the bank on which the mills stands.  The Dunbars estate was situated on a hill overlooking Friars Hill Road, and became the Government Agricultural Station during the tenure of Robert Hall, the Minister of Agriculture during the People's Labour Movement.  He was known for doing a lot for the island's agricultural efforts, including the Christian Valley and Green Castle Agricultural Stations.  He owned Smith's estate (#161), which he actually farmed.
The Government Agricultural Station was an experimental station with a staff of agronomists who tested soil samples brought to them by landowners for testing to determine nutrient content.  Plants were tested for fungus and pests, and people leaving Antigua with flowers, fruits or vegetables could obtain a certificate for customs.
  A small factory bottled some of Antigua's finest jams and jellies, including the very popular pineapple jam.  This operation fell into disrepair and is no longer productive.  However, several fields of sea island cotton are still grown and harvested annually for seed content.  Antigua produces an exceedingly long thread and high grade sea island cotton, the seeds of which are harvested and provided to other Caribbean islands.
The Dunbar's estate overlooked the McKinnon's estate (#10) to the west, Langford's (#6) to the north, Cedar Valley (#42) to the east, and Friars Hill (#11) to the south.  The estate was higher up the hill than the sugar mill, commanding magnificent views of the north portion of the island.  The estate was combined with Langford's (#6) and Mount Pleasant (#7) in 1829, during the ownership of Charles Warner Dunbar, when Langford's converted its sugar mill from wind power to steam.
Estate Related History/Timeline
Colonel Thomas Walker (1670 – 1736) obtained a royal grant in 1691 for land forming part of the King & Queen Colony of Virginia, in North America, where he founded the village of Walkerton.  He erected a manufacturing and grist mill there, as well as a cotton gin and copper shop.  Like many settlers in the New World, he was part of the colonization of the West Indies, acquiring land grants for service to their country (England). Colonel Walker's land grant became the Dunbar's estate, operated by his heirs commencing in 1750.
    "Charles Warner Dunbar (1743 – 1794) passed his estate onto Robert Skerrett Nugent Dunbar (1769 – 1846)."   The Dunbar family also owned an estate called Blubber and it is assumed it is this estate Mr. Dunbar passed to Robert because Mr. Dunbar's son of the same name — Charles Warner Dunbar — owned the Dunbars Plantation from 1829 to 1851 (see Ownership Chronology, above).               Vere Oliver, Vol. I.
The elder Charles W. Dunbar is quoted extensively in Journal by A Lady of Quality describing his plantation, which he called "The Eleanora" prior to its destruction by a hurricane in c.1774:
    "Tho' the Eleanora is still most beautiful, yet it bears evident marks of the hurricane. A very fine house was thrown to the ground, the Palmettoes stand shattered monuments of that fatal calamity.  This place which belongs to my friend Doctor Dunbar, is not above two or three miles from town, and as it is an easy ascent all the way, stands high enough to give a full prospect of the bay, the shipping, the town and many rich plantations, as also the old Barracks, the fort and the island I before mentioned.  Indeed, it is almost impossible to conceive so much beauty and riches under the eye in one moment.  The fields all the way down to the town are divided into cane pieces by hedges of different kinds . . . . "My bed-chamber, to render it more airy, has a door which opens into a parterre of flowers, that glow with colours, which only the western sun is able to raise into such richness, while every breeze is fragrant with perfumes that mock the poor imitations to be produced by art.  This parterre is surrounded by a hedge of Pomegranate, which is loaded both with fruit and blossom. "Every body has some tragical history to give of that night of horror, but none more than the poor Doctor.  His house was laid in ruins, his canes burnt up by the lightening, his orange orchards, Tammeran Walks and Cocoa trees torn from the roots, his sugar works, mills and cattle all destroyed; yet a circumstance was joined, that rendered every thing else a thousand times more dreadful . . . it happened in a moment when a much loved wife was expiring in his arms, and she did breath her last amidst this War of Elements, this wreck of nature; while he in vain carried her from place to place for Shelter.  The hills behind the house are high and often craggy, on which sheep and goats feed, a Scene that gives us no small pleasure."
On June 13, 1750 Samual Walkins Kerr and William Mackinnon were complainants against Charles Dunbar, defendant, for redeeming certain lands.  The "Chancery Division of Kerr & Others filed against Charles Dunbar on May 22, 1751, claiming £104. 10s. 3d."  The complaint runs several pages.  To put this in perspective, Charles Dunbar must have been one of the heirs of Colonel Thomas Walker referenced in the Ownership Chronology.
Ashton Warner was manager of Dunbar's in 1791, when John Dunbar owned the plantation.  In the mid-1830s, the British Parliament awarded the estate £861. 18s. 7d. (Antigua 21) as payment for granting freedom to 66 enslaved workers.  The awardees were William Dunbar, Charles Henry Okey, and Elizabeth Cosby, listed as "other association."  Unsuccessful were Anne Stevens and William Kent Thomas.
In 1844/45, two indentured servants on the plantation were married in St. John's Cathedral by Curate Samuel Ashton Warner, probably the son of the former manager.  John and Mary Copperthite had a son, Henry, born in Antigua on December 4, 1846, and the family immigrated to New Haven, Connecticut, in 1848, when Henry was eighteen months old. As a young adult, Henry went to Washington, D.C., penniless and without a friend and  any sort of aid or comfort.  He became the proprietor of the Connecticut Pie Company, the largest pie industry in the District of Columbia.  He began by making pies for himself; his first day's sales were only ninety-five cents!  During the Spanish/American War, Henry sold 19,000 pies in one day to soldiers stationed at Camp Alger in nearby Virginia.  The term "doughboy" was the name attached to the troops who purchased his pies! Henry also owned a 243-acre farm in Virginia where he raised most of the fruits and vegetables used in his pies, as well as the milk, eggs, butter, etc.  He was a self-made man, and amassed a fortune.  His one hobby was a good trotting horse, and he became well known for the trotting horses he raced. Michael Copperthite, a relative, visited Antigua several times to trace his genealogy and obtain records from Antigua's Archives.
Dunbar's combined with the Langford's estate (#6) and Mount Pleasant (#7) when Langford's converted its sugar mill to steam power. Aubrey J. Camacho assumed ownership of Dunbar's in 1933 together with Langford's (#6) and Mount Pleasant (#7).  His father arrived in Antigua in 1878, and by 1891 owned several sugar plantations totaling over 2,000 acres (see Langford's).
1950-1970: Dunbar's held the official rain gauge records for the island as the Government Agricultural Station, which was gazetted (Government paper) on a regular basis.
Enslaved People's History
Based on contemporary research, we have little information to share about the enslaved peoples from this plantation at this time. What is known is that in the mid-1830s, the British Parliament awarded the estate £861. 18s. 7d. (Antigua 21) as payment for granting freedom to 66 enslaved workers. We will continue our quest for more information about these vital individuals.
Ownership Chronology
1690's: Colonel Thomas Walker (1670-1736)
1750: Heirs of Colonel Thomas Walker.
1780: John Dunbar Baptised 1721 (1777/78 map by cartographer John Luffman)
1794: Robert Skeritt Nugent Dunbar
1821: Charles Warner Dunbar. Owned the 165-acre estate until 1851
1872: C. H. Okey and another 106 acres
1876: Heirs of T. W. I. Brooke
1933: Aubrey J. Camacho (1933 Comacho map.)
1970's: Government Agricultural Station