About
Type: Ruin?
Parish: St.Philip
Founding date: 1665
See on Google Maps!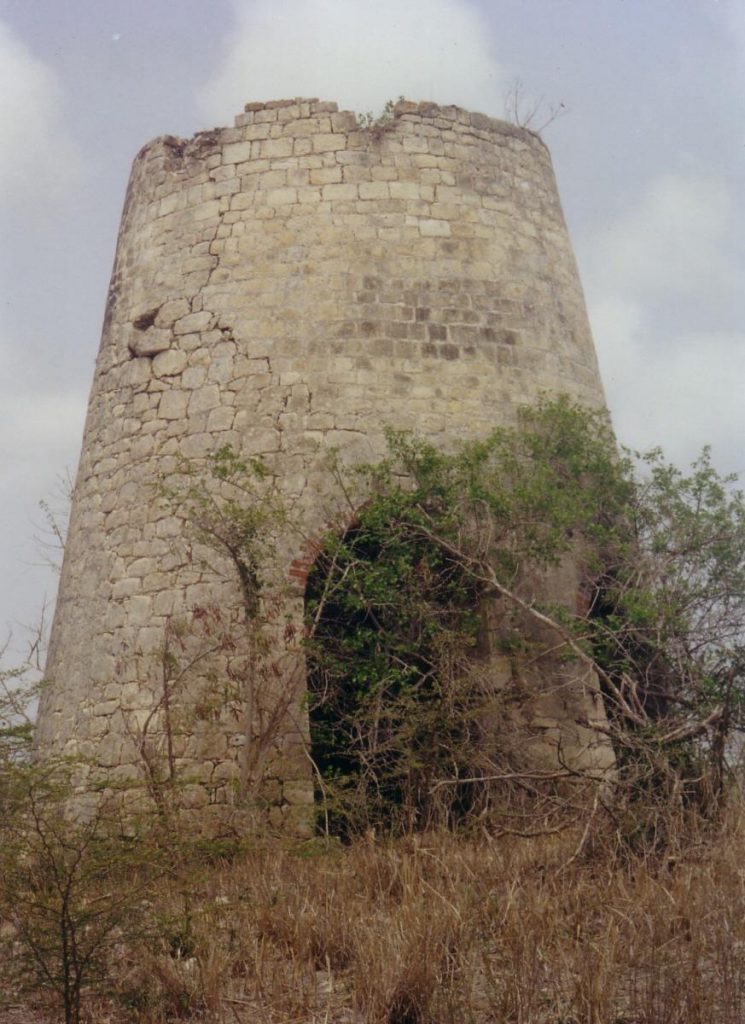 Current Status:
Estate Related History/ Timeline:
1665: John Frye in 1655 owned Ffrye's of 132 acres.
1763: Samuel Redhead purchased Ffrye's of 420 acres for £20,000.
1774: Francis Frye (d.1774) owned Ffrye's of 190 acres.
1788: Indenture "…. ie. a certain estate called Cussack's and now known by the name of George Redhead's" in the Parish of St. Philip in the division of Nonsuch or Willoughby Bay of which George Redhead is seized in fee, together with the dwelling-house, and all the slaves, cattle, sheep, and other stock thereon, and also slaves belonging to a plantation called "Ffryes" in the Parish of St. Philip….."  History of the Island of Antigua by Vere Oliver Vol.III
1771: "George Redhead, bapt.1771 at St. Peter's 1st surviving son and heir; Lieut. 3rd Foot Guards;  Capt. 18th Foot in 1797;  retired 1803;  resided at Ramsgate."   V. Oliver Vol.I P.41.
1801: George Redhead of Fryes and Cussacks died 1801.
Not to be confused with the two mills at Fry's Bay.
Contained 320 acres in 1829 and 130 slaves when owned by Jos. Liggins. In 1921 391 acres.
"Mr Morris accompanied us to a neighbouring estate called Frey's, which lies on the road from Newfield to English Harbour. Mr. Hatley, the manager, showed an enthusiast 180 admiration of the new system (abolition)".
Emancipation in the West Indies – a six months' tour in Antigua, Barbados & Jamaica in the year 1837. By James A. Thome.
Legacies of British Slave-ownership www.ucl.ac.uk/lbs/search
Antigua 81 Fry's was awarded £1,499 10 s 11 d for 86 enslaved. The lone awardee was George Francis Redhead.
1851: The Antigua Horsford Almanac shows Ffrye's of 320 acres belonging to Joseph Liggins.
1859: Rev.W.J. Reid's Diary, a copy of which is at the Museum of Antigua & Barbuda, gives an excellent day to day account of daily life in Antigua at that time.   The Reverend departed Liverpool, England on February 10th 1959 on the square-rigger 'Lydia' and arrived in St. John's, Antigua on 29th March having been on the water nearly seven weeks.  His daily account on board with his wife and six children give an excellent account on being both becalmed and storm tossed and having to cope with a family, the eldest being ten, all suffering from bouts of seasickness.  At one point when they were becalmed he jumped into the sea from a low window in the stern of the ship for a swim, but due to the entreaties of his family just swam the length of the ship.  He also had considerable difficulty in trying to get back on board but all in all, found it very refreshing.  The Reverend mentions a Mr. Goodwin and Mr. Abbott as being passengers on board, both estate owners on the island.
After a brief introduction to the island while staying at the Bishop's Lodge in Claire Hall, and assisting with various services at the Cathedral, they repaired to Cades Bay where he was to minister to approximately the 500 residents of the Anglican faith which covered an area of approximately 5000 acres. The Reverend was responsible for the church in Old Road and…. And resided at the Manse in Urlings which is still actually standing.
October 29th 1860 he advises that "Gray has conditionally agreed to purchase Ffryes, a large estate on which stands the Valley Chapel. He will then own almost all between the two Churches. (success to him!)". The family appear to visit back and forth between the Gray's quite often, and a dinner to celebrate the christening of the youngest, John Humphrey at the Manse was as follows. Soup, oxtail, Ham, Turkey, Tongue, sweet potatoes, Irish potatoes, Irish potatoes in jackets, Boiled Rice, Funghi with plum pudding and Gooseberry pie for dessert. Quite a spread. The Reverend also received some sound advice from Gray in investing in animal stock such as cows and sheep which are much in demand on the estates and triple in numbers in no time.
1861: Portion of a letter showing the difficulties in absentee landowners pertaining to Ffryes from Robert Jefferson to his brother.
"Ffryes in the Valley is certainly nominally sold but twill never be paid for — 'tis a dreadful place & with present prospects at the end of eight years Gray's purchase money not being forthcoming it will revert to its former owner in a very bad plight — the Engine on this estate cost 1,500 pounds sterling four years ago –"
An Antigua Trading Company by Mary Gleadall
1876: Ffrye's and Ffrye's Pasture was auctioned on Wednesday, the 26th day of July 1876.
The pamphlet advertising the sale shows that here was 248 acres or "thereabouts" as well as "fixtures, machinery and live and dead stock thereon." There was also a piece of pasture land being sold separately as "Ffrye's Pasture of "106 acres or thereabouts". Both is Saint Philip, in the Division of Willoughby Bay, in the island of Antigua. The auction was to take place at Auction Mart, Tokenhouse Yard, in the City of London at one o'clock precisely. "The Purchaser will have an indefessible (misspelled) Parliamentary Title under the Seal of the Court"
Two separate sheets show the layout, size and boundaries of said land and appeared in the Court of the Commissioners for Sale of Encumbered Estates in the West Indies (Antigua).
Lambeth Place, seat of the Archbishop of Canterbury.
Papers held by Suffolk Record Office, Ipswich Branch HB26/412/1595 26 July 1876
1880: Charles J. Manning was the son of William Manning, a West India merchant and landowner in St. Kitts, an MP and leading voice in the West India lobby.  He received compensation for Upper and Lower Walrond  as co-trustee with the Earl of Rosslyn (q.v.) under the marriage settlement of Bethell Walrond and Lady Janet St. Claire.
1943: August 1st Gunthorpes Estates Ltd. was restructured (see #64 Gunthorpes) into a 'new' company renamed Antigua Syndicate Estates Ltd. The Bennet-Bryson estates were Sandersons, Long Lane/Lavingtons/Ffryes, Burkes/LaRoche/Willis Freemans, Jolly Hill (Jolly Hill, Blubber Valley, Ffryes, Montrose, Yorkes and the Cove), Hawes and Mercer's Creek, Cochranes and Thomas', and were bought for 39,000 pounds and held on Certificate of Title.
1969 : The Lands of Antigua & Barbuda Sugar Factory Limited and The Antigua & Barbuda Syndicate Estates Limited (Vesting) Act.   30th December 1969.
12. All that piece or parcel of land forming part of Long Lane, Lavingtons and Ffryes, approximately 987.2139 acres as contained in Certificate of Title No.3611943 dated 25th September, 1943 and registered in Register Book Q Folio 36.
Enslaved People's History
Based on contemporary research, we have little information to share about the enslaved peoples from this plantation at this time. We only know that Fry's was awarded £1,499 10 s 11 d for the freedoms of 86 enslaved people when slavery was abolished in the Caribbean. However, we will continue our quest for more information about these vital individuals.
Ownership Chronology
1700 Francis Frye – 342 acres and 149 slaves
1740 Rowland Frye
1763 Samuel Redhead (d.1785)
1785 George Redhead (bapt. 1771-1801) 1777/78 Luffman map
1801 George Redhead
1843 George Francis Redhead – 320 acres, 130 slaves
1852 Joseph Liggins – 320 acres 1851 Antigua Almanac
1860 Gray as per Rev. Reid's Diary
1872 Dr. John Freeland – 320 acres 1872 Antigua Horsford Almanac.
1878 Charles J. Manning (1799-1880)
1891 Victor Guffray.
1896-1921 John W.A. Maginley
1933 G.W. Bryson & Co. Ltd.