About
Type: Extant
Parish: St.Mary
Founding date: 1667
See on Google Maps!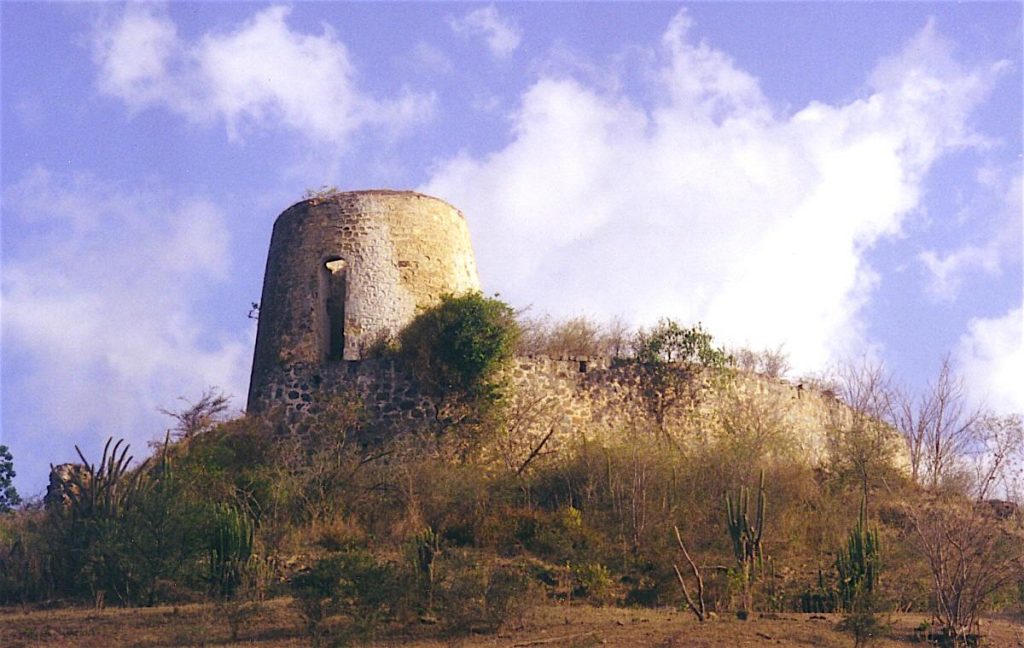 Current Status
There is another estate called "Ffryes"(#118) in St. Philip's Parish which contained 320 acres and "Fry's Pasture" (#157) in St John's Parish. This is not unusual due to the fact that the same person owned 4-6 estates on the island and the estate took the name of the owner, but it can get extremely confusing.
There are two mills – one on the hill with a magnificent wall and view facing west and the beach, with the second one below on the flat land to the east. The latter is merely half of the original mill. Three acres containing one mill and the ruins of the works has recently been turned into a park/nursery/holiday homes. On the north end of the beach is the remains of a stone circle next to the Coco's hotel. This appears to have been a lime kiln, which all estates by the sea operated, and not a mill.
Henry family – land was taken by Govt. – returned some?
Estate Related History/Timeline
1677: Lieut. John Fry, 190 acres in Bermudian Valley in right of his wife Mary, formerly in the possession of Captain William Kyn.
1682: Capt. John Fry was rated on 70 slaves and 992 acres. Alexander Pollington in his will dated 1669 names Master John Frye the overseer of his plantation in the Leeward Division of Antigua. 1696 he had 72 slaves and 1000 acres.
1706: Col. John Fry rated on 103 slaves and 570 acres. Vere Oliver Vol.I P.183
1718: On March 31th there was a petition of John Ffrye stating that he owned lands in Bermudian Valley of 588 acres bounded S with Mr. Samuel Ffrye and the salt pond, E with Samuel Ffrye et…." "Petition prays for a grant of certain fish ponds, mangroves, and flashes in the first plantation, also at his landing place 60 feet into the sea from low water mark by 100 feet long that he may build a wharf. Patent granted." Vere Oliver Vol.I p.283
1852: Ffryes in Bermudian Valley, St. Mary's Parish in 1852 contained 543 acres and was owned by Eliza. F. Spencer.
1878: Almanac shows Willock's and Upper Ffry's of 518 acres belonging to Heirs of Richard Abbott.
1878: Charles J. Manning was the son of William Manning, a West India merchant and landowner in St. Kitts. He was MP for Lymington, Evesham, and Penryn and a leading voice in the West India Lobby.
"On a ledger at Willoughby Bay Old Churchyard in perfect preservation:- Here lye the Remains of John Ffry Esq./One of His Majesties Council of this Ifland/A man too Worthy/in his Life and Manners/To be left to Remembrance/He left this world 6th March 1747/Aged 78." VereOliver Vol.I p.284
This Estate contained 543 acres in 1829 and 203 slaves. In 1921, combined with Orange Valley, 707 acres.
Legacies of British Slave-ownership: Fryes was awarded 3251 lbs 0s 10d for 208 enslaved. Elizabeth Frances Spencer (nee Newton) was the only awardee.


Enslaved People's History
Based on contemporary research, we have little information to share about the enslaved peoples from this plantation at this time. We do know that this estate's numbers of enslaved peoples grew from 70 in the 1600s to just over 200 during the 1800s. When slavery was abolished in England, Ffrey's mill was awarded 3251 lbs 0 s 10 d for the liberation of 208 enslaved peoples. We will continue our quest for more information about these vital individuals.
Ownership Chronology
1667: Capt. William Kyn.
1682: Capt. John Fry. Will 1701. 1655 living in Bermudian Valley.
1706: Col. John Fry. Will 1748.
1790: Rowland Frye. d.1801 1777/78 Luffman map
1829: Henry L. Spencer. 543 Acres, 203 slaves.
1843: Eliza F. Spencer. 1846 Horford Almanac
1872: James Barrett – 1293 acres combined with Orange Valley
1872: Horsford Almanac
1878: Charles J. Manning. b.1799 d.1880
1891: Victor Guffray.
1921: Thomas E. Peters.
1933: Mrs. Kennedy. Health Acres Antilles Trading Co. Ltd.
1933: Camacho map