About
Type: Extant
Parish: St.John
Founding date: 1678
See on Google Maps!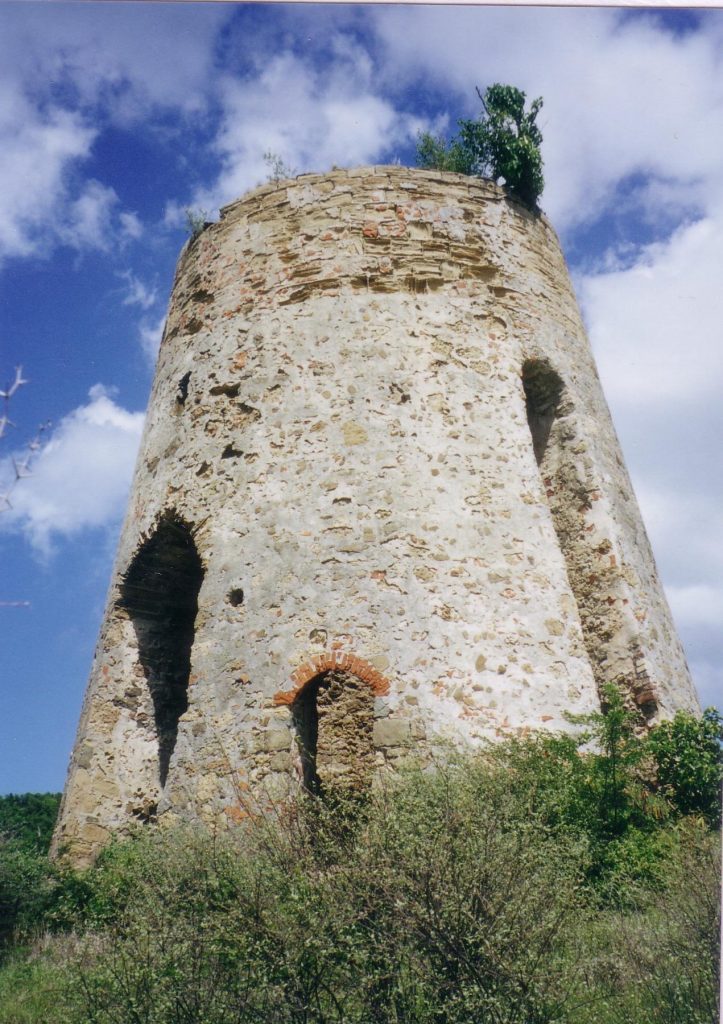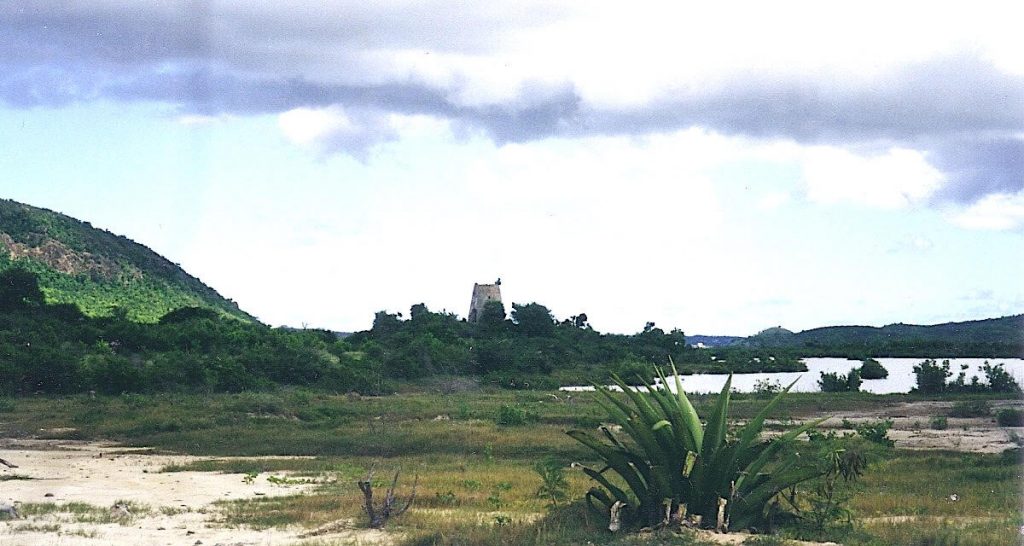 Current Status
Both sugar mills which stood on this estate still exist. The estate is currently operated by the Edwards family, who raise sheep, cattle and poultry. This is consistent with the history of the property which was well known for rearing cattle and growing ground provisions. The site is very hilly, which made sugar production difficult.
Estate Related History/Timeline
The Ownership Chronology above tells only a partial story of the numerous people who owned, leased or inherited some or all of the lands identified as Five Islands Upper & Lower. A year before Robert Carden is listed as owner in 1668, Thomas Turner and John Bridges had been awarded 266 2/3 acres by then Governor Winthrop, presumably the same land located in St. John's Division.
Robert Carden was the son and heir of deceased Colonel Robert Carden and in 1668 he was granted a patent for 360 acres at Five Islands. In 1678, he sold 300 acres of the Five Islands plantation for £14,000, and another 80 acres to Samuel Martin. A year later, he sold an additional 100 acres to Thomas Dipford and John Mitchell. Since none of these men are listed as owners of Five Islands, the land they acquired from Mr. Carden might not be considered part of the plantation. Vere Oliver, Volume I.
Documentation has established that from 1707, citizens of Scotland were the the largest group to migrate to Antigua, whereas in the seventeenth century arrivals were primarily from England and Ireland. Thirteen Scottish dynasties were established in Antigua during the first three quarters of the eighteenth century. Walter Tullideph was one of these enterprising Scots as was his cousin Walter Sydserf, a doctor and planter, who is officially listed as the owner of the Five Islands Plantation in 1750.
In 1743, Dr. Walter Sydserf appears to have purchased considerable acreage on Antigua. He is cited as having paid £32/acre for Witt's land at Belfast and £25/acre for Nicolas Hall's lands. Vere Oliver, Volume II.
William Thomas and his wife "granted an indenture [in 1763] to Richard Oliver the younger [of] all that plantation late the estate of Walter Sydserf containing 450 acres in the Parish of St. John's and division of Five Islands Harbour." Vere Oliver, Volume II.
The Ownership Chronology states that Sir George Thomas owned Five Islands as of 1790. His heirs assumed ownership in 1829 and held ownership until 1872, when the acreage became the property of Stephen J. Hill. In 1825, an indenture states "the St. John's division of Five Islands, bounded E[ast] with the flashes and lands called Salt Ponds and part of the Five Islands Harbour, W[est] with lands belonging to Sir George Thomas (grand-great-grandfather of Sir W. L. G. Thomas), N[orth] with the plantation formerly of James Gamball deceased, and afterwards Edward Otto-Baijer, Esq., and S[outh] with the sea." Vere Oliver, Volume II.
Another 1825 indenture by "Sir W. L. G. Thomas and Dame Lucretia his wife and Dame Sophia Thomas (mother) grant to Richard White all that plantation containing 450 acres in the Parish of St. John's and Division of Five Islands, bounded East with the flashes and lands called Salt Ponds." Vere Oliver, Volume III.
By 1829, both Upper and Lower Five Islands totaled 703 acres with 215 slaves. Many mature tamarind trees grow on the estate, and at one time the fruit was harvested and shipped off island to be used in making soap and as a cooking ingredient excellent in curry dishes.
In 1833, when British Parliament abolished slavery, the Five Islands estate was awarded a legacy payment (Antigua 1044) of £3,589. 15s. 1p. for granting freedom to 250 enslaved. The awardee was Marmaduke Robinson; unsuccessful was Sir William Lewis, George Thomas.
By 1852, the heirs of Sir George Thomas owned both Upper and Lower Five Islands, which consisted of 703 acres in St. John's Parish, plus the 602-acre North Sound Estate in St. George's Parish, which he sold to the late George Estridge about 40 years ago. The North Sound Estate is now vested in Mr. Estridge's daughter.
The Horseford Almanac of 1872 shows Five Islands still consisting of 703 acres owned by Colonel Stephen J. Hill, C.B., but leased to S. B. Johnson.
1940, the Antigua Sugar Estates reissued 18,000 shares of stock at £1/share to each of three DuBuissons (James Memoth, Mrs. Edith Manus, and William Herman), as well as Alexander Moody-Stuart and Gwendolyn Moody-Stuart [see Tomlinson's, #17]. This signaled the final shift to the next generation, as George Moody-Stuart was offered shares but declined.
Antigua Syndicate Estates minutes, 4 January 1940, 1 May 1940.
The estates to be controlled by the new company were Gunthorpe's (#65), Casada Gardens (#13a), Paynter's (#61), Tomlinson's (#17), Fitches' Creek (#67), Donovan's, North Sound (#66), Cedar Valley (#42), Galley Bay (#30) and Five Islands (#31a/b).
On August 1, 1943, Gunthorpes Estates Ltd. was restructured into a new company renamed Antigua Syndicate Estates Ltd. Five Islands and Galley Bay were retained by the Moody-Stuarts. During the DuBuisson tenure, William Richard was an overseer.
During the 1940s, when Mrs. M. Abbott was still leasing the Five Islands estate, her grandson, Bill Sutherland, spent a lot of time on the estate, may have worked it, and as an adult felt a strong tie to it. Before leaving for college in Guelph, Canada, the last thing he said to his mother Milly Sunderland was: "Ma, I'm going to come back and buy Five Islands." He did, and worked for years as a veterinarian in Bermuda until he retired. His ashes were returned to Antigua and buried below the bluff house, marked by an eternal flame.
Once owned by Dr. Bill and his wife, Millicent, they built a cottage at the bottom of the hill where the sheep pen was formerly located. Mrs. Abbott lived in that cottage, cultivating a beautiful garden of fruits and flowers.
Millicent Sutherland, granddaughter of Mrs. Abbott, ran Five Islands for many years after her husband bought it. She sold milk in town to someone who retailed it to customers on Nevis Street. With the help of another veterinarian, Dr. Thomas, she built a dam to the west of St. John's which she named "Thomas Dam." Cattle and sheep were raised on Five Islands.
The Abbott children spent many holidays with their grandmother at Five Islands and have many memories of carefree days on the estate. When the swamp was dry they would walk across to the north beach and swim at the end of the road just past Pelican Mill, which was known as Deep Bay. Helen Abbott, Memoirs of . . . .
Pelican Mill: Lower Five Islands
The lower sugar mill has always been referred to as Pelican Mill. It is located a short distance from the sea and what was formerly a nice beach. Sand mining has since destroyed both the beach and the land behind it, which adjoin the flashes. The sand mining will eventually permit heavy seas to flow through it, turning the point into an island. Cockles are still harvested in the flashes.
"South of Gulf Point is land that was belonging to Massa Pelican, owner of the Pelican Mill that people claim to be the best in the area at one time. Massa Pelican rename Hawkesbill Rock, the Pelican Rock. That new name slip away after time." Pappy Smith in "To Shoot Hard Labour".
Enslaved People's History
Based on contemporary research, we have little information to share about the enslaved peoples from this plantation at this time. In 1833, when British Parliament abolished slavery, the Five Islands estate was awarded a legacy payment (Antigua 1044) of £3,589. 15s. 1p. for granting freedom to 250 enslaved. We will continue our quest for more information about these vital individuals.
Ownership Chronology
1678: Robert Carden
1750: Walter Sydserf
1790: Sir George Thomas, Bart (1777/78 map by cartographer John Luffman.)
1829: The heirs of Sir George Thomas. 703 acres; 215 slaves
1833: Marmaduke Robinson
1872: Sir Stephen J. Hill, C.B. 703 acres leased to S. B. Johnson
1921: Mrs. M. Abbott (leased)
1940: Antigua Sugar Estates restructured, leased to M. Abbott
1943: Antigua Sugar Estates Ltd. (Moody-Stuarts)
1940's: Dr. Bill and Millicent Sutherland
1950's: Henckell DuBuisson & Co.
1960's: Keith Edwards