About
Type: Extant
Parish: St.Peter
Founding date: 1681
See on Google Maps!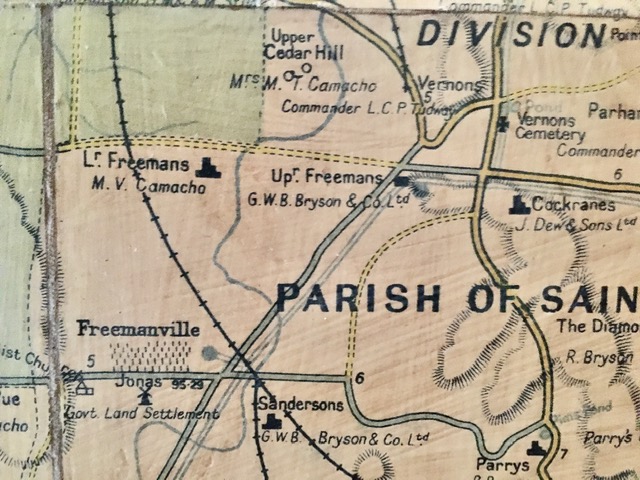 Current Status
It is not sure where the boundaries of Upper or Lower Freeman's are, but there is still a mill in Freeman's village up on the hill to the south which is now fenced in and privately owned which I think is the mill for Lower Freeman's as it appears on various maps. Mount Joy may also have been included in Upper Freemans and it is a likely place to have built the estate house and there is quite a bit of old milled stone lying around. It also afforded a magnificent view over the whole area. Several graves are at the foot of Mt. Joy to the south west of the Wickham family which ties in with the changing of the name of the estate from Wickham to Freeman's in 1785. According to Vere Langford Oliver, Thomas Freeman, the husband of Anne Wickham and grandfather of Thomas Inigo Wickham Freeman, changed the name of Wickham's to Upper Freeman's sometime before 1785. Returns were made in the 1817 and 1821 Slave Registers by Samuel Warner for an unnamed estate on behalf of Thomas I.W. Freeman and then between 1824 and 1832 by Charles Kerr Dow, attorney for Thomas I.W. Freeman for 'Freeman's.' Estates owned by various members of the Freeman family included Upper & Lower Freeman's and Winthorpes in St. George's Parish, Galley Bay in St. John's and Willis Freeman's in St. Paul's Parish.
"Upper Freeman's" at the family burial-ground in a cane piece, and under a large bread-fruit tree on a ledger, over a stone vault: Maj. John Wickham and Elizabeth Wickham." These are the two MI's at the southwestern base of Mt. Joy which must have been part of Freeman's estate.
Estate Related History/Timeline
1672: In 1672, George Symes settled in Antigua in British West Indies where he died in 1687. His father-in-law was also in Antigua. George left little estate to his children with his brother Henry Symes and others as guardians. Lieut. George Symes, Antigua, merchant, Member of Council 1678, granted 260 acres in 1681, speaker 1688. From History of Antigua, p. 110
April 2, 1679: John Vernon of Old North Sound, Gent. of the one part, and George Symms, merchant, and Dorothy his wife, daughter of Thomas Everard, Gent., dec'd., of the other part, in consideration of a marriage lately between George Symmes and Dorothy his wife, John Vernon gives to them and theirs a plantation called Wakering Hall in Old North Sound.
23 May, 1681: Lt. George Symes, 200 acres by Sir W. Stapleton.
1688: George Syms Speaker of the Council of Antigua. Act, No. 159. Confirmed 19 May, 1720 by Order of the King in Council. Private. An Act to enable Arthur Freeman and Dorothy his wife to sell and convey certain Plantation within the said Island, to raise Portions and make Provisions for Henry Symes and Elizabeth Athy, Children of the said Dorothy by her former Husband George Symes, deceased. Dated 1 March 1717. (Laws of the Leeward Islands.) George Symes was probably born in Doynton, County Gloucester and emigrated to Antigua, West Indies in 1672 when his father received a grant of land there. George was granted 260 acres in Antigua in 1681 and was a member of the Legislative Assembly in 1686. He was speaker of the assembly in 1688 when he died. He was a merchant and attained the title of Captain as did his younger brother, Henry. **SOURCE: DESCENDANTS OF HENRY II PLANTAGENET William Bartholomew wbarthol@cswnet.com December 2000
Capt. George Symes (1643-1687) married Dorothy Everard, the only child of Thomas Everard of Somerset, England, and his second wife Elizabeth _____. In 1672, George and Dorothy settled in Antigua, British West Indies, where her father was also living at that time. Capt. Symes died in Antigua and left little estate and his brother Henry (and others) were made guardians of the children. Dorothy died there after 1705. In addition to their son George, they had four younger children: Christopher, who stayed in Antigua; Henry, who may have gone to sea; John, who died unmarried in 1699; and Elizabeth, who married Ulysses Athney.
Arthur Freeman married, Dorothy, the widow of George Symes, Esq. of Antigua. Through this marriage Freeman's estate came into the family. Later, it was again through marriage that Wickham's estate came into the family through their son Thomas who had two sons, one of whom married (Thomas) Rebecca, Col. John Wickham's daughter.
There was an Act to enable Arthur and Dorothy Freeman to dispose of Symes Plantation. 1717-1718 Vere Oliver Vol.I p.26
Thomas Freeman (d.1736) owned Freeman's of 400 acres.
1723: "Maj. John Wickham died 30 Nov., 1723, at 41. His M.I. (memorial) is at 'Wickhams'." #105 Wickhams estate is in St. Phillip's Parish
"Upper Freeman's at the family burial-ground in a cane piece, and under a large bread-fruit tree on a ledger, over a stone vault: Maj. John Wickham and Elizabeth Wickham." These are the two MI's at the southwestern base of Mt. Joy which must have been part of Freeman's estate.
1725: "Charles Freeman, planter. Will dated 3 Dec., 1725. To my wife Abigail the produce of my plantation, negroes, a cow and horse. My son Thomas negroes. My son Robt. cattle. My dau. Eliz. sheep. John Booth and Edward Sutton Ex'ors. Sworn 2 Oct. 1726." Vere Oliver Vol.II p.262
1705-1739: There is a reference to 'Freeman's Rest" of 300 acres in St. Paul's Parish. Vere Oliver Vol.I p.261 This is probably the 'Willis Freeman' estate.
It is not certain which of the Freeman estates is being spoken of below but the 'summit of this little hill' could very well be Mt. Joy.
"We soon arrived at that of Mr. Freeman. This Gentleman who is remarkable for his learning, is no stranger to the polite Arts, and tho' not a martyr, is a votary to the Graces, as appears by every thing round him. His plantation, which is laid out with the greatest taste, has a mixture of the Indian and European. If your eye is hurt by the stiff uniformity of the tall Palmetto, it is instantly relieved by the waving branches of the spreading Tammerand, or the Sand-box tree. The flowering cedar is a beautiful tree, covered with flowers, and along Mr. Freeman's avenue these were alternately inter mixed with Orange trees, Limes, Cocoa Nuts, Palmettoes, Myrtles and Citrons, with many more which afforded a most delightful shade, which continued till we arrived at the bottom of a green hill, on which the house stands."
"His house, which stands on the Summit of this little hill, is extremely handsome, built of stone. Every house has a handsome piazza, that to his is large and spacious. You reach his house by a Serpentine walk, on each side grows a hedge of Cape Jasmine. Journal by a Lady of Quality p.100
1750: Archives of the Davies-Gilbert Family of Eastbourne, East Sussex. Purchase of additional properties by Davies Gilbert, John Davies Gilbert. Sir George died in 1775 and the Ratton estate, with plantations in Antigua, passed (after the death of his son William to his grandson Inigo Freeman, who changed his name. Held by Sussex Record Office, Date 1834-1852 Ref. #GIL/1/79
1750 October 18: Lewis Chas. Montolieu of Albermale St. paid £1,500 to Ex'ors of William Dunbar and the mortgage of Parham plantation of 400 acres in the P. of St. Peter the Estate of Arthur Freeman was transferred to him. Caribbeana
1851: Antigua Almanac shows Freeman's Upper of 211 acres belonging to T.I.W. Freeman.
1852: This estate contained 211 acres and 160 slaves.
The Lands of Antigua & Barbuda Sugar Factory Limited and the Antigua & Barbuda Syndicate Estates Limited (Vesting) Act. All that piece or parcel of land formerly part of Sanderson's, upper Freeman's and Osborne's pasture, as contained in Certificate of Title No.2211943 dated 3rd August, 1943 and registered in Book Q Folio 22, less than an area of approximately 262.281 acres.
The first Methodist Church in Freemans was established about 1872 and was located about 1.5 miles northwest of the present church in the old village. In those days the village was called Franchibelle, then later took the name of the estate Freemans.
Enslaved People's History
Based on contemporary research, we have little information to share about the enslaved peoples from this plantation at this time. We do know that the estate was awarded £2,728 15 s 9 d for the freedoms of 167 enslaved people after slavery was abolished in the Caribbean. However, in 1852, the estate contained 211 acres and 160 enslaved peoples. We will continue our quest for more information about these vital individuals.
Legacies of British Slave-ownership: Antigua 310 Upper Freeman's was awarded £2,728 15 s 9 d for 167 enslaved.
John Daniel and Thomas Daniel were awardees, Thomas Inigo Wickham Freeman was unsuccessful.
Ownership Chronology
1681: Lieut. George Symes d.1687
1687: George Symes
1700c: Dorothy Symes, wife of George Symes.
1717: Arthur (d.c.1738) & Dorothy Freeman (will 1721 proved 1737 – Dorothy wife of George Symes)
1730: Thomas Freeman d.1736
1750: Lewis Chas. Montolieu (note 'transferred' maybe not sold.)
1777: Mrs. Anne Freeman (1782-1858) 1777/78 Luffman map
1785: Wickham's changed to Freeman's Upper.
1750's: Mary Freeman
1790: Thomas Freeman
1829: Thomas Inigo Wickham Freeman b.1795 d.abt.1884 160 slaves
1872: Thomas Daniel & Co. 1872 Horsford Almanac leasee W.K. Martin
1933: G.W. Bryson & Co., Ltd.
1943: Antigua Syndicate Estates, Ltd.
1968: Antigua Government – Crown Land