About
Type: Ruin?
Parish: St.Paul
Founding date: 1740
See on Google Maps!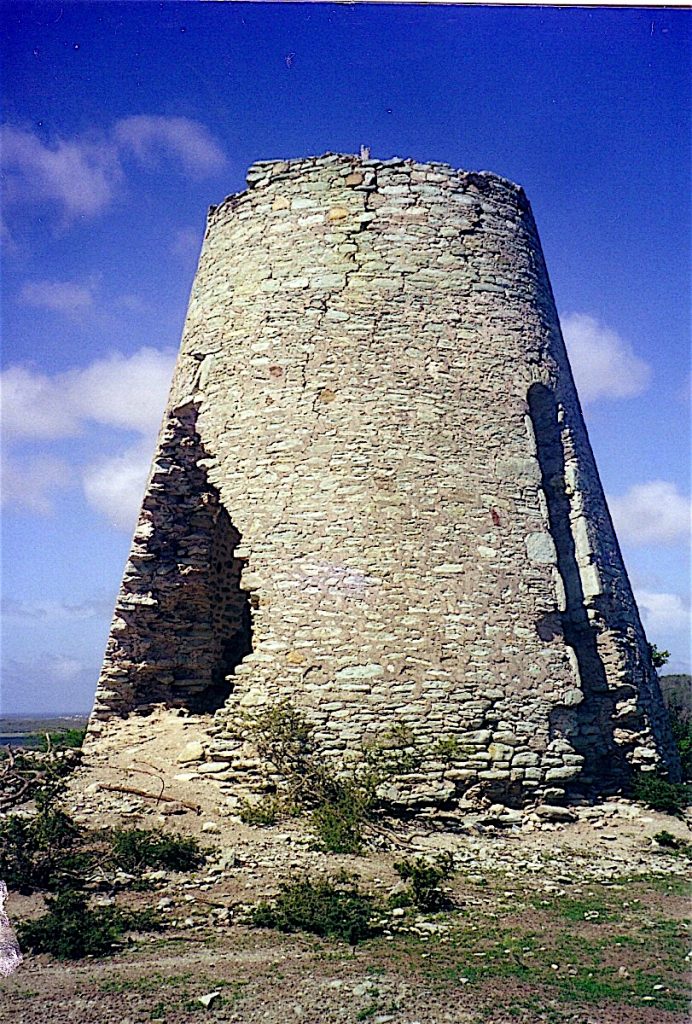 Current Status
Gale's is another of the few mills made from the natural green stone in the Liberta area.
Estate Related History/Timeline
"Indenture made 17th Nov., 1746 between Sophia Gale of Lewisham, spinster (granddaughter of Nathaniel Gale late of London, citizen and brewer, deceased), of the one part and James Gordon ….. of the other part. Whereas Nathaniel Gale in his lifetime ….. and Sophia Gales is entitled to an estate of inheritance. ….. Now this Indenture witnesseth that in consideration of 100 pounds sterling Sophia Gale grants and confirms to James Gordon ….. all those plantations, etc, etc…. to the only use of James Gordon and his heirs forever…."

"Indenture 1746 between George Augustus Gale of Lewisham, Gentleman, of the one part, and James Gordon ….. conveys to James Gordon all that messuage and all these plantations in the Falmouth Division, Parish of St. Paul, Antigua, containing 300 acres …. heretofore the estate of Nathaniel Gale dec. grandfather of Geo. Augustus Gale …. for one whole year."
Records for the Gordon Family estate are available at the Records Somerset Heritage Centre (SW Heritage Trust) for the period 1744-1777 Ref.#DD/PN/36

"1746 – James Gordon joined the Antigua Council in 1746 at the time when the 300-acre estate owned by Nathaniel Gale was transferred to his son, Deciderious Gale, after his death. In 1724 he had secured a loan from Richard Rigby of 2000 pounds sterling and it appears from the documents that the estate was used as collateral for the loan. Later, George Augustus Gale, a grandson of Nathaniel Gale, reclaimed the estate and in 1746, sold it to James Gordon outright for the sum of 224 pounds sterling. The bill of sale included "the slaves, horses, mules, etc.." This is when the estate changed its name from Gales to Table Hill Gordon – Table Hill was used to describe the many flat-topped hills on the estate. The survey shows that the ten-acre plot that the Edgecombs sold to the Moravians to build Grace Hill Church was part of the original Gales. This was formerly known as Edgecomb's Hill. This was the first estate purchased by the Gordons, later to include Barters and Wickam's nearby. Later on he purchased Cades Bay, which was formerly known as Yeamans.
"1746 – Richard Rigby or his representative, have been in possession of the said plantations for the use of James Gordon and his heirs forever."
"Nov. 1746: 300 acres – Wlm Holyer and wife Esther convey to James Gordon the estate of the late Nathaniel Gale, for one whole year."
"Wlm. Holyer and wife Ester sell for 676 pounds to James Gordon their share. (Esther daughter of Nathaniel)." Vere Oliver Vol.II p.2.
Will of James Gordon 1766 d.1807. Left to Frances Grant then James Brebner.
Also owned Sandersons 311 acres, Osborne's 217, Lavingtons 185 and Monks Hill 172.
1776 Gales or Table Hill. Referred to today as Table Hill Gordon. Vere Oliver Vol.II p.26
Will of James Gordon 1766 d.1807. Left to Frances Grant then James Brebner.
Also owned Sandersons 311 acres, Osborne's 217, Lavingtons 185, and Monks Hill 172.
"Lieut. General the Right Hon. Sir James Willoughby Gordon, Bart, owner of Gales 1806"

In 1824, a Mr. John Johnson was sent out to the West Indies to ascertain the conditions of the family estates. From his report which was very voluminous and illustrated with watercolour drawings, maps, plans etc.. the following figures were taken, including his estates in St. Christopher. In Antigua, Sanderson's: 311 acres of which about 230 acres were cultivated, 61 men, 98 women, 82 boys, 74 girls. Total number of slaves -315. Osbornes: 217 acres all pasture. (It was out of cultivation). Lavingtons: 185 acres, of which about 155 acres was cultivated, 28 men, 44 women, 28 boys, and 45 girls. Total number of slaves -143. Monks Hill: 172 acres, all pasture or out of cultivation (Table Hill Gordon)."
The Birth of the Village Liberta by Hewlester A. Samuel

1872: An example of a newly arrived family that benefited from act was the Maginleys. Two brothers, John and Robert, arrived from Ireland sometime between 1852 and 1872—they are not listed as owning estates in the 1852 almanac, but are 1872. The story is that they came as apprentice planters, or managers, but quickly set about acquiring
estates of their own. Using both the court and private sales, they had, by 1878, accumulated almost 4,500 acres and together were the largest owners in Antigua. Their estates (Comfort Hall, Gilbert's, Long Lane, Lavington, Lyons, Willis Freemans, and Burkes/LaRoche/Table Hill) were primarily in the fertile southeast. By 1891—again using the court—these had been supplemented by Cedar Hill and Sanderson's, for a total of nine estates. John served on the Legislative Council for twenty years, as well as on a number of public boards, and was a leading member of the plantocracy. antiguahistory.net/upload
1944 on the 7th July, share distribution of Antigua Syndicate Estates Ltd Certificate of title for Burke's (#133), La Roche's (#135), Willis Freeman's (3143) and Table Hill, came through. These estates were part of the buyout of all seventeen estates owned by Geo. Bennett Bryson & Co., most of which were settled in 1943.
Enslaved People's History
Based on contemporary research, we have little information to share about the enslaved peoples from this plantation at this time. We will continue our quest for more information about these vital individuals.
Ownership Chronology
Ownership prior to Nathaniel Gale
1740: Deciderious Gale
1746: Sophia Gale
1740: George Augusta Gale
1746: James Gordon (Died 1807)
1790: Francis Grant Gordon – 1777/78 Luffman map
1806: Sir James W. Gordon (1766-1878)
1878: Francis Grant
1871: William Abdy
1943: Antigua Syndicate Estates Ltd.
1967: Antigua Government – Crown Land