About
Type: Ruin
Parish: St.John
Founding date: 1650
See on Google Maps!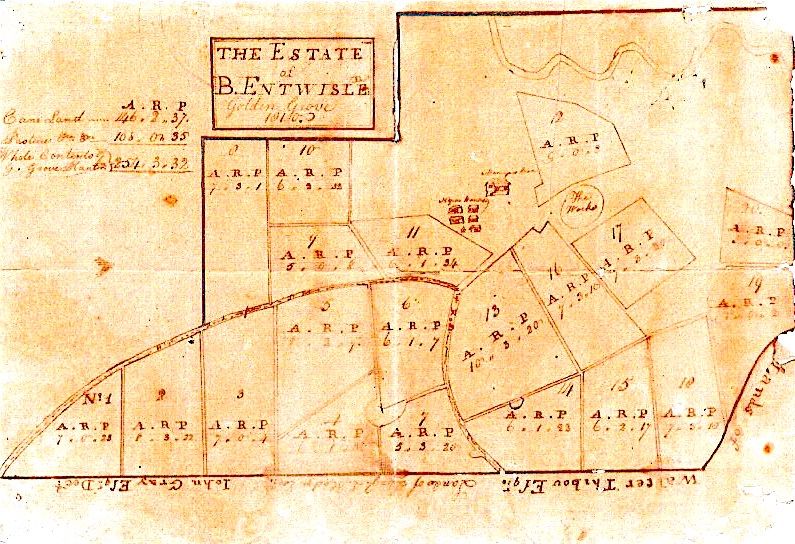 Current Status
There is no longer a sugar mill nor any other buildings standing on this plantation. Colonel Edward Powell was granted a patent on December 27, 1684, for 380 acres in St. John's Division, formerly called Paul's and now known as Golden Grove. He was the Deputy Governor of Antigua in 1667, and according to his 1687 will he also owned The Road Plantation. Vere Oliver, Volume III.
Estate Related History/Timeline
The will of William Milder, dated 1669, states: "To my son Jacob Hill half of my plantation called 'Paul's' in Antigua recently purchased from the widow Elliner [sic] Paull, together with 12 or 13 negroes. To my friend John Travers the other half of my plantation also my moiety of the sloop 'Martha' and half of the ship 'Charles' of Nevis." In this same year, Thomas Ayson of Bristol, England, bequeathed to his kinsman 50,000 pounds of muscovado sugar from his plantation in Nevis, and William Mildon of Bristol and Nevis referred in his 1669 will to his estate called "Paull Plantation" on the island of Antigua. It had recently been purchased by Elliner Paull as noted above.
In 1698, there was a petition from William McKinnon stating that William Bridges, Esq, was holding the Golden Grove Plantation in trust for Thomas Trant, a Roman Catholic (deceased) "by his letter of attorney dated November 1998 appointed Mr. Garret Trant of Montserrat, Mr. David Rice and Mr. Thomas Trant, Jr., of London to sell or let that estate, and two of them accordingly in 1702 granted a lease of it for 99 years to Dr. Daniel McKinnon at £100 per year." Vere Oliver, Volume III.
In 1716, Captain John Gamble, indentured to William and Elizabeth Bridges, "seized of certain plantations . . . one called Golden Grove, the other the Road Plantation formerly Rakes Bay." Vere Oliver, Volume II.
William McKinnon was an absentee planter for many years. He returned to Antigua in 1773 and became a member of the Council. He owned both Golden Grove and McKinnon's (#10), an estate of 830 acres.
Charles Curtis managed this plantation for Samuel Martin from about 1801 to 1812. When Bertie Entwhistle died in 1803, Samuel Martin was his trustee, and through that connection Mr. Curtis became manager of Golden Grove, Barnacle Point (#58) and Jolly Hill (#167). Mr. Curtis returned to England in 1822. A distant relative of his, Janet Richards, discovered a box of correspondence between her relative and Samuel Martin, including 41 pages of accounts for the Bertie Entwhistle Trust for these estates between 1812 and 1822.
Initially, people of colour were refused internment in the church yard at the St. John's Cathedral. The bell, which normally tolled to honour the demise of plantation owners and their families "was prohibited from being used to perform that service for those degraded ones whose veins flowed the least drop of Africa's tarnished blood. Accordingly, a smaller bell (which still hangs in the belfry) was obtained from the estate called Golden Grove, and which was regularly kept for the sole use of persons of colour. Vere Oliver, Volume II.
In 1833, when the British Parliament abolished slavery, Golden Grove was granted a Legacy award (Antigua 96) of £2,363. 5s. 9p. for granting freedom to slaves. The sole awardee was Ralph Peters.
During World War II, Flying Horse Hill operated a bar called Flying Horse. It was located near where Wendy's sits today. There was considerable action all through the war between Flying Horse and Allie's Bar, owned by Con White, Sr. Four photographs were prominent in Allie's Bar: Stalin, Churchill, Roosevelt and Chiang Kai-Shek. Mr. White also owned a night club in Golden Grove, where the State College is now located. That club featured 'brams'", a cheap dance somewhat on the rough side. Flying Horse Hill sold the land at this site to the government for construction of the State College. Selvyn Walter, Not A Drum Was Heard.
In 1941 the Antigua Sugar Factory, Ltd. estimated its returns from Golden Grove and Clare Hall (#13b) at 2,518 tons from 2,567 tons of cane delivered at 19.26/ton; 120 acres; 26 acres under peasants.
Enslaved People's History
Based on contemporary research, we have little information to share about the enslaved peoples from this plantation at this time. We will continue our quest for more information about these vital individuals.
Ownership Chronology
1650: Elinor Paull
1660: William Milder (Mildon). Became Deputy Governor of Antigua in 1667. Will: 1669
1669: Jacob Hill
1683: Boyd sold to Edward Powell, Deputy Governor
1684: Colonel Edward Powell, Deputy Governor of Antigua. Will: 1667
1702: Dr. Daniel Powell
1710: William McKinnon (1658-1720)
1720: William McKinnon d. 1809
1717: Callaghan McCarthy
1740: William Buckley
1790: Bertie Entwhistle d.1803 (1777/78 map by cartographer John Luffman.)
1829: Bertie Entwhistle leased to F. Shand & Co. 254 acres; 458 slaves
1843: Heirs of Bertie Entwhistle
1878: Reverend Thomas Peters leased to G. Bennett. 254 acres
1891: Heirs of Reverend Peters.
1921: T. E. Peters