About
Type: Extant
Parish: St.John
Founding date: 1739
See on Google Maps!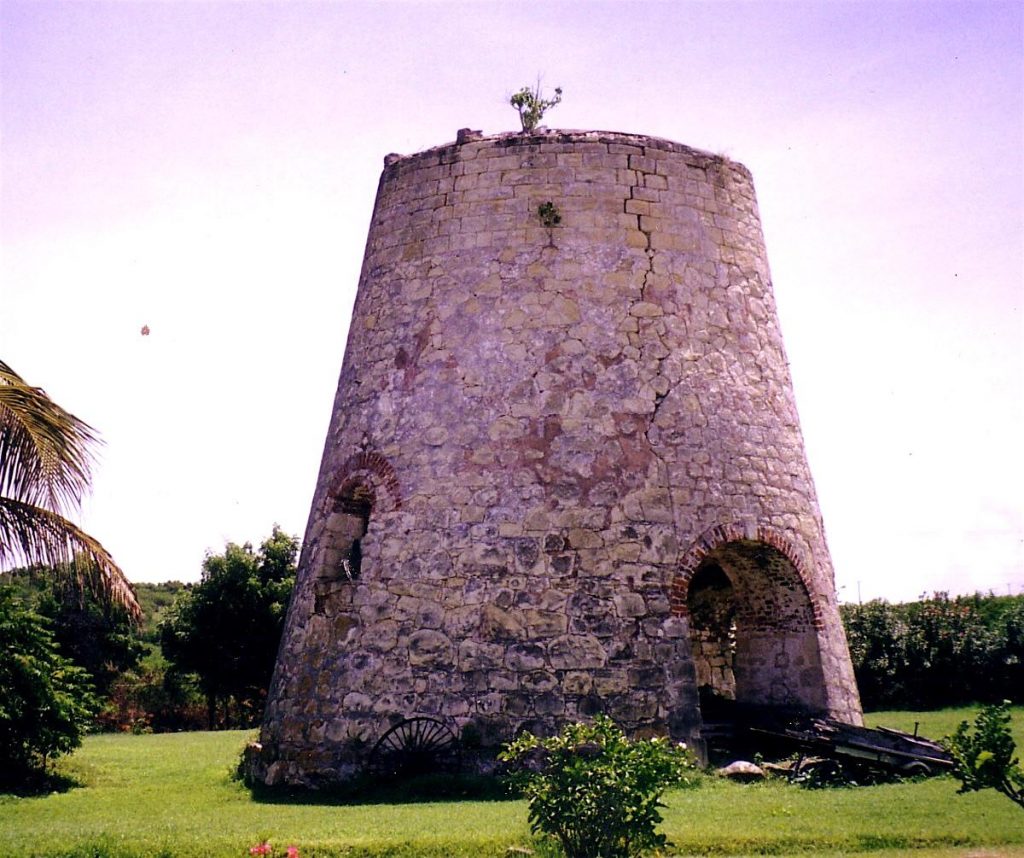 Current Status
The stone wind mill of this estate remains intact and in excellent condition. It is the focal point in the garden of Malcolm and Lotte Edwards.  The former Club Colonna Beach Hotel stood on Royal's Bay, which suggests that the estate originally stretched all the way down to the sea.  It has a fascinating history.
Estate Related History/Timeline
Isaac Royal was the son of a poor carpenter, who was an early immigrant to Boston, Massachusetts.  Isaac settled in Antigua in 1700 at the age of twenty-eight, a widower with a small nest egg from his deceased wife, Elizabeth Eliot.  Isaac lived on the island for forty years, a pompous, fancy, thin-skinned dandy with a grand estate, he became known as "The Colonel of Antigua". His brother, Jacob, sold rum and sugar on a ship he co-owned in Boston with his uncle, Joseph.  His was a life of seaborne trade, including a raid on nearby Nevis.  Toward the end of his nautical career, Jacob wrote: "Amongst my troubles and misfortunes let me inform you as my friend of my good fortune" claiming he had amassed "above six thousand pounds!" during his life on Antigua. By the early 1730s, the high-income days on Antigua were over, and Isaac Royal purchased a new estate in Medford, Massachusetts, just outside Boston.  It was known as Red Hills Farm.  He shipped 27 of his slaves north to the new venture, although his new wife balked moving from Antigua to Medford for several years. His Antigua estate became absentee landlord property and it suffered the consequences.  There was a continual flow of slaves between Virginia, Massachusetts and Antigua, but even an exchange of Indians captured during war skirmishes in the New World and shipped to Antigua proved "too difficult in captivity" to properly work Isaac's land, and in 1770 it was sold.
St. John's Parish estates which abutted Hart's & Royal's were Hodge's (#4) to the south, Weatherill's (#5) and the village of Cedar Grove to the west, Mount Pleasant (#7) to the north, and Thibour's Jarvis (#34) to the east.
Malcolm Edwards, on whose property the preserved sugar mill now sits, rebuilt the small manager's house over a period of four years with the help, as needed, of a crew of 2-to-4 laborers.  They used Western Red Cedar and southern pine wood, all of it imported.  He, his wife and their two daughters moved into the home in 1989.  The large brick kitchen oven, which was located in a separate building, has been restored and incorporated into the main body of the Edwards home.
With the development of the Royal's residential area in recent years, the remains of a large Arawack settlement has been uncovered, revealing many significant artifacts.
Ann Brown, born in 1703 as the stepdaughter of Isaac Royal, married Robert Oliver whose son, Thomas, gained notoriety as Lt. Governor of Massachusetts during the time of war.  She describes Royal's Plantation:  "The 'big house'  was a two story mansion set on a slight rise, complimented by the manager's quarters, a stone dwelling fifty paces off, a cane press, a still, a cistern, the busy mill, a stables for the Royall's horses, and a huddle of simple mud and thatch huts that housed family slaves."
    In 1710, there was an "indenture between Robert Weir and John Rose of Antigua, merchant, of the other, the latter agrees to let his plantation in New Northsound to the former, late in the occupation of William Glanville of Antigua, merchant, for lease of twelve years at 300 pounds a year."                                    Vere Oliver, Volume III.
The historic Isaac Royal House purchased by Isaac on December 26, 1732, is located at 15 George Street in Medford, Massachusetts, a suburb of Boston.  In 1712 , Isaac granted a description of the Royal Mansion (called Hobgoblin Hall) in Antigua to Samuel Adam Drake, which is printed in Vere Oliver's History of Antigua and The Antiguans, Vol. III.  Samuel Adam Drake, writing in Our Colonial Homes, said the mansion was supposedly modeled after that of a nobleman in Antigua.  It is a fantastic description, but rather lengthy. The Medford building is notable for its excellent preservation, its possession of the only surviving slave quarters in Massachusetts, and its American Revolution associations with General John Stark, Molly Stark, and General George Washington.  Among its historic objects on display is a tea box thought to be from the same batch dumped into Boston Harbor on the night of December 16, 1773 (the Boston Tea Party), and a very small painting of Isaac Royal, Jr. on copper by John Singleton Copley.
The site's recorded history actually began around 1637, when Massachusetts Governor John Winthrop built his own home there.  About 1692, his wooden home was replaced by a more imposing brick structure standing two-and-one-half stories high, but only one room in depth, with exceedingly thick walls.
It is this building which Isaac Royal, Sr. — a slave trader, rum distiller, and wealthy merchant — purchased in December 1732, together with 504 acres of land along the West Bank of the Mystic River in what was then the village of Charlestown (annexed to Medford in 1754).  Isaac extensively remodeled the home between 1733 and 1737, adding a third story, encasing its eastern facade in clapboard, and ornamenting the exterior with architectural details and continuous strips of spandrel panels. Isaac also constructed outbuildings in 1732, including the only known slave quarters to survive in New England today.  Upon completion of all of his renovations, he transferred the 27 enslaved Africans from his Antigua plantation to Medford, doubling the enslaved population of that community. The Royal House has been designated a National Historic Landmark by the United States Government.  It is operated as a non-profit museum, open to the public between June 1st and the last weekend in October. Harvard University, in Cambridge, Massachusetts, owes a significant debt of gratitude to the Royal family, which donated land to the University in 1786, land upon which Harvard constructed its famous Law School in 1817, the year the School was established. Harvard still uses the Benefactor's signature — three sheaves of wheat — as its trademark seal.  Janet Halley, the most recent recipient of the Royal Chair at Harvard, listed every previous holder of the Chair (all male) in her acceptance speech, and ended her remarks by reciting the name of every Royal slave whose name was known.  C. S. Manegold," Red Hills Farm".
The Hart family genealogy includes an unsigned letter from a person seeking information "about Barry Conyers Hart, a black freedman who come to Trinidad from Antigua in 1800.  He was the father of two women who according to John Salliant: "Around 1790, two young sisters born into a slaveholding free black family began instructing Antiguan slaves in literacy and Christianity.  The sisters, Anne (1768 – 1834) and Elizabeth (1771 – 1833) Hart, first instructed their father's slaves at Popeshead — he may have hired them out rather than using them on his own crops — then labored among enslaved women and children in Antiguan plantations and in towns and ports like St. John's and English Harbour.  Soon the sisters came to write about faith, slavery, and freedom.  Anne and Elizabeth Hart were moderate opponents of slavery, not abolitionists but meliorationists.  When compared to their American, British, and West African contemporaries, the Hart sisters illuminate the birth of a black anti slavery Christianity in the late eighteenth century precisely because they never became abolitionists.  The Hart sisters shared with their black contemporaries a vivid sense of racial identity and evangelical Christianity.  Yet as meliorationists, the Hart sisters did not oppose slavery as an institution, but rather the vice it spread into the lives of blacks."  
The sisters, daughters of a black slave holder, both married prominent Methodist lay leaders, educators of slaves and free African Caribbeans, during the late 18th and early 19th centuries.  Anne married a Gilbert, while her sister Elizabeth married a Thwaites.  Daniel Burr Garling, the author's great-great-grandfather allowed them to use a warehouse in the Point area as a secondary school.                     "The Sisters Hart", by Ferguson.
Vere Oliver's History of Antigua and The Antiguans, Vol. II, notes that "in the private burial ground at Harts", there is written on a square stone:
                Sacred to the Memory / of Charles Ansll Hart / who departed this Life / on the first day of July in the year of / our Lord one thousand eight / hundred and sixteen /   Aged 37 years.
Mr. Oliver also notes that there are two stone vaults in the ground with no memorial encryption.  There are also eight graves with headstones.
William Shand, an owner of C. W. & F. Shand, accomplished his Antigua slave ownership through the family's merchant firm.  He appears to have been in partnership with Alexander Simpson, with whom he owned the plantations Montrose and Ogle in British Guiana.  In 1852, notice was given that the Shand firm, as merchants in Liverpool, had been dissolved.  A shipping despatch showed the superiority of Liverpool as a port of call compared to other British ports.  Capt. W. R. Greaves, of Antigua, sailed the Shand-owned vessel Phoenix into Liverpool, offloaded 464 hods sugar plus molasses plus a number of smaller packages; then loaded 100 tons of bricks plus 150 tons of goods and set sail for Antigua having spent only sixty hours on the dock!  It was believed to exceed anything of the kind ever accomplished in Liverpool before.                                 
Gore's Advertiser.    
In Caribbean Adventures, Journal of Thomas K. Hyde (edited by David H. Farquar), Mr. Hyde states:
    "Today I rode to Paradise Estate (Royal's) owned  by D. Furlong(ed. as of 1829) … the mill was in the wind, and the (slaves) were  boiling sugar, but (the proprietor) ordered the people to stop the mill and take the fire from under the coppers while I said prayers.   I told him that I was aware it was a great inconvenience and that it might result in a loss, but the religious wants of the people were more important."
Church records show that Agnes Marguerite Russell, born 1885 at Royals, was the daughter of Downes Nurse Russell.  It is not certain what Mr. Russell did at Royals, but he was Vestryman at St. Paul's Church and received a letter from the Church when he left Antigua for Barbados in 1892/93
In 1833, Parliament paid a Legacy award (Antigua 22) to Hart's & Royal's in the amount of £1,563. 4s. 8p. for the freedom of 107 enslaved.  William Shand was the only awardee.
The Sun Sail Club Colonna Hotel now stands on Royall's Bay, where this estate had originally stretched all the way down to the sea.  The slight rise in the land from the sea meant the buff house could look out across land to Prickly Pear and beyond.
Nearby estates include Hodge's (#4) to the south, Weatherill's (#5) and the village of Cedar Grove to the west, Thibou/Jarvis (#34) to the east, and Mount Pleasant (#7) to the south.
Records for Hart's & Royal's are held at the National Archives in Kew, U.K.
Enslaved People's History
Based on contemporary research, we have little information to share about the enslaved peoples from this plantation at this time. At most the mill had a 123 slaves. However, we will continue our quest for more information about these vital individuals." Some interesting facts are that one of the owners, Isaac Royal purchased an estate in Medford, Massachusetts and sent 27 slaves north. Isaac Royal donated land to Harvard in 1786, where they built Harvard Law School in 1817. Harvard used the Benefactor's signature — three sheaves of wheat — as its trademark seal until 2016. Janet Halley, the most recent recipient of the Royal Chair at Harvard, listed every previous holder of the Chair (all male) in her acceptance speech, and ended her remarks by reciting the name of every Royal slave whose name was known. In 2016, Harvard Law dropped Royal's seal after controversy that the seal was from a slave-owning family and built a plaque in honor of the slaves of the Royal family. Also, Isaac also constructed outbuildings in 1732, including the only known slave quarters to survive in New England today. Upon completion of all of his renovations Also, Ann Brown, stepdaughter of Isaac Royal, in 1703 wrote that "a huddle of simple mud and thatch huts that housed family slaves." The Hart family that owned the mill for some time was a slaveholding free black family. Barry Conyers Hart, a black freedman who come to Trinidad from Antigua in 1800, was the father of two women who according to John Salliant: "Around 1790, two young sisters born into a slaveholding free black family began instructing Antiguan slaves in literacy and Christianity. The sisters, Anne (1768 – 1834) and Elizabeth (1771 – 1833) Hart. These two sisters were meliorationists and practice anti-slavery Christianity. The Hart sisters shared with their black contemporaries a vivid sense of racial identity and evangelical Christianity. Yet as meliorationists, the Hart sisters did not oppose slavery as an institution, but rather the vice it spread into the lives of blacks."
Ownership Chronology
1600s: Late. Ownership by Isaac Royal (Rial, Ryall, Royall) d. July 27, 1739
1739: Isaac Royal, Jr, his son b. 1699.
1770: The property was sold; no buyer has been identified
1788: Barry C. Hart. See 17778/78 map by cartographer John Luffman
1829: John Furlonge. 206 acres, 123 slaves
1851: C., William and F. Shand. 206 acres. William (1784-1848)
1872: Thomas Jarvis. 209 acres
1878: C. J. Manning
1891: Victor Guffay
1921: Amelia Gonsalves 219 acres.
1933: LeonardI Henzell
1950's: Syndicate Estates
1985: Lotte and Malcolm Edwards, mill site and 3 acres