About
Type: Extant
Parish: St.Mary
Founding date: 1706
See on Google Maps!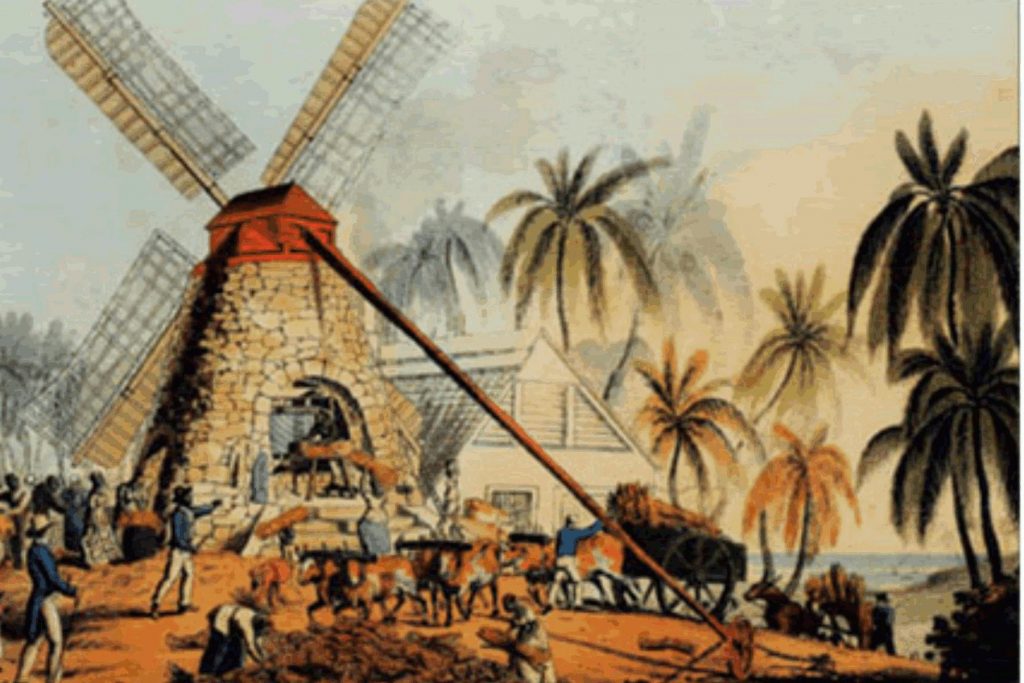 Current Status
A mill still exists round the headland and is accessible by a path along the sea front after rounding the rocky headland at the north end of Hermitage beach. It is best viewed by boat from the sea. This estate did not convert to steam.
The Leper Colony, known as the Lazarette, was established with the help of the Government on Rat Island in 1837 and moved to Pearns Pt. in the early 1930's (near Hermitage to the south). Around 1960 the Home was abandoned when leprosy was no longer a disease to be feared on the island. The whole area has now become a very high end residential area.
In 2007 a new deluxe hotel property called 'Hermitage Hotel' was built on Hermitage Bay taking up the hillside and two thirds of Hermitage beach, leaving approximately one third open to public access. 2013 the beach is changing quite drastically and a ledge of rock is now visible almost all along the beach 5-10' out in the water. This used to be one of the best beaches on the island for shelling and after a storm some excellent varieties of shells can still be found.
Estate Related History/Timeline
1706: "1706, June 7. Lieutenant George Leonard rated on 16 slaves and 62 acres in St. Mary's Parish." Vere Oliver Vol. II p.174/74.
1716: Capt. George Leonard was Governor of Anguilla. Several of the Leonard family have been interred in Valley Churchyard.
1767: "George Leonard rated on 47 slaves and 128 acres in St. Mary's Parish."
1799: "George Leonard of Tortola, Esq., and of The Hermitage, Antigua ….. d.1799."
1829: In 1829 this estate contained 117 acres and may have shared slaves with Jolly Hill estate. An interesting quote from British History Online, America and West Indies: January 1706, shows that Capt. George Leonard, Governor of Anguilla, "traded with Rogers and lay att anchor aboute 20 dayes, and he knowing ye goods he bought to be of some of Capt. Kidd's. Capt. Kidd's boate was ashore att Anguilla and Kidd lay att anchor thaire aboute fower houers. Leonard stands indebted to Rogers 300 p.s of eight." It goes on to mention that many were trading with pirates and one John King even acquired an estate in St. Christopher through trading with pirates.
1852: "Crabbs" (#73) of 400 acres belonged to Thomas Coull MD, also The Hermitage (St. Mary's) of 117 acres." "In 1788 belonged to the Leonards and in 1852 contained 117 acres and was owned by Thomas Coull MD." Vere Oliver Vol.II p.175
Thomas Coull MD also owned Hawes (#78b) and Mercer's Creek (#78) of 311 acres in St. Peter's parish. He was buried in St. George's church with a memorial on a black and white tablet on the north wall.
"In the preamble it was stated among other facts that Hermitage Enterprises is a Partnership/Corporation consisting of the heirs of Jacob and Grace Francis (our grandparents of Greenbay, Antigua, W.I. The Will specifically directed that the Estate should not be sold but "shall pass down to posterity."
"After much struggling, the planters ceased their objections to ex-slaves owning land, and the land that nobody had the desire to use for sugar cultivation, because of the hills and soil exhaustion, became available to any 'ambitious ex-slave' or 'free man of colour'. Depending on the situation, fertility and closeness to markets, the price varied from 8 pounds to 120 pounds sterling per acre. Hermitage was one of the less expensive sites because of the rugged terrain and the isolation among the hill, and it was also far away from Gunthorpes, which was the central depot for the sugarcane." "The two hills – Jumbie Hill and Georgie Hill, are part of a range of hills known as "The Sleeping Indian".
"Money was scarce then, but the pooling or the throwing of box money enhanced the little money that was obtained from crops. You see, nine pence per person per week for 10 weeks from 10 people would amount to 3 pounds 15 shillings, and this was considerable then. He did not use his 'box hand' but saved it to help in pursuing his dream. In time he could pay for his plots as they became available and would continue to extend his holdings, this 'The Spring Piece,' 'The Simon Hill,' 'The Brown Piece,' 'White Wood,' and 'Ellis Piece'."
"The beach on the southern side of Hermitage is one of the loveliest beaches anywhere. It takes on a variety of names, some quite controversial such as Lime Kiln Bay and Mosquito Cove. Royal Cove is the beach that Queen Elizabeth II, when she visited Antigua chose for her one and only salt water adventure."
"The houses at Hermitage were little more than what we called 'Watch Houses' in those days. They were four sides of wood, and a roof of sticks and interwoven coconut palm leaves daubed with mud, then baked in the sun. These were called 'wattle-and-daubed' houses, most with hard packed mud floors. Today nothing is left of these structures."
Born c.1858 d.1938, Moses Francis became one of Antigua's first black major land owners just 24 years after the abolition of slavery. More of this remarkable story is told by a descendent outlining the history of both Hermitage and Hawkes Bill Estate." Our Caribbean Heritage in Context by Ineta F/J. Skepple
Enslaved People's History
Based on contemporary research, we have little information to share about the enslaved peoples from this plantation at this time. We do know that the greatest number of enslaved people working at this estate were 107, and the owner of the estate in 1829 was awarded 1620 lbs 5s 5d for their release. One particularly interesting fact about this plantation is the ownership of Moses Francis (1858-1938), who was one of Antigua's first black landowners of priority land, and his ownership arose just 24 years after the British abolition of slavery. We will continue our quest for more information about the vital individuals who worked for and at this location.
Legacies of British Slave-ownership: Hermitage was awarded 1620 lbs 5s 5d for 107 enslaved. The only awardee was Thomas Coull.
Ownership Chronology
Ownership from 1706 George Leonard. Governor of Anguila. Living 1717.
1780: George Leonard. Will read 1799, of Tortolla. 117 acres. 1777/78 Luffman map"
1829: Heirs of J. Coull.
1843: Thomas Coull MD. 105 acres.
1846 & 1872: Horsford Almanac
also shows 12 acres to John Francis and 11 acres to W.W. Symister.
1871: W.A. Coull.
1878: Moses & John Francis. 98 acres.
1933: Camacho map.
1939: Heirs of Francis.
2005: Heirs of Francis.