About
Type: Extant
Parish: St.John
Founding date: 1750
See on Google Maps!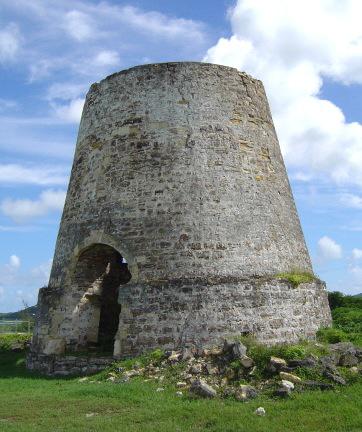 Current Status
The sugar mill still stands on this site, situated on a bluff above the sea with a terrific view of ships approaching St. John's harbour and Fort James to the south, with Goat Hill in the background and Corbison's Point to the north.  Cattle and provisions were raised on this estate.
The beach area, now known as Runaway Beach after the hotel of that name, was formerly known as Dry Hill.
The Cove estate owned by John Taylor Esq. (1777/78 Luffman map) was situated just south of the Dry Hill estate house and was probably incorporated at a later date.
Estate Related History/Timeline
In 1681, Elizabeth Lisle, daughter of Henry Pearne of Antigua, was granted 100 acres by William Stapleton.  In 1711/12, Captain Toby Lisle of the HMS Diamond wrote about a sloop he had captured.
Samuel L. Athill, a native Antiguan, married an American woman and built the house now situated on Dry Hill.  "Mother used to visit and Mr. Athill would offer everyone something to drink, then turning to Mrs. White would ask 'if she would care for a glass of water' knowing she was diabetic." Margaret White, Memories of ….
Samuel and a Thomas N. Kerby jointly owned an extensive cargo of corn meal, flour, staves and fish which had been loaded aboard the S/V Hannah, a 143 ton brig built in 1796.  The vessel was owned by Wait and Isaac of Weathersfield, Connecticut, mastered by James Barclay.  The vessel departed New York on March 8, 1800 bound for Antigua.  However, it was seized on April 5 by Captain Chaufort, a French privateer aboard in L'Unise and taken to Guadalupe, where the vessel and cargo were condemned.
Enslaved People's History
Based on contemporary research, we have little information to share about the enslaved peoples from this plantation at this time. However, we will continue our quest for more information about these vital individuals.
Ownership Chronology
1750: Tobias Lilse. Baptized at St. John's 1723
1790: Ladwell & Scott (1777/78 map by cartographer John Luffman.)
1829: James Baker
1843: James H. Baker – 167 acres
1860: Samuel Williams
1872: Heirs of Samuel Williams 100 acres, plus 10 acres belonging to Paul Horsford
1878: Samuel L. Athill
1933: Mary S. Athill (1933 Camacho map.)
1940's: Asot Michael
2000: Heirs of Asot Michael