About
Type: Ruin
Parish: St.Paul
Founding date: 1750
See on Google Maps!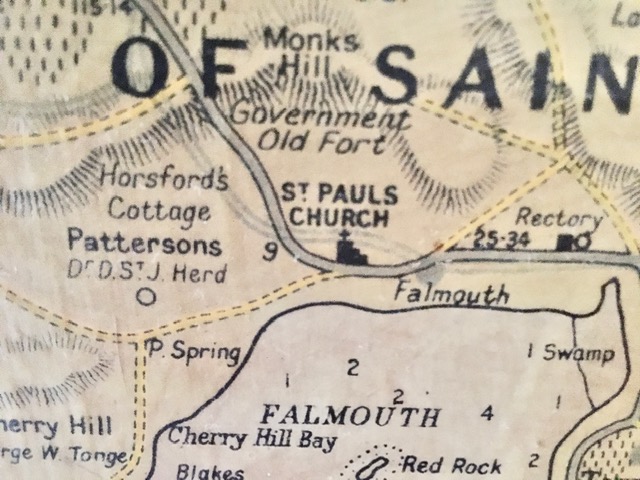 Current Status
There is no longer a mill at this site or any physical evidence of this estate except for the name "Horsford Hill" on the road to the Dockyard just prior to rounding the bend with a view of Falmouth Harbour.
Estate Related History/Timeline
1797: Indenture shows John Horsford has as his Attorney the Hon. Samuel Athill, the next owner of this property. Vere Oliver Vol.II p.85
The Horsford family made their mark in Antigua and were well respected.
"In St. John's Cathedral. Sacred/to the Memory of/The Honourable Paul Horsford/A member of her Majesty's Council/and who for a series of years/filled successively the important offices/of speaker of the House of Assembly/Solicitor General, Attorney General, and Chief Justice of this island./ He departed this life on the 16th of April. A.D. 1850/Aged 79 years/his mortal remains lie interred/within the Burial ground of this Cathedral/in the vault of the Warner family/etc…."
In 1780 John Horsford was rated on 177 acres and 74 slaves.
The Athill family show a connection to Byam's and Lynch's Estates. Samuel Athill 1786-11, James Athill 1790-1825. Vere Oliver Vol.I p.10
1819: See Bodkins #142 for the burial of the Hon. Paul Horsford, Attorney General of Antigua, daughter Amelia's husband, John Hawksley.
"Sacred to the Memory /of/John Hawksley Esq./Eldest son of Archibald Hawksley of/Dubline sq.'Late Governor of the National Bank of/Ireland and Anne his wife/Married on 27th day of July 1815/Amelia Alice/Eldest daughter of the Honourable Paul/Horsford/Attorney General of this Island and/Amelia his wife died on the 18th/day of January 1819
In 1829 this estate contained 204 acres.
1851: The Antigua Almanac shows Horsford's & Patterson of 407 acres belonging to Horace Turner.
Enslaved People's History
Based on contemporary research, we have little information to share about the enslaved peoples from this plantation at this time. We will continue our quest for more information about these vital individuals.
Ownership Chronology
Ownership from 1750 George Horsford
1780: John Horsford – 1777/78 Luffman map
1829: John Horsford
1843: George Athill
1851: Horace Turner
1890: Samuel Athill