About
Type: Ruin
Parish: St.Mary
Founding date: 1661
See on Google Maps!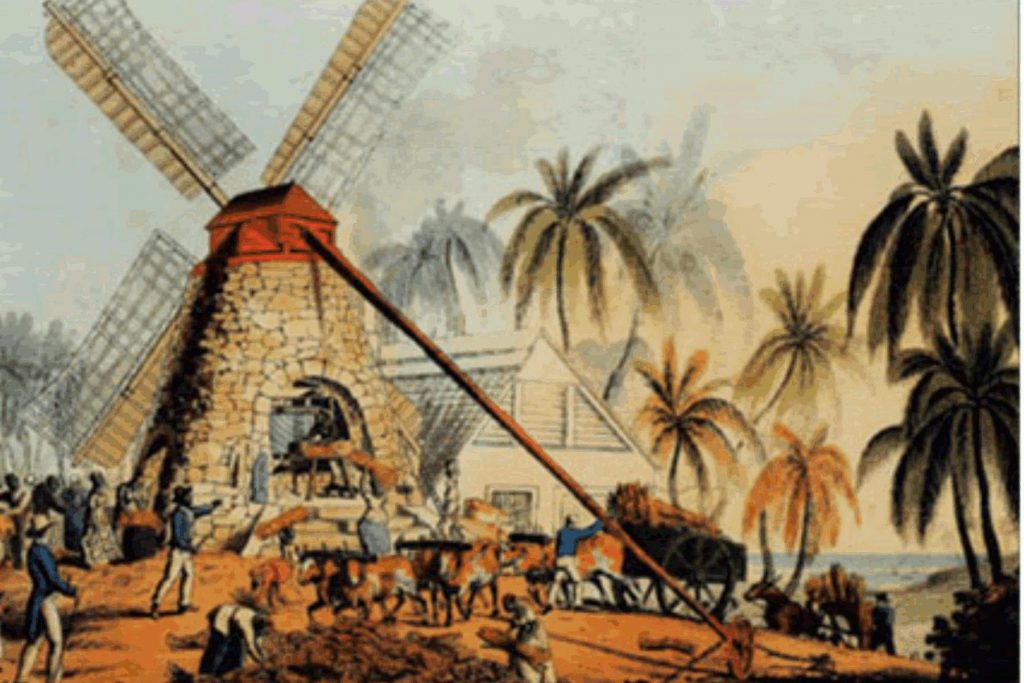 Current Status
There is no longer a mill at this site or any visible ruins of the works. The estate house on top of the hill with a beautiful view to the west over Jolly Harbour & Hermitage, however, though in a deplorable state, still stands. It was purchased by an American, Mr. Paul Denkler, in the '60s and was quite a showpiece once renovated. It is quite unusual with the stairway approaching the front, though one can drive around to the back. Two stone pillars mark the entrance off the main road with an iron gate.
There are four headstones in a walled cemetery at the foot of the hill directly north of the estate house. One of the headstones read, "In Loving memory of Margaret Annie Peters wife of —— Entwhistle Peters, of Jolly Hill who died — 1929 age 33 years," also, "Near to the Home I loved so well/There let me Rest/And my living love shall guide you still/To our last long home Above." The graves are in remarkable shape, as is the wall and gate leading into the little cemetery, but they are not yet of an age to show major deterioration.
Estate Related History/Timeline
1686: Thomas Horsnell mortgages his moiety of Jolly Hill to George Turney and his heirs. 1695 Henry Pearne conveys 300 acres (part of Jolly Hill Plantation to General Codrington. Vere Oliver Vol.III p.10
1709: By Indenture George Turney, merchant, Sarah Turney, widow, and Anthony Turney, march all of London, release to William Codrington and Valentine Morris their title to half of Jolly Hill, containing 200 acres. Vere Oliver Vol.II p.167
1711-12: "Valentine Morris petitions for the remission of taxes on 143 acres of salt flashes, part of his Jolly Hill plantation. Granted."
1767: Indenture 1767 between Valentine Morris ….. and all those plantations in St. Mary's Parish called Jolly Hill Plantation containing and including Mangroves and Flashes, 450 acres, all of which said last mentioned plantations are now in the tenure of Martin Blake ……". Vere Oliver Vol.II p.273
1783: Jolly Hill was appraised by Eliot & Horsford as follows:
238 slaves worth …. 13,879 pounds with cattle & utensils …. 17,000 pounds
62 acres of good land at 35 pounds per acre …. 2,170 pounds
20 acres indifferent, fit for provision ground at 10 pounds per acre …..200 pounds 69 acres of pasture at 6 pounds per acre …. 414 pounds
456 acres of pasture, woods, swamps at 40c per acre ….. 912 pounds
A total of 697 acres valued at a total of 3,696 pounds
The buildings and works are 2,518.
The total value of the estate is placed at 22,215 pounds.
The valuers were of the opinion that the estate would never pay as a sugar estate and consequently valued the land at a low figure. History of the Island of Antigua by Vere Oliver Vol.II
1801: Charles Curtis was manager for Samuel Martin at High Point from around 1801.
1812: When Bertie Entwhistle died, Sam Martin was his trustee, and because of this connection, Charles Curtis also managed Golden Grove Barnacle Point and Jolly Hill, estates belonging to Entwhistle. Charles Curtis returned to England in 1822. A relative of Curtis, Janet Richards, recently came into possession of a box of correspondence between him and Samuel Martin, which is in the process of being digitized.
1830: Ralph Peters, Antigua sugar planter, estate rentals and letter book held by Liverpool Record Office, 1830 no reference stated.
1852: This estate contained 708 acres.
1861: Excerpt from a letter written by Robert Jefferson to his brother Henry. "Jolly Hill. Golden Grove. I see Willis' reply to your letter, but except for the scribbling of John Gray, Law has had no applications for the lease whatsoever. The Bisphams have never yet paid the half year's rent due in Feby promising it shall be forthcoming when they realise that mortgage on Bendalls — I was very glad to agree to a proposal from Law that we should ride around the Estates which we did last Saturday for I have been paying enormous wages for weeding lately & I was glad of the opportunity of seeing with him whether they have been properly expanded — we found the sprouts very clean & of course forward & proposing for next year but there are two pieces near the gut at Jolly Hill which they are now cutting, splendid cane but quite spoilt with the wet, being one half rotten — Pay the Lease the rent unpaid the Lessors might enter upon the Estates at any time but Law holds no Power of Attorney to do so & so merely advises Willis at home — he lunched with me yesterday & was very wishful I should make an offer to lease the Estates but this I declined doing though I should so much like to get clear of these Bisphams — our position with this is still a difficult one for all my calculations with regard to the covenant I entered into are frustrated by the bad weather we have had — with a good ordinary season our account would have been realized or very near about it by the crops, but I don't see more than 330 pounds sterling wiped off up to date by calculation being very little more than when I wrote you on 11th May — There will be quite 170 to 180 hhds to be shipped from the two estates this crop when they can be made." An Antiguan Trading Company by Marly Gleadall.
1878: This time shows Jolly Hill of 708 acres belonging to Thomas Peters and Steamworks leased to George W. Bennett.
1921: In 1921 2,393 acres. It was common practice to lease out plantations, particularly if the owner did not reside on the island and was an absentee landlord or owned more than one estate. Indentures spelled out the terms of the lease, very often for one year.
Valentine Morris wrote in his Narrative – "Two of my valuable estates in Antigua were taken possession of by the Assignees of a Mortgage for the whole nominal sum of the original mortgage. Another very considerable estate in that Island, the seat of my nativity and that of all my remaining family, has been forced to sell under every possible disadvantage for little more than 13,000 pounds, which on the most accurate estimates had frequently been valued at 30,000 pounds." History of the Island of Antigua by Vere Oliver vol.II.
"Valentine Morris junior inherited from his father a large fortune, which he dissipated in extravagant living. His friends obtained the post of Lieut. Governor in St. Vincent of which island he became Governor 4 years later. He later returned to England after the capture of St. Vincent by the French, where he prosecuted various claims against the Government for sums advanced by him for public service. He languished six or seven years in the King's Bench prison, during which time his charming wife became insane from misery and distress. His friends obtained his release 3 years before his death in August 1789."
1941: Antigua Sugar Factory Ltd Cane Returns for 1941 Crop.
Jolly Hill-Estimated 4497 tons, 230 acres estate, 40 acres peasants on the estate, tons of cane delivered 3107 at 12.19 tons per acre.
1969: The Lands of Antigua & Barbuda Sugar Factory Limited and The Antigua & Barbuda Syndicate Estates Limited (Vesting) Act. 30th December 1969. All that piece or parcel of land forming part of Jolly Hill, approximately 918.321 acres, as contained in Certificate of Title No.1311951 dated 18th February 1951 and registered in Register Book S Folio 108. 1980's – Isaac Hawkins was a wealthy Antiguan. The story goes that when he became ill and was in Holberton Hospital, a lady took pity on him, looked after him, washed his clothes, and cooked for him. When he was better and released, he asked her to come home with him and continue to help. She agreed, not knowing his status, expecting a small house of moderate means. To her surprise, she was transported to Jolly Hill Buff's house. Upon Mr. Hawkins's death, she was provided for in his will and continued to reside at Jolly Hill until her death. Selvyn Walter
Legacies of British Slave Ownership: Jolly Hill was awarded 1804 14s 2d for 240 enslaved. The only awardee was Rev. James Curtin.
Enslaved People's History
Based on contemporary research, we have little information to share about the enslaved peoples from this plantation at this time. We do know that there were 238 enslaved people working at this estate in 1783 and that the number only increased to 240 over almost fifty years. At that point, slavery was outlawed in the Caribbean, and Jolly Hill was awarded 1804 lbs 14s 2d for the freedoms of those 240 individuals. We will continue our quest for more information about these vital individuals.
Ownership Chronology
1661: rented to Capt. Richard Manning.
1686: George Turney
1690: Henry Pearne. Will 1751. 1695 Conveys 300 acres (part of Jolly Hill) to General Codrington.
1711: Valentine Morris & William Codrington
1750: Valentine Morris(d.1789)
1777/78: Luffman map
1790: Bertie Entwhistle (d.1803). 708 acres.
1829: Bertie Entwhistle leased to Shand.
1843: Heirs of Entwhistle.
1846: Horsford Almanac
1872: Horsford Almanac
1878: Thomas Peters leased to G.W. Bennett.
1891: Heirs of Peters.
1933: G.W. Bryson & Co. Ltd.
1933: Camacho map
1933: Col. J.J. O'Sullivan – the Buff. 1933 Camacho map
1950's: Paul Denklar. The Buff.
1980's: Isaac Hawkins. The Buff.
2003: Heirs of Hawkins.