About
Type: Ruin
Parish: St.Paul
Founding date: 1750
See on Google Maps!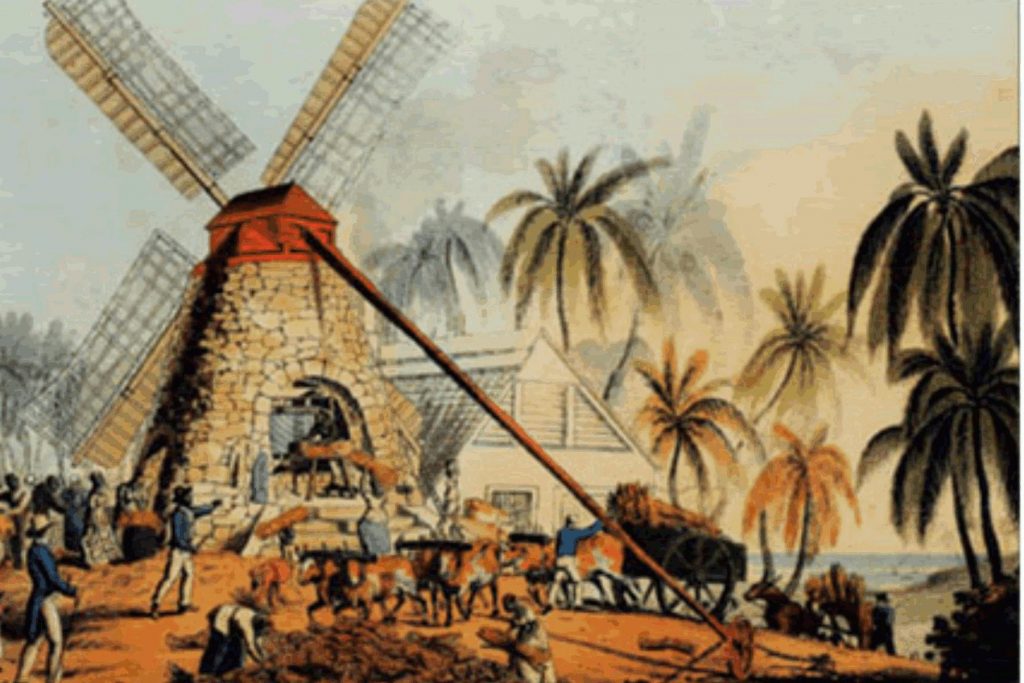 Current Status
There is no longer a mill at this site or any remains of ruins.
Estate Related History/Timeline
1768: Indenture between James Laroch and Elizabeth Rachel Ann Yeamons (sole surviving child of John Yeamons (deceased) of Yeamons #91)….."all that plantation containing 233 acres and 20 perches in the Parish of St. Paul and division of Falmouth, bounded east by the late Rolan Browne and the late Shute Yeamons, west with the late John Burke and north by the late John Duer and south by the late Benedict Willis." Vere Oliver Vol.III p.275
"Elizabeth Rachel Ann Laroche, wife of Sir James Laroche, Bart. Will dated 1 October, 1779. By an indenture of 21 November, 1768. I leave all my plantations in Antigua to my husband, and if he die s.p. recommend him to leave them to Sam Elliot of Antigua, Esq. All residue to my said husband. To his sister ….." Vere Oliver Vol.II p.162

1816: In 1816, this estate contained 233 acres.

1829: In 1829, this estate contained 320 acres and 110 slaves.
"By Indenture of 10 and 11 June 1816 Susannah Laroche, spinster, Henry Laroche, Dame Elizabeth Laroche, James Laroche and others, sold 'Laroches' of 233 acres for £29,000 to trustees to pay vendors certain annuities amounting to £500 a year, and to hold the estate for the heirs of Jonas Langford Brooke, deceased." Vere Oliver Vol.II p.163.

1851: The Antigua Almanac shows La Roche of 231 acres belonging to Thomas L. Brooke.

1852: "Thomas Langford Brooks owned Langfords 404 acres in St. John's Parish, Langfords Woods 280 acres St. John's Parish, Jonas's 325 acres St. Peter's Parish and Laroche's 231 acres St. Paul's Parish. 10 years ago two other estates were sold, the whole of the Antigua property of about 1700 acres for £10,000 to Mr. Comanche, a Portuguese merchant in St. John." Vere Oliver Vol.II p.151
1943: August 1st Gunthorpes Estates Ltd. was restructured (see #64 Gunthorpes) into a 'new' company renamed Antigua Syndicate Estates, Ltd.. The Bennet-Bryson estates were Sandersons, Long Lane/Lavington's/Ffrye's, Burke's/La Roche/Willis Freemans, Jolly Hill (Jolly Hill, Blubber Valley, Ffrye's, Montrose, Yorke's and the Cove), Hawes and Mercer's Creek, Cochran's and Thomases, and were bought for 39,000 pounds.

1969: The Lands of Antigua & Barbuda Sugar Factory Limited and The Antigua & Barbuda Syndicate Estates Limited (Vesting) Act. 30th December, 1969.

13. All that piece or parcel of land forming part of Burke's, La Roche's, Willis Freemans and Table Hill approximately 769,999 acres as contained in Certificate of Title No.211944 dated 17th February, 1944 and registered in Register Book Q Folio 47.
The certificate of share distribution of Antigua Syndicate Estates Ltd. Certificate of title for Burke's (#133), La Roche's, Willis Freeman's (#143) and Table Hill (#140) came through.
Enslaved People's History
Based on contemporary research, we have little information to share about the enslaved peoples from this plantation at this time. We only know that, in 1829, this estate contained 320 acres and 110 enslaved people. We will continue our quest for more information about these vital individuals.
Legacies of British Slave-ownership claimants: In 1833, Parliament finally abolished slavery in the British Caribbean, Mauritius and the Cape. The slave trade had been abolished in 1807 but it took another 26 years to effect the emancipation of the enslaved. The legislation of 1833 was the result of a combination of factors where it was felt that the plantation owners should be compensated for their slaves who were to be freed. The amount of 20 million pounds, a huge amount in those days, was divided up between all slave owners.
Peter Langford Brooke – awardee trustee – absentee/resident? Antigua 392 (Laroche's) 789 2306 18s 3d (159 enslaved)
1866-1892 Papers, Correspondence and Plans: Brooke: Laroch: Antigua: No.35
Held by The National Archives – Colonial Office Ref.#CO 441/6/15
Thomas Delves Broughton, Peter Langford Brooke and Henry Raper – awardee trustee – absentee/resident? Unsuccessful were Elizabeth Brooke and Thomas Langford Brooke. Antigua 392 (Laroche's) view 789 2306 18s 3d (159 enslaved).
Ownership Chronology
Ownership from 1750 Gov. George Lucas
1779: Sir James Laroche, Bart – 1777/78 Luffman map
1816: Heirs of Jonas Langford Brooke
1829: Lord Combermere
1851: Thomas L. Brooke
1865-71: James Maginley
1921: Col. R.S. Cotton
1933: Admiral Cotton 1933 Camacho map
1950: G.B. Bryson & Co.
1943: Antigua Syndicate Estates Ltd.
1967: Antigua Government – Crown Land