About
Type: Ruin
Parish: St.Paul
Founding date: 1673
See on Google Maps!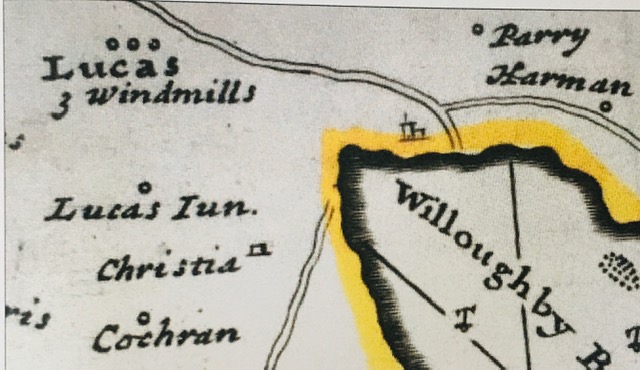 Current Status
There is no longer a mill at this site. To the east lies La Roche's estate to the west Delaps. To the north Yeamon's and to the south Bodkins.
Estate Related History/Timeline
The Pedigree of Lucas gives some conflicting statistics of date ownership. The 1729 Herman Moll map shows three Lucas estates – Lucas (#136) which had three windmills – Lucas Iun just south in the location of Morris Looby's today – near Lynch's above Half Moon Bay approximately where Sheriff's is today. Several reports mention Cabbage Tree Plantation where Eliza Pinckney was born, purchased in 1682 and Round Hill purchased in 1678.
"1698 John Lucas writes home to a friend on 25 and 27 April and complains of the conduct of General Codrington who brought an action for libel against him"….."£5,000 bail has been demanded of him. They are hunting his son in the woods with negroes and dogs. He has made over his estate to Mr. Sampson for security."
May 1698, John Lucas writes from the Common Goal.
"Another letter June 1698 in which he says the Jury gave a verdict for 2000 pounds damages to Gen. Codrington for libel. One of his children who was with him in the goal had died. Your Lordships have already written to say that the 5000 pounds bail was excessive and that 500 pounds was sufficient. He sails for England with the good wishes of the Speaker George Gamble and other friends."
1673: Will of John Lucas: "Estate valued at 8000 pounds I hereby devise to John Hill my plantation in Willoughby Bay, Antigua, called "Round Hill" acquired 1678 and "Cabbage Tree" acquired in 1682." Vere Oliver Vol.II p.199
1724 Apr.10: Governor Hart writes "George Lucas, Capt. of a Company at Antigua, heir to one of the best estates there". V.Oliver Vol.II p.201.
1734-5: "Hon. Col. Geo. Lucas, Esq. …..owed 30,000c, his estates subject to several mortgages, finding himself thus encumbered he calls his Creditors together, offers his Estates to be delivered up and sequestered till each of their debts should be discharged. ….he has lately sold one of his Estates for 13,000c and has two very good ones besides." Vere Oliver Vol.III p.156
George Lucas owned Garden Hill plantation on the Combahee River in Charleston, South Carolina and there is a list of slaves including some from Antigua.
N.Quaco – Barbuda. All names from George Lucas to Charles Alexander, released from mortgages on five plantations. 25th August, 1746 SCDAH.
Also Charles Dunbar to George Lucas release from 1738 mortgage of 600 acre plantation on Wappoo Creek near Charles Town. 23rd August, 1746 SCDAH
Eliza Lucas Pinckney "The materiality of Colour. The production, Circulation and Application of …."
A letter to George Lucas from his brother Thomas. "I was married January 10th last to an agreeable Young Widow by whom I have got possession of a very fine Estate." …. I have laboured very hard these ten years past …., there is only the breadth of a Bay about two Miles betwixt Cousin Sydsderfs Estate and mine". "The Old Lady her Mother (not yet being 50) conveyed the Estate to me in fee simple forever; per Capt. Samuel Oliver." (Walter Tullideph's Letter Book) Vere Oliver Vol.III p.156
Eliza Lucas Pinckney was born on December 28, 1722, in Antigua, one of the islands of the West Indies then under British control. Her father, George Lucas, was a British Army lieutenant-colonel and lieutenant governor of Antigua. Little is known about Pinckney's mother, save for the fact that her health worsened as her daughter entered her teens. Pinckney's father encouraged her to read and cultivate her mind. She was even sent to school in England, a rather unusual advantage for a young woman of her social standing, in her era, when learning was considered irrelevant to a woman's future role as wife and mother.
The Lucas family relocated from Antigua to South Carolina in 1738, the year Pinckney turned 14 years old. It was thought that the climate would prove more beneficial to her mother's health, and the family settled at a plantation that had been left to them by Pinckney's grandfather. The plantation was called "Wappoo" because of its proximity to Wappo Creek, it was also near Charleston, a bustling coastal city in the British North American colonies that was known as Charlestown at the time. But Pinckney's father was recalled to Antigua around 1739 when a conflict erupted between England and Spain called the War of Jenkins' Ear, and because his two sons were away at school in England, George Lucas left his capable teenage daughter in charge of not just Wappoo but two other agricultural properties.
Enslaved People's History
Based on contemporary research, we have little information to share about the enslaved peoples from this plantation at this time. We do know that, in 1829, this estate contained 320 acres and 110 enslaved people, and right before slavery was abolished in the Caribbean, the estate was awarded £1,665 3 s 7 d for the liberation of 106 enslaved peoples. We will continue our quest for more information about these vital individuals.
Ownership Chronology
Ownership prior to 1673 John Lucas (d.1673)
1707: Lieut. Colonel George Lucas – a minor in 1699 (d.1747) war at Brest -Governor of Antigua – dtr. Eliza Pinckney (b.1722)
1760: Robert Webb
1770: Harry (d.1786) & Nathaniel Webb (d.1744)
1777: John D. Halliday – John D. Halliday known as "Rock Hill"
1800: Rear Adm. John. Halliday Tollemache
1843: John Tollemache
1878: Lord Combermere
1891: Lord Combermere
1921: Col. R.S. Cotton
1933: Admiral Cotton 1933 Camacho map