About
Type: Ruin
Parish: St.Philip
Founding date: 1698
See on Google Maps!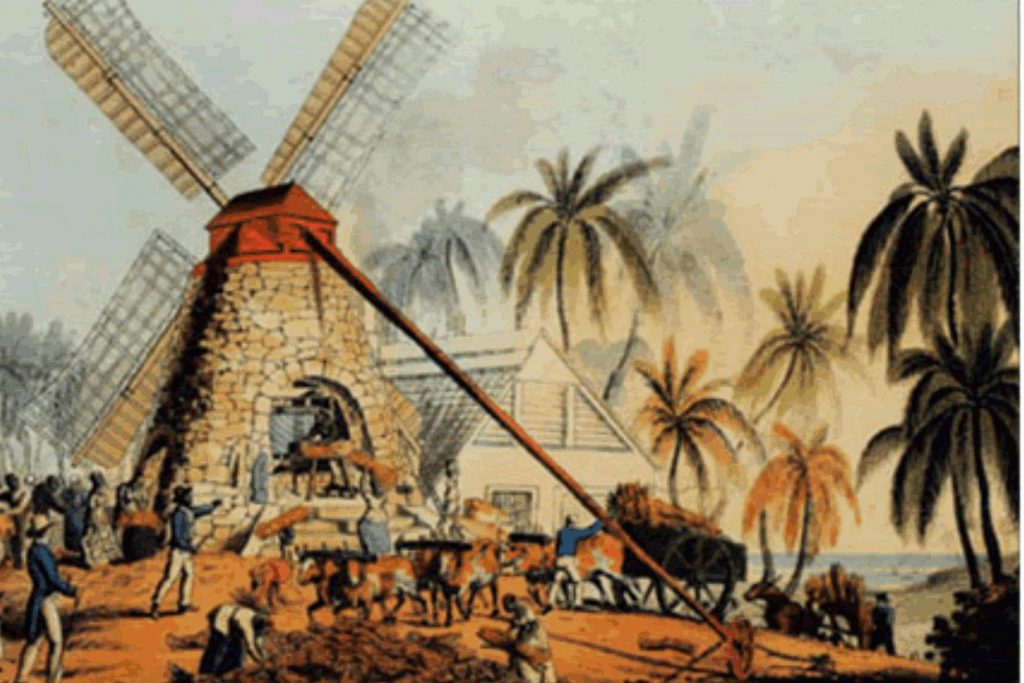 Current Status
There is no longer a mill at either of these sites but the base of the mill can still be seen which has been converted to a garden area beneath old mahogany trees.  The estate house has been maintained beautifully and is privately owned.  Within there is a lovely old photograph showing a slightly different front facade to the present, with a horse drawn carriage out front, probably changed during renovations.
This estate apparently did not convert to steam.
Lower Lyons was situated on the coast of Willoughby Bay south of Ffryes very near to the old town of Bridgetown
Estate History Timeline
Captain John Lyons (1760-1816) succeeded to the 583 acre Lyons Estate in Antigua in 1748 and served as a member of the Council of antigua from 1764 to 1775 as had his father and great grandfather. After the death of their second child in 1803, John and his wife, Catherine, returned to England and settled at St. Austin's, an 190-acre estate in the New Forest, Lymington, Hampshire. Wikipedia.
"John Lyons b.Sep.1787 Admiral R.N. Flag Midshipman to Lord Nelson on board the `Victory' at Trafalgar. Died 15 Dec. 1872 at Worthing s.p."
1748 – "John Lyons of "Lyons" of 4000 acres died 1748"   
Vere Oliver Vol.II p.214 & Vol.III p.91
1812: "Latter half of 1812 Mr. & Mrs. Charles Thwaites were invited by the Wesleyan Missionary to assist him in divine service at Lyons Estate in a large Negro hut where services were held every other Sunday.   Mr. & Mrs. Thwaites went through wood and water from English Harbour through Blakes to get to Lyons.   They met at the meeting place at Lyons Estate on Feb. 13th, 1813 – no minister and 500 children were present.   More space was needed.   Halfway on their journey Mr. & Mrs. Thwaites observed "a delightful spot, a gentle rising found covered with smooth green grass, and here and there forest of trees, open to the sweet and gentle breezes from the bay."   This place was Bethesda."  Horseford 1856 p.201.
"Lyons Estate where Dr. Nugent (1781-1843) resides.  In respect to general intelligence, scientific acquirements, and agricultural knowledge, no man in Antigua stands higher than Dr. Nugent.   He has long been speaker of the house of assembly, and is favorably known in Europe as a geologist and man of science.   He is manager of the estate on which he resides and proprietor of another."
Dr Nicholas was also a landowner and managed the estate of Lyon's where he resided in the 1830s. The authors of the book Emancipation in the West Indies (1837) wrote that in respect to general intelligence and agricultural knowledge" no man in Antigua stands higher than Dr Nugent."
A travelogue by Charles Kingsley, author of the 'Water Babies', entitled 'At Last: A Christmas in the West Indies' refers to Dr. Nugent's Memoir on the Geology of Antigua (1821) as well as his account of a paper 'Soufriere of Montserrat' in the Geological Society's Transactions vol. I (1811).Dr Nugent graduated in medicine from Edinburgh University, where his son Oliver later studied. 
Nugents of Antigua
"In allusion to the motives which prompted the legislature to reject apprenticeship and adopt immediate emancipation, Dr. N. said "When we saw that abolition was inevitable, we began to enquire what would be the safest course for getting rid of slavery.   We wished to let ourselves down in the easiest manner possible – therefore we chose immediate emancipation."   These were his words." 
Emancipation in the West Indies – a six months' Tour in Antigua, Barbados & Jamaica in the year 1837. by James A. Thome.
In 1829 consisted of 503 acres in and 271 slaves – both Upper & Lower Lyon's.
At the time of emancipation in 1834, Nicholas Nugent managed 'Lyon's' estate in the east of the island (north of Willoughby Bay, west of Nonsuch Bay) and lived there whilst evidently owning 'Skerretts'.  Later he lived at Merrywing Hall, whose location is unknown.  Nugents of Antigua.
1851: The Antigua Almanac shows Lyons' upper and lower of 503 acres belonging to Heirs of John Lyons.
1852: "Lyons" Upper and Lower plantation is in St. Philip's Parish and in 1852 it consisted of 503 acres, and was in the possession of the Heirs of John Lyons."
An example of a newly arrived family that benefited from act was the Maginley's.  Two brothers, John and Robert, arrived from Ireland sometime between 1852 and
1872:They are not listed as owning estates in the 1852 almanac, but are 1872. The story is that they came as apprentice planters, or managers, but quickly set about acquiring estates of their own. Using both the court and private sales, they had, by 1878, accumulated almost 4,500 acres and together were the largest owners in Antigua.  Their estates (Comfort Hall, Gilberts, Long Lane, Lavington, Lyons, Willis Freemans, and Burkes/LaRoche/Table Hill) were primarily in the fertile southeast. By 1891—again using the court—these had been supplemented by Cedar Hill and Sanderson's, for a total of nine estates. John served on the Legislative Council for twenty years, as well as on a number of public boards, and was a leading member of the plantocracy.
Carnival tents are not new.  Lyons was the site of one of the first 'benna' tents, Parham, another.  Benna (bennah) was the precursor to the calypso.  The white people used to complain of all the noise from the singing in the tent.  Before 1950 John Quarkoo was typical of the calypso or benna singer.  He was fearless, nothing under the sun was sacrosanct and he drank hard.  He was always topical, composing on the spot detailing events.  His tongue landed him a prison sentence.   
Selvyn Walter.
Benna
"Sly Mongoose, sly mongoose,
Dawg know ya name,
Sly Mongoose, sly mongoose,
Dawg know ya name.
Fa ya walk in to Mr. Forrest kitchen
Pick up one a he fattest chicken,
Shobe ey into ya waistcoat pocket,
Sly Mongoose."
Mr. Forrest was a Scots man who owned a shop on Scotch Row – Market Street – in St. John's.
1930s: 1930's Mr. David Edwards of Freetown (2015- age 92) remembers that the pond at Lyons by the roadside and a pond at Blakes estate, were used by the village of Freetown in a drought.   That is a long way to haul water when people only had donkey and cart in those days.   Then one year sulphur was found in the water and that was the year Governor Ffeines built the reservoir in Freetown.
1941: Antigua Sugar Factory Ltd Cane Returns for 1941 Crop.   Lyons.  Estimated 1774 tons, 64 acre estate, 1 acres peasants on the estate, tons of cane delivered 1242 at 119.34 tons per acre.
For information on the Maginley family see Burke's (#133).
George T.G. Maginley married his cousin Annie Douglas Letita (dtr. of John Maginley) in 1917 and lived at Lyons with two of her sisters, Mrs. Streater and Mrs Dew, and then Garan House, Hodges Bay where she died.
1943: The Syndicate Estates offered to purchase Lyons from Mr. Maginley for £2,200 which was initially refused then negotiations reopened.   Settled October 1943.  In particular the estate bell, negotiations for sale was cancelled.
1944: Thomas Maginley sold Lyons and Lower Waldrons to Antigua Syndicate for 6,864.00 (not clarified if LSD or $ in the ASE minutes.
1951: Mr. Maginley turned over the house at Lyons for a cash settlement, to the Antigua Syndicate Estates Ltd.
1952: The house was put up for sale for £2,500 by the Syndicate Estates to include the old house, garden pond, building stones, 60 mahogany trees and a catchment with 18,000 gallons storage.
1969: The Lands of Antigua & Barbuda Sugar Factory Limited and The Antigua & Barbuda Syndicate Estates Limited (Vesting) Act.   30th December 1969.
All that piece or parcel of land forming part of Lyons and Lower Waldron, approximately 191.5109 acres as contained in Certificate of Title No.4011944 dated 30th August, 1944 and registered in Register Book Q Folio 85.
Enslaved People's History
Legacies of British Slave-ownership:  Based on contemporary research, we have little information to share about the enslaved peoples from this plantation at this time. We do know that Lyon's was awarded £4,236 3 s 7 d for 274 enslaved peoples' freedoms after slavery was abolished in England. Awardees were Henry Shepherd Pearson and Norborne Thompson. Other Association were Rev. Samuel Lyons and Nicholas Nugent. Beneficiary deceased was John Lyons Jr. and previous owner was John Lyons. Unsuccessful were Amelia Catherine Lyons, Caroline Amelia Lyons and Mary Harman LyonsDespite these limitations, we will continue our quest for more information about these vital individuals.
Ownership Chronology
1745 John Lyons (1731-1775)
1788 John Lyons (1787-1872)
1790 Jos. Lyons Walrond
1829 Capt. John Lyons R.N.
1851 Heirs of John Lyons – 502 acres Upper & Lower 1851 Antigua Almanac.
1852 Heirs of John Lyons
1871 Francis Kennington – 502 acres. 1872 Antigua Horsford Almanac.
1872 T. Kennington
1878 James Maginley (1835-1895)
1921 Walter J. Maginley (d.1945)
1933 Thomas H. Maginley 1933 Camacho map.
1943-44 Antigua Syndicate Estates Ltd. under Sir Alexander Moody Stuart