About
Type: Ruin
Parish: St.Paul
Founding date: 1725
See on Google Maps!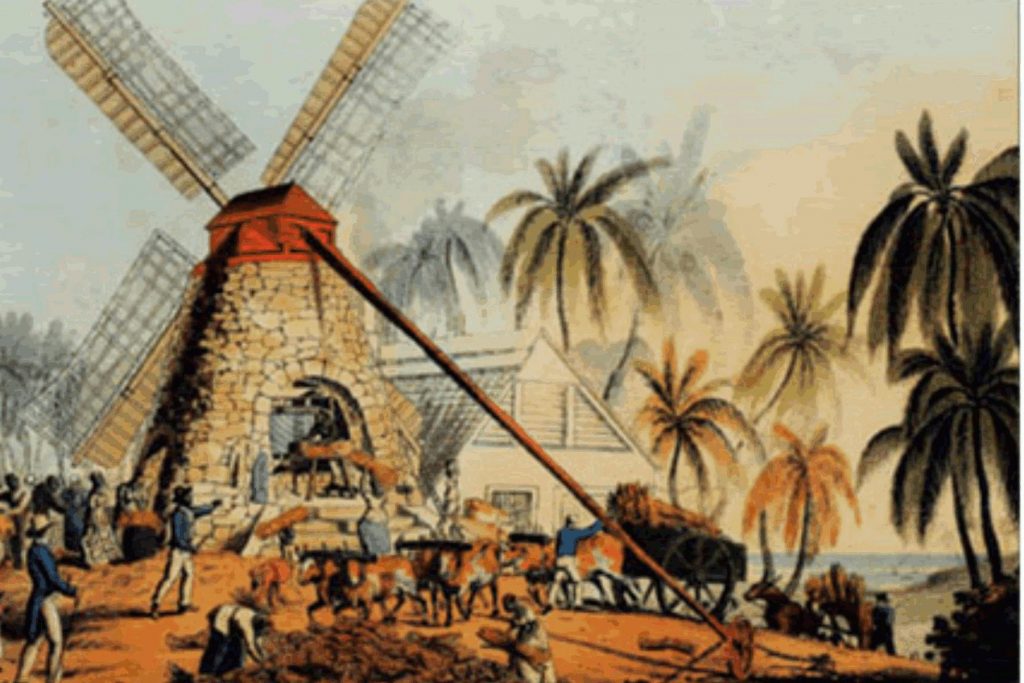 Current Status
There is no longer a mill at this site.
Estate Related History/Timeline
In fact, Government put out tenders for dismantling this mill in 1954.   Antigua Star, 7th November, 1954.
Will of Edward Warner 1732 "To my son Wm my gold watch, chain & gilt seal.   My plantation called Clarke's and 3 negros I drew from there & put with Staughtons, (but none of the slaves bought with Staughtons nor any of the plantations lately bought called Nanton's or Dimsdale's)………To my cousin Mary Burgess 100 pounds in discharge of a deed of purchase made to me by Admiral Thos. Mathew & M.A. Mathews of a plantation called Stoughton's or Burgess's or Mathew's or Clarke's ….."      Vere Oliver Vol.III p.191
Constitution Hill Plantation – May 1812.   Owned by Lieut. William Grant in the Parish of Aberlour, co. Banff.    Vere Oliver Vol.I p.28
Brother John Taylor pastor at Grace Hill. Moravian Archives, Bethlehorn, PA.
"On Tuesday I went with my wife to Mathew's where we saw and spoke to all the communicants and delivered a short discourse to them in the house of an assistant."
Awardees were Charles Chatfield and Henrietta Ross.   Attorney was Rev. Thomas Harrison.   Not claimant was John Elliott Hyndman.   Beneficiary deceased was Nathan Mayer Rothschild, Beneficiary was Rt. Hon. Lord James O'Bryen and unsuccessful were John Cunningham the younger, Baron James de Rothschild, Robert Hyndman, John Jameson, Sir Henry William Martin 2nd Bart, Josiah Martin, Robert Sims the younger and Samuel Thompson.
An awful lot of names involved here all trying to get a piece of the pie. One has to remember that many of the estates were often divided upon death of an owner to include numerous relatives and heirs, many of whom had never set step on the island of Antigua. Distant relatives must have come out of the woodwork in Britain in order to obtain part of this enormous handout.
1851: The Antigua Almanac shows Mathew's or Constitution Hill of 572 acres belonging to Warwick P. Hyndman.
1941: Antigua Sugar Factory, Ltd. Cane Returns for 1941 Crop.   Mathew's.  Estimated 1524 tons, – acres estate, 158 acres peasants on the estate, tons of cane delivered 1722 at 17.22 tons per acre.
Enslaved People's History
Legacies of British Slave-ownership: Based on contemporary research, we have little information to share about the enslaved peoples from this plantation at this time. We only know that Mathew's (Constitution Hill) was awarded £2,571 17 s 9 d for the freedoms of 158 enslaved people right before slavery was officially abolished in the Caribbean. We will continue our quest for more information about these vital individuals.
Ownership Chronology
1725: Adm. Thos. Mathew & M.A. Mathews
1731: Edward Warner (d.1732)
1732: William Warner
1787: Heirs of Lachlan Grant – 1777-78 Luffman map.
1812:  Lt. William Grant
1851: Warwick P. Hyndman      1851 Horsford Almanac
1891: James Maginley