About
Type: Extant
Parish: St.Philip
Founding date: 1750
See on Google Maps!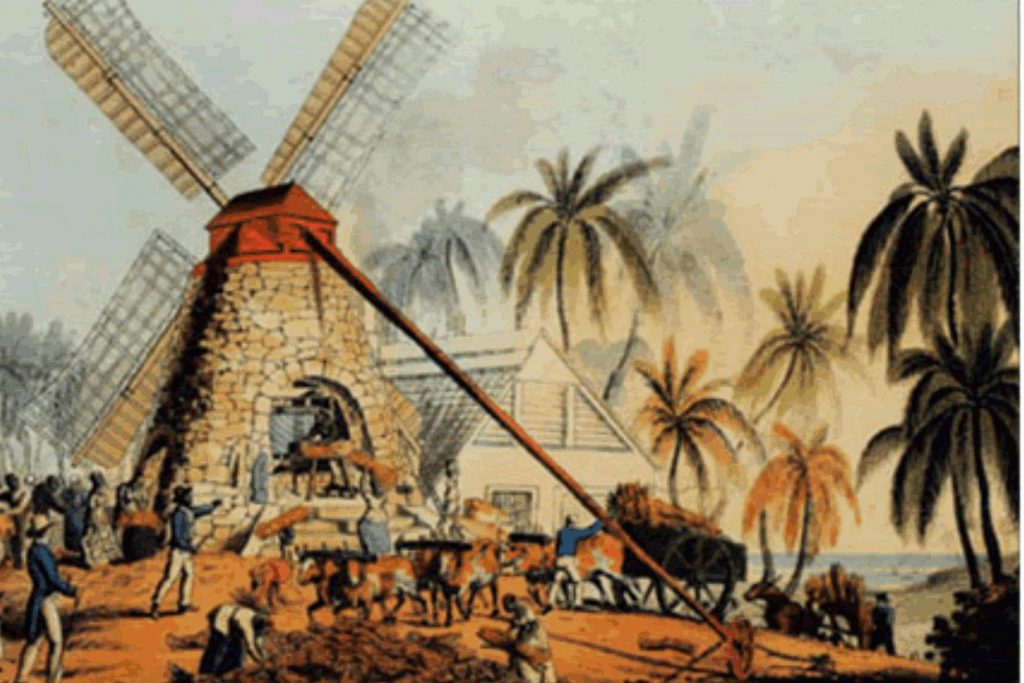 Current Status
This estate did not convert to steam and the mill has been converted to a water cistern and shortened in the process
Estate Related History/Timeline
1693: Anna Mayer of Antigua, widower Will 1693.   "To my nephew Jacob Le Row and his heirs all my estates, negroes, mill and cattle which are on the plantation of Peter Boschman and my said nephew in partnership."
1852: In 1852 contained 300 acres and owned by Joseph G. Gore."  
History of the Island of Antigua by Vere Oliver Vol.II p.262
"Samuel Mayer of Antigua, planter.   Will dated 8th April 1782.   To my niece Sarah Mayer, a negro, then to be free and have 20 pounds.   To my nephew John Wickham Mayer and Joseph Wickham Mayer and my nieces Sarah Mayer and Elizabeth Mayer 22 negroes…….etc."
History of the Island of Antigua by Vere Oliver Vol.II p.213.
"John Wickham Mayer (d.1800) of Mayer's in St. Phillip's Parish."        
Owen Pell originally went out to Antigua in 1813 to superintend the contracts for victualling the navy and transports on the station. After the war bought Mayer's plantation in 1819, which had 80 slaves. He had owned six estates: Mayer's, Room's, Sion Hill, Grant's, Pare's, and Cochrane's; the last two belonged to his wife. He sold the whole lot for £50,600; this sum presumably included the £12,250 for which he sold Mayer's estate in 1842 (an estate Pell managed himself for about 20 years).
1842: In 1842 he only received about £15,000 of the £56,600 due to him. Asked whether he expected to have the estates returned to him he said 'I should hope not'. Elizabeth Mary was the daughter of the Hon. Samuel Otto Baijer; they married in Antigua on July 23 1839.  On Elizabeth Mary Pell's death on 28/10/1887 (aged 78), her effects were valued at £131,755 9s 9d. Presumably the 'Mrs Pell' who sought to intervene as Mary Prince left the Woods family in London was either a first wife or conceivably the mother of Owen Pell.
1891: Sir Watkin Owen S. Pell (1788-1869) Naval Officer served on the Jamaican station in the mid 1830's.  The below listing came up for auction in August 2017.
Pell (Sir Watkin Owen, naval officer, 1788-1869) 4 Estate Maps and a quantity of documents relating to the Pell family ,including: Plan of Mayer's Estate, Antigua the property of Owen Pell, surveyed in 1819 by James Johnston Surveyor General; Plan of the Estate called Sion Hill The Property of the Hon. Owen Pell In the Division of Belfast, Antigua, n.d.; The Estate called Pares and Cochrans in the Island of Antigua: The Property of W.O.S. Pell… Surveyed in 1820 by J.H. Baker, Sworn Surveyor and copied and corrected up to date June 1888 by J. Becket Lewis; Parish of St. Philip; indentures, legal agreements and other documents relating to the Pell family possessions in Antigua, including: probate copy Sir Watkin Owen Pell's will, Pell's bank book; copy of Elizabeth Mary Pell's will mentioning her estates in Antigua, manuscript maps and documents, some maps some hand-colouring, friable with some tears and loss, browned, manuscript documents, many on vellum, folds, some browning, v.s., v.d.(qty)
***The Pell family had extensive interests in the West Indies; Sir Watkin Owen Pell served on the Jamaican station in the 1830s.
One Watkin Pell (Admiral Sir Watkin Pell) was Governor of the Arsenal at Milford Haven, Wales. Another son, Owen Pell, won honors in the Naval Service; a memorial window to his memory is placed in a church on the island of Antigua, and his remains are interred in Westminster, London.
Joseph T. Dew immigrated to Antigua in the 1800's and was a well noted engineer. He married Elizabeth Paynter and had four children of which Dalmer the youngest, took over the business.
Joseph owned several estates.
1949:The Land Settlement Board at the time required additional land for the settlement of Peasants.   After reaping the crop for 1949, the land became available and was sold for approximately $31,000 to Government.   Comfort Hall (#103), Lamberts Mayer's, Gilberts (#80) and Glanville's (#97) all contributed.   Antigua Syndicate Estate retained the right of way leading to the estate and the Spring and fan mill.
Enslaved People's History
Based on contemporary research, we have little information to share about the enslaved peoples from this plantation at this time. We only hear about the enslaved people living on this plantation from 1819-1829. Unfortunately, we do not know anything else about them except for their population increased from 80 to 100 during this 10-year period. We will continue our quest for more information about these vital individuals.
Ownership Chronology
Ownership from 1750 John Mayer
1782: Samuel Mayer (will 1782)
1788: Joseph W. Mayer – 300 acres
1790: John Wickham Mayer (d.1800)
1819: Owen Pell (1787-1867) 80 slaves. Owned six estates. Purchased Mayer's for £12,250.
1829: Sir Watkin Owen S. Pell (1788-1869) 100 slaves.
1852: Joseph G. Gore – 300 acres. 1851 Antigua Almanac.
1871: Mrs. Owen Pell 1872 Antigua Horsford Almanac.
1878: Mrs. Elizabeth Mary Pell d.1887 – 300 acres.
1921: Joseph T. Dew et al. d.1900 – immigrated to Antigua in the 1800's
1933: J. Dew & Sons. Ltd. 1933 Camacho map.
1944: Antigua Syndicate Estates Ltd.
1958: Antigua Government – Crown Land