About
Type: Ruin
Parish: St.John
Founding date: 1700s
See on Google Maps!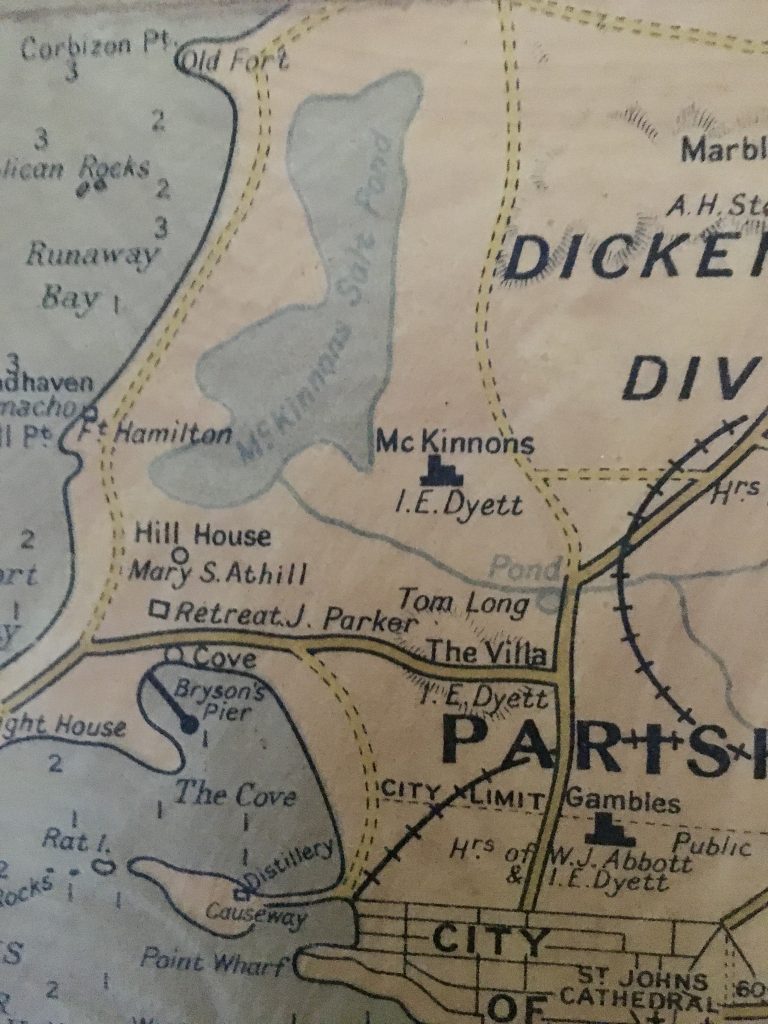 Current Status
There is no sugar mill left on this site; in fact, all traces of the estate have been eradicated by modern residential construction. Most of those homes now enjoy the view facing west over McKinnon's swamp, Dickenson Bay and Runaway Bay.
Estate Related History/Timeline
In 1708 "Governor Parke writes…"There is one Daniel Mackinin (sic), that twenty years ago was a chyrurgeon to a Little Merchant ship, has drove off the island near 100 Men; all the Land where he lives was inhabited by poor people that lived upon some three, some five, some 10 Acres of Land." Vere Oliver, Vol. II.
George French, in his 1718 book Answer to A Libel, says that in 1716 "Daniel MacKennon (sic), a Scots Apothecary, who laid the Foundation of a large Fortune he acquired on a corrupt unwarrantable Practice in Physick, whereby he became Heir, Executor and Administrator, to the unfortunate wretches fall'n into his Hands; and afterwards eminent for depopulating the island, by driving off a great many poor Families, to enlarge his ill got Possessions, in Revenge for his not being admitted of the Council….This man was violently suspected to have poison'd Sir William Mathews, Colonel Parke's Predecessor, who dy'd in the operation of a Dose of Physick of his Prescription and Preparation."
In 1720, Mr. Oliver states: Dr. Daniel Mackinen (sic) (d. 1720) age 62. It is stated that Daniel MacKinen emigrated to Antigua between 1678 and 1688 and perhaps received grants of estates called Drapers, Golden Grove (#23) and Dickensons Bay from (King) Charles II. I have in my possession an original deed by which it appears that Golden Grove Plantation was held in 1678-88 by Col. Edward Powell, Governor of Antigua 1716 to nephew Henry Powell. It was leased to Dr. Daniel McKinnon for 99 years. n Mr. Oliver notes that as early as 1760, the property then known as Dickenson Bay Plantation, was "indentured(d) to Richard and Richard Oliver….contained 80 acres bounded E(ast) & N(orth) with lands belonging to the heirs of Colonel James Weatherill (Weatherill's #5) dec(eased), S(outh) heirs of Henry Knight, dec(eased), now in the possession of Samuel Nibbs (Marble Hill #9) and W(est) which was heretofore the plantation of Nathaniel Knight".
William Alexander McKinnon was an absentee landlord until 1773, when he returned to Antigua. And, unlike his distant relative Daniel, who was accused of libel in George French's 1718 book, William did become a member of the island's governing Council, and he also owned Golden Grove (#23), 830 acres. In July 1787 the estate "contained 80 acres bounded east and north with the land owned by James Weatherill." The artist Hogarth (1697 – 1764) painted a portrait of a Major General Daniel McKinnon (sic) in 1747. The portrait hangs in the National Gallery of Ireland. John Daniel McKinnon, son of William McKinnon, published a book entitled A Tour Through the West Indies in 1802 and 1803. In 1831, an "Indenture between William Alexander Mackinnon of Hyde Park Place, Esq. and John Coles Symes of Fenchurch St….conveys to John Coles Symes all that 3rd part of all that plantation in the parish of St. John and Division of Dickenson's in Antigua, containing 771 acres … bounded E(ast) with the highway and the lands now or formerly of John Dunbar and James Nibbs Esqs., N(orth)with the lands now or formerly of Anne Evanson and James Nibbs and S(outh) with the lands now or formerly of Eliz. Nibbs, John Taylor and Thomas Daniel Esq."
As result of the abolishment of slavery by the British Parliament in 1833, the McKinnon's estate received a Legacy award (Antigua 35) of £3,942. 2s. 1p. in compensation for granting freedom to 278 enslaved workers. There were five claimants for the award: Reverend Henry Barnes and Louisa Barnes (nee McKinnon), John Daniel, Richard Davis, and Frances Keenan. Catherine McKinnon, Edmund Vernon McKinnon, and Rachel McKinnon (see Yeamons) were unsuccessful. Samuel Boddington, George Cotsford Call, Reverend Thomas Cardale and William McKinnon were awardees. Henry McKinnon was beneficiary and William McKinnon, beneficiary, deceased.
A biography of William Alexander McKinnon states that he received part of the Legacy award paid to the estate for its freedom of its enslaved people. He was born on August 2, 1784 in Dauphine, France, the eldest son of William McKinnon and his wife, Harriet, daughter of Francis Frye of Antigua. Daniel McKinnon (b. 1791; d. 1836) was his younger brother.
By 1809, he succeeded his grandfather as the 33rd Chief of the Clan McKinnon and inherited his grandfather's estates. He was already wealthy from his father's success in the West Indies, and used some of his money to repurchase the McKinnon lands in Scotland. He was a British politician (Tory MP), an absentee landowner, and Colonization Commissioner for South Australia. On August 3, 1812, he married Emma Mary Palmer, the only daughter of Joseph Budworth Palmer of Palmerston, County Mayo. Emma was described as "a great beauty" and "an even greater heiress." She and William had three sons and three daughters, and on the death of Emma in 1835, he inherited the Palmer estates. He died in 1870 on one of his properties (Belvedere, Broadstairs, Kent) and was interred on another (Acrise Park, Kent). His estate was valued at £100,000. His son. William, was a Liberal MP, and succeeded him as Chief of the Clan. Another son, Daniel Lionel, was killed at the Battle of Inkerman (Crimean War) on November 5, 1854; his grandson, Sir William Henry McKinnon, was an Army officer in South Africa.
In 1933, Major I. E. Dyett was offered McKinnons estate by Attorney J. C. Lewis for £2,000 for 2,000 acres. At that time, the estate stretched from Back Street to Anchorage (Upper & Lower Gambles). Later that same evening Dyett "was having dinner with a friend and recounted the story, saying he had no idea where he would ever get £2,000. His friend replied, why not, if he thought it (the estate) was worth it he'd lend him (Dyett) the money. After the first crop of cane Major Dyett decided to go into livestock and from the sale of the crop, cattle carts and other equipment, made more than enough to repay his debt." Quoted from Mr. Philip Abbott, an heir of Fred Abbott. Several years later, Fred Abbott was helping Major Dyett sort out the land for sale — there were no surveyors in the 1950s — and they agreed to a sale price of EC$100 per acre (EC$200,000 for 2,000 acres). The Major said "he felt like a thief charging that much." Again, sourced from Phillip Abbott.
Enslaved People's History
Based on contemporary research, we have little information to share about the enslaved peoples from this plantation at this time. What is known is that at most there was 271 slaves. Also, as result of the abolishment of slavery by the British Parliament in 1833, the McKinnon's estate received a Legacy award (Antigua 35) of £3,942. 2s. 1p. in compensation for granting freedom to 278 enslaved workers. We will continue our quest for more information about these vital individuals.
Ownership Chronology
1700's: Daniel Mckinnon (1697-1767)
1750: William McKinnon
1790: Honorable William McKinnon. 80 acres, bounded east and north by land of James Weatherill. (1777/78 map by cartographer John Luffman.)
1800: Sir William Alexander Mackinnon, 1st Bart.
1829: Messrs. McKinnon 830 acres, 271 slaves
1831: (See text below.)
1843: William Alexander McKinnon (1787-1870)
1851: Messrs. McKinnon 830 acres
1870: William McKinnon (1823-1893)
1872: Edward Beckett 633 acres, and was designated a Steam Works
1891: James C. Lewis
1933: I. E. Dyett Major
1950's: Fred Abbott
1975: Heirs of Fred Abbott