About
Type: Extant
Parish: St.Peter
Founding date: 1650
See on Google Maps!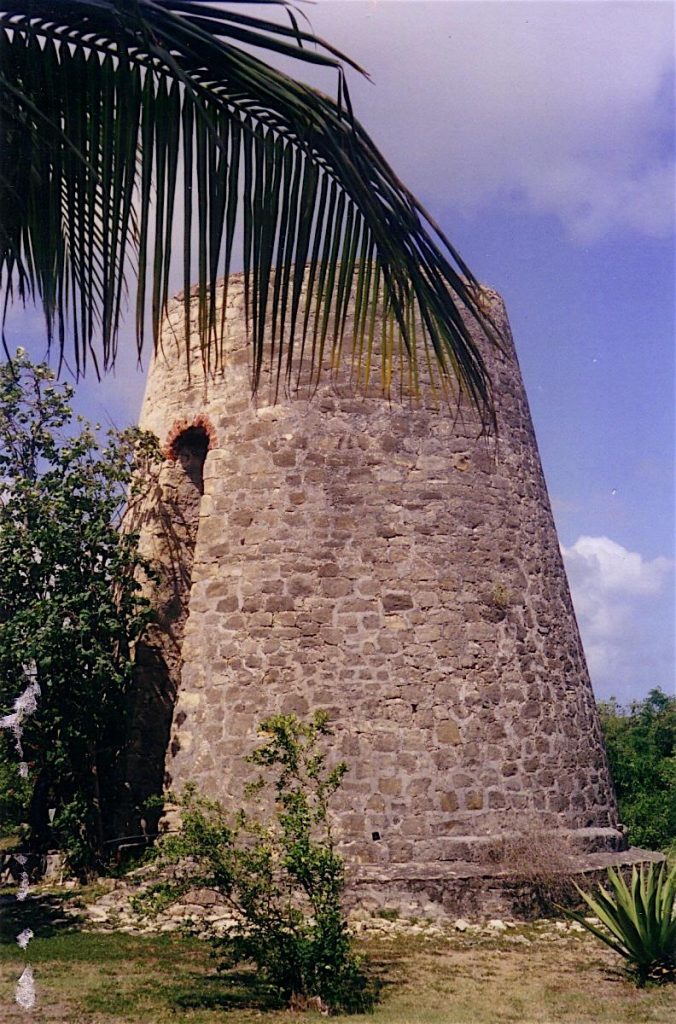 Current Status
Mercer's Creek is situated inland from its namesake, Mercer's Creek, and had its own access to the sea always a valuable feature when it was easier to ship the sugar than transport it overland. The land rises up gently to where the house and works were situated, affording a view of the sea and accessibility to the trade winds. The house is built of Cotswold Stone and bricks brought to the island as ballast on the ships from England and the lower floor which is usually used as storage has been converted into living quarters using the original stone floor.
This estate house has been lovingly reclaimed, houses many antiques and is still the residence of Mrs. Henderson (2013). Mrs. Henderson owns a large collection of antiques, many of them purchased at various estate auctions over the years. Several, including a 4-poster and large silver tray, came from the F. Goodwins of Gaynor's estate.
Intact is a 'dripper,' two hollowed out coral stones into which water is poured to drip through in order to be purified. Ending up in a clay pot the water has been cooled for drinking during the process. Many of these drippers can be seen used now as flower pots and having been filled with dirt can no longer be used for its original purpose. A large estate bell can be seen mounted in the garden.
The date "1729" appears above the main arch of the mill indicating it was either built or repaired at that time. The mill is in excellent condition and is situated very near by the estate house. Beneath a large tree are the two Memorial Edward stones rescued by Mrs. Henderson from the bulldozers at nearby Hawes estate.
Estate Related History/Timeline
"Timothy Burton was granted 10 acres of land by Governor Warner on 27th March, 1677; surveyed Aug. 1677."
"1690 – Mercer's Creek – Will June 1960 Timothy Burton leaves half of his estate to wife Mgt. Burton and 1/2 to his son."  Vere Oliver Vol.I p.91
1678: John Hill of Mercer's Creek, planter, sells 15 acres to Thomas Wildgoose of Marcie's Creek.   "William Hill 172 acres and 86 mens land at Popeshead 1668."   Vere Oliver Vol.II p.73
(We're not sure if William Hill (1688) had land at Mercer's Creek when in (1660) Timothy Burton mentioned Mercer's Creek in his will (1690) and John Hill of Mercer's Creek (1678). Could have been two smaller estates which eventually merged.)
1693: Philip Watkins of Mercer's Creek Division, planter, died 1693.   Value of estate £30,352.   1/2 my lands to my son Sam Watkins (d.1745).   Vere Oliver Vol.III p.203
1699: Geo. Gamble Esq. sells to Nathaniel Gilbert of Antigua, Gent, Mercers Creek Plantation.  
Extract from Sir Gilbert Scott re Nathaniel Gilbert + further notes on William Gilbert.  Vere Oliver Vol.II p.14
1755-69: Francis Farley.    For further information on Francis Farley see "Great Dismal Swamp" project in Virginia, and the Sauertown Project, Land of Eden, by Charles D. Rodenbough.   Farley Bay near the Dockyard area is named after Francis Farley and the plantation he owned in that area.
1806: The tombstone rescued from Hawe's Est. nearby, sacred to the memory of Mrs. Eliz. Edwards, 1806, and children, lies beneath a tree in the garden.   The full inscription can be read in Vere Oliver's "Edwards" genealogy.
1820: Thomas Rogers registered 349 enslaved persons as proprietor and attorney.
1851: Antigua Almanac shows Hawes' and Mercer's Creek of 311 acres as belonging to William Coull.
1852: 'Hawes' and 'Mercer's Creek' of 311 acres belong to William Coull.
In 1852 this estate combined with Hawe's contained 311 acres – 191 slaves.
1921: In 1921 the estate contained 378 acres.
1938: The son of W.D. Beamish shot and killed himself around 1938 and an army handgun was later found buried in the front yard by Mrs. Henderson when renovating the garden.   The ghost of a man dressed in khaki has been seen passing by the window off the dining room and another male presence sited in the lower rooms of the house.
1941: Antigua Sugar Factory, Ltd. Cane Returns for 1941 Crop.   Mercers Creek.    Estimated 911 tons, 84 acres estate, 5 acres peasants on the estate, tons of cane delivered 832 at 9.56 tons per acre.
1943: The Lands of Antigua and Barbuda Sugar Factory Limited and the Antigua & Barbuda Syndicate Estates Limited (Vesting) Act.   All that piece or parcel of land forming part of Hawes and Mercer's Creek, as contained in Certificate of Title No.2511943 dated 3rd August, 1943 and registered in Register Book Q Folio 25, less an area of approximately 113.387 acres.
1943: August 1st Gunthorpes Estates, Ltd. was restructured (see #64 Gunthorpes) into a 'new' company renamed Antigua Syndicate Estates, Ltd. The Bennet-Bryson estates were Sandersons, Long Lane/Lavington's/Ffrye's, Burke's/LaRoche/Willis Freemans, Jolly Hill (Jolly Hill, Blubber Valley, Ffrye's, Montrose, Yorke's and the Cove), Hawes and Mercer's Creek, Cochran's and Thomas's, and were bought for 39,000 pounds.
The Syndicate Estates divided their holdings into three Groups A, B & C over which they appointed a Superintendent, Manager and Overseer. The Superintendent in 1945 was W.J. McSevney and Group A consisted of Diamond (#87), Mercer's Creek, Betty's Hope (#77a), Delaps (#137) and Cotton (#77b).
1951: Syndicate Estates, Ltd. sold to Mr. Jack Peacock-Green of Ohio, USA, 26.5 acres including the old buildings for L860 and it was recorded in the ASE minutes that Major Beamish left Mercer's Creek at this time.
1968: In 1968, Mercer's Creek estate was sold to the Antiguan Government.
Mr. & Mrs. Henderson came to Antigua and started the Henderson Roofing Co. in Coolidge which was sold and became Henderson (2004) Limited. They also purchased the Mercer's Creek estate house which they lovingly upgraded and filled with antiques, many from the sale of surrounding estates such as Gaynor's. They also had a small 'summer' home on the land at the bottom of the hill going to Rendezvous Bay, Ding-Dong Nook, which had not been used in years and when last seen had succumbed to the cassie.
2016 Mercer's Creek went up for sale with the description below.
"A foot in the past, an eye on the future Mercer's Creek – Antigua's only remaining plantation house" for sale at 8,250,000. It's not often a visit to a private family home feels like an impromptu history lesson that leaves one distinctly over-awed and thoroughly richer for the experience.With its original 17th century buildings – complete with period furniture and curios – you'd be forgiven for mistaking Mercer's Creek for a meticulously created museum. It is in fact a wholly authentic relic, barely untouched from its centuries-old heyday.It also has the prestigious honour of being Antigua & Barbuda's only remaining sugar cane plantation house. (This is incorrect – there are still several)In addition to the Great House, the property includes the original sugarmill which remains in excellent shape and even contains the wheel and some engine parts. There is also the boiling house, estate manager's house – currently used as a guest cottage – and various other out-buildings.Built by the Watkins family in the 1670s, the residence sits on a limestone bluff overlooking a beautiful archipelago of islets. It is constructed of Cotswold stone brought from England as ballast on merchant ships.Spanning 26 acres of land which stretches all the way to the ocean, the plantation is ideal for development by a visionary investor – perhaps as an exceptional boutique hotel and resort – and has no planning restrictions.History buffs will delight in the furnishings, most of which date back several hundred years. The house is accessed by a stone courtyard, flanked by mature tropical gardens. All rooms have multiple doors and large windows which keep the interior light and breezy. The main floor houses a lounge and reception area which gives way to a magnificent dining room with original candle sconces on the ceiling and walls. Electricity was not installed until the 1990s – and in fact the candles provide enough light to render the switches unnecessary here.The dining room leads into a stunning drawing room with piano, an abundance of splendid paintings, antique knickknacks, and a 1930s bar set into the wall.This floor also has two vast double bedrooms, both with en-suites, a separate guest washroom, and a pretty verandah overlooking the gardens.The square compact kitchen, with modern appliances and scenic views on both sides, was a later addition. It backs onto the original cookhouse which would have been a detached structure in its day, due to the prevalence of fires, and still contains the original charcoal burner and cupboards.
Downstairs are two more behemoth bedrooms including the master suite which boasts three-foot thick stone walls and would have been used as a refuge from pirates and hurricanes alike. There are two more bathrooms on this floor. All four bedrooms are air-conditioned. Outside is a large swimming pool, deep enough to dive, with a bar and terracotta sundeck. There is also a small jetty on the water's edge which could be extended.
The entire property is for sale fully furnished, except the four-poster beds. The one-bedroom former estate manager's home is fitted with modern appliances and has a shower en-suite.
Enslaved People's History
Based on contemporary research, we have little information to share about the enslaved peoples from this plantation at this time. We only know that the estate contained 349 registered enslaved persons in 1820, 191 of whom remained by 1852. Most of the enslaved people working on this estate were liberated by the British government after slavery was abolished in 1833, but some obviously remained. We will continue our quest for more information about these vital individuals.
Legacies of British Slave-ownership: Antigua 131 Gilbert's and Mercer's Creek were awarded £2,401 2 s 11 d for 159 enslaved.
Awardees were Nathaniel Gilbert the younger. Rev. Nathaniel Gilbert, previous owner.   Elizabeth Gilbert of other association. Unsuccessful were Hardman Earle, Rev. Thomas Scott and John Hayward Turner.
Antigua –  Hawes and Mercer's Creek were awarded £2,683 7 s 11 d for 180 enslaved.
William Byam was the awardee and Thomas Coull MD the awardee trustee.  Collected by Joseph Liggins.
Ownership Chronology
Ownership from 1650c. Timothy Burton
1678: John Hill
1670c:  Philip Watkins  d.1693 – credited with building the estate house.
1693: Sam Watkins
1750: Francis Farley  living 1756
1777:  Heirs of Farley        1777/78 Luffman map
1805: Henry Benskin Lightfoot   d.1805
1829: Heirs of  Thomas Rogers  Will 1828 copy available in The National Archives, Kew.   191 slaves
1852: William Coull   Brother to Dr. Thomas Coull (1775-1852)
1871-78:  W.A. Parker & Co.    1872 Horsford Almanac
1891: John F. Foot, et al.
1933: Maj. W.D. Beamish     (may have rented)   1933 Camacho map 
1943: Antigua Syndicate Estates, Ltd.
1968: Antigua Government – Crown Land
1951: Mr. Jack Peacock-Green Buff and 26.5 acres 
1968: Charlie & Norma McManus Buff
1982: Mr. & Mrs. Henderson   Buff
2016: For sale – house and 20 acres.