About
Type: Extant
Parish: St.George
Founding date: 1750
See on Google Maps!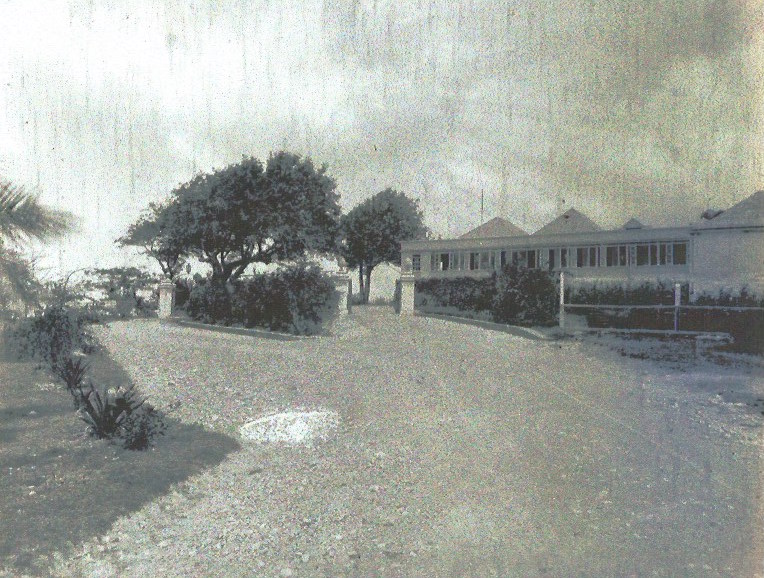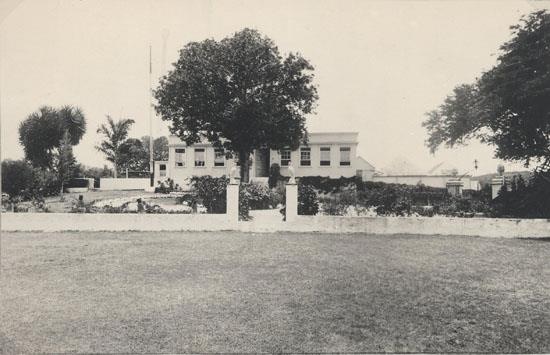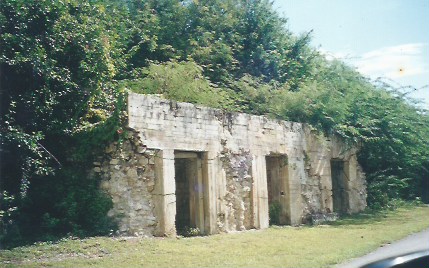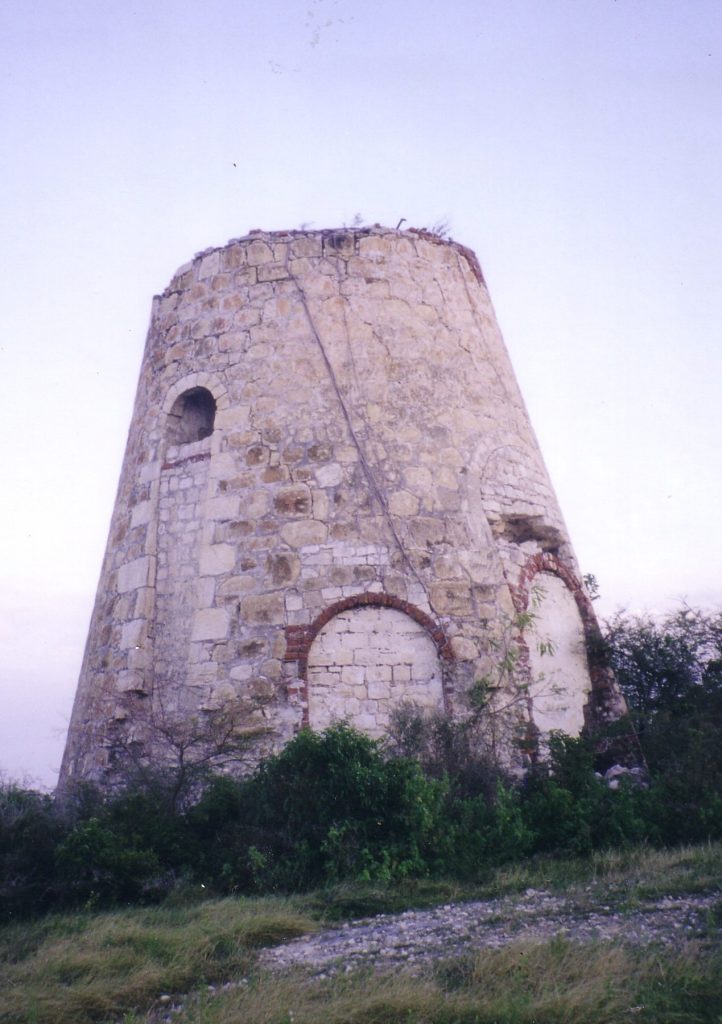 Current Status
There is still a mill on this site in the bush across from the road that goes around the airport into Fitches Creek. This estate did not convert to steam.
Ruins of the buff house can still be seen beside the runway as planes take off or land however much of the site was destroyed with some reconstruction to the airport runway. A three-roomed 'dungeon' lies against the hill as you enter Fitches Creek below the mill. It was later used to store corn and during WWII, ammunition.
Estate History/ Timeline
Dr. William Millar came from Paisley, Renfrew, Scotland, and was admitted as a burger and guilds brother of Ayr in 1767.

The ruins of the Estate House lie within the airport boundary fence and in 1943c the Camacho's house was taken over as an officer's club for the US Forces stationed during WWII. Millar's buff house was one of the three houses with 100 windows, the others being Gray's Hill and the Camacho residence in St. John's which became the Bishop Lodge for the Roman Catholic church. A little further on towards St. George's church just below the mill are the remains of the dungeons and of a large well/cistern which has been fenced off as a matter of safety. The two-room stone structure which was the dungeon was used as a goal in which to punish slaves. Later it was used to store corn and then ammunition. During the riots of 1918, bands of men stopped cane cutters at Morris Looby's, Donovan's, Millar's, and Cassandra Gardens.

Dr. William Milllar's son, Alexander (1791-1841) is shown to be residing in Antigua during the years 1824 and 1832 according to the Slave Register. This list can be found on the Alexander Millar genealogical site.
In 1829, Millar's contained 406 acres – 297 slaves. In 1921, 929 acres.
1837: Managed by Mr. Bourne
"During slavery, every estate had its dungeon for refractory slaves. Just as we were leaving Millar's, we asked Mr. B, what had become of these dungeons. He instantly replied, "I'll show you one". In a few minutes, we stood at the door of the old prison, a small stone building, strongly built, with two cells. It was a dismal-looking den, surrounded by stables, pig styles, and cattle pens. The door was off its hinges, and the entrance was partly filled up with masonwork. The sheep and goats went in and out at pleasure." Emancipation in the West Indies by James A. Thomas. 1837.

1851: Antigua Almanac shows Millar's 405 acres belonging to the Heirs of Samuel Martin.

1852: Millars in St. George's Parish contains 406 acres in possession of Alexander Millar in 1852: then became the property of the late Sir Oliver Nugent, and is now owned by Charles C. Lees." Vere Oliver Vol.II p.266
1860: Sir Oliver Nugent acquired 'Millar's' estate, close to Fitches Creek, living on the estate with his wife Louise Ottley of Parham Lodge and managing its substantial sugar production. Sir Oliver was a planter and for nearly forty years represented several absentee landlords, including the Codringtons and Robert and Henry Jefferson and Co of Whitehaven. He appears to have been an important figure in the production and shipping of molasses from Antigua. Millar's consisted of 406 acres in 1829 and 929 acres by 1921. Despite never having converted to steam, in 1836 it recorded the largest production of sugar in the whole island. In 1891 the estate passed to Sir Oliver's son-in-law, Sir Charles Cameron Lees (husband of Maria Nugent) who was previously Governor of the Leeward Islands. Later it was acquired by the Camacho family and was leased to the United States Air Force as an officers' club during the Second World War. Nugents of Antigua.

1876-1892: Papers, Correspondence and Plans: Turner: Millars: Antigua: No.117
Held by the National Archives (UK) – Colonial Office, Ref.# CO 441/11/19

1891: Sir Charles Lees was originally commissioned into the 1st West India Regiment but transferred to the 76th Foot in 1854. He was Governor of the Leeward Islands from 1884-1885.

1940s: Mrs. Johnny Camacho used to grow 'Pon Ron' roses and every Saturday she would send a beautiful bunch of them into town for the altar at the Catholic Church. Marie Barreto.
1941: Antigua Sugar Factory, Ltd. Cane Returns for 1941 Crop. Millar's. Estimated 91 tons, 209 acres estate, 40 acres peasants on the estate, tons of cane delivered 2850 at 12.05 tons per acre.

1943: Alexander Aloysius Camacho, wife, and executrix of the Estate Mrs. E.J. Camacho.
Prior to the 1940's before the advent of the telephone, it was the custom to 'go visiting' at 4:00pm for tea and Mrs. Camacho was very particular as to how you were attired. Gloves were required and your calling card was presented to the maid who then took it to Mrs. Camacho on a silver tray before you were invited in. It became the practice to try to find out if the person you were going to visit would be home or out visiting themselves. This way you could ostensibly return a visit as etiquette demanded without having to go through the rigors of an actual visit. Kathleen Turner (nee Goodwin)

1943: The ruins of the Estate House lie within the airport boundary fence and in c.1943 the Camacho's house was taken over as an officer's club for the US Forces stationed during WW II. Alexander Aloysius Camacho, wife and executrix of the Estate of Mrs. E.J. Camacho.

2008: The last remaining ruins of Millar's buff house were demolished during the extension of the airport. The mill, dungeons, and well, however, still exist.
Records for Millar's are held at the National Archives, Kew, UK.
Enslaved People's History
Based on contemporary research, we have little information to share about the enslaved peoples from this plantation at this time. We do know that the estate contained 406 acres and 297 enslaved people in 1829, 196 of whom were liberated for the sum of £3156 2 s 2 d later that same year. We will continue our quest for more information about these vital individuals.

Legacies of British Slave-ownership: Millar was awarded £3156 2 s 2 d for 196 enslaved. The single awardee was Alexander Millar, Esq.
Ownership Chronology
1770 Dr. William Millar d. 1818
1777 Mrs. Millar – 1777/78 Luffman map
1829 Alexander Millar (1791-1841) resident in Antigua 1824 – 1832
1843 Alexander Millar
1852 Sir Oliver Nugent (1815-1894))
1872 Horace Turner 1872
1891 Sir Charles Lees (1837-1898)
1921 J.J. Camacho
1933 Mrs. M.T. Camacho 1933
1943 Estate house taken over as an Officer's Club for US forces. Ruins seen partially behind airport fence bulldozed around 2012
1954 Antigua Syndicate Estates, Ltd
1968 Antigua Government – Crown Land
1950s leased to the US Air Base for a tracking station