About
Type: Extant
Parish: St.Mary
Founding date: 1711
See on Google Maps!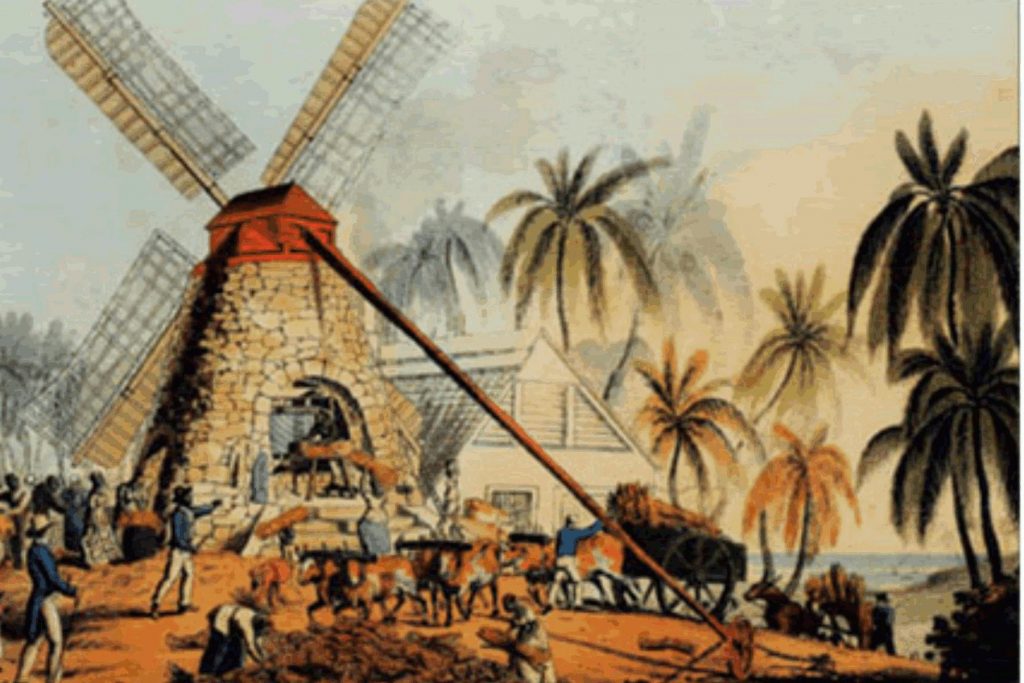 Current Status
The area around the mill is still known as Montero's. The mill is in reasonable shape and sits on a rise to the right of the main road going through Ebeneezer. The village is almost hidden from view by the surrounding homes. One has to divert to a road going up the hill in order to pass by the mill.
Estate Related History/Timeline
1711: "1711, Aug.17. Giles & Samuel Watkins petition that their father Gyles Watkins, formerly of England, deceased, by his Will dated 19 Jan. 1702 gave them a plantation; they wish to break the entail." "George French stated that Samuel Watkins murdered one Weatherill in cold blood by a stab under the table. He was sent home a prisoner in 1712 for his action in the Parke riot. "History of the Island of Antigua by Vere Oliver Vol.III P.206.
1734: Samuel Watkins of Antigua, Esq., md. Mgt Gamble, sole heiress to her sister Mrs. Elizabeth Hadden, owner of Dunnings 1762". Vere Oliver Vol.III P.203
1737: A crime reported in 1737 notes that 4 slaves robbed a white servant on the highway near Montero's mill. 1745" Thomas Watkins Will. ".. Having no male issue testator apparently leaves his plantation to be divided into lots and the negroes appropriated to each lot by the members of the Council & Assembly for riduceo and honest families. 10 acres around the mansion to be kept as a residence for the Commander-in-Chief. The works and 4 acres for common use. 2 acres for a school ….." Vere Oliver Vol.III p.204 "Monteros in parish of St. Mary's and in New Division of Antigua and contains 250 acres…."
1755: John Watkins grants to Walter Tullideph and Christopher Baldwin, in their possession now being, all that plantation called Monteros in trust to the use of Charles Alexander for 100 years." Vere Oliver Vol.III p.205
1780: In 1780 Samuel Watkins was rated on 231 acres and 70 slaves and is on the 1777/78 Luffman map as owner. However, in Vere Oliver, it is stated that Ann Watkins In 1829 this Estate contained 233 acres and 115 slaves.
1846 – 1846: The Shands were a Liverpool based West India merchant company, shipowner and Antigua proprietors for several estates. Francis Shand married Lydia Byam in St. George's parish and had 13 children.
1852: Montero's in St. Mary's Parish contained 233 acres.
1858: Dr. W.H. Edwards was appointed to the Legislative Council as the Auditor-General when Thomas D. Foote (Parham Hill for Tudways) was President and E.H. Lane (Weatherills) was Colonial Secretary. Treasurer was W. Forrest, a merchant on Scotch Row in St. John's. A special meeting of the Library of the British Medical Association was held in St. John's, Antigua on August 5th, 1882. Dr. A.G. Mc Hattie President in the chair. Dr. W. E. Edwards (Ex-President). Dr. Mapleton of St. Kitts read a paper on a case of Haematoma of the Spleen going on to suppuration. The next day the members met at luncheon at the American Hotel, St. John's.
1878: Almanac shows Montero's of 283 acres belonging to W.H. Edwards
1933: G.W.B. Bryson & Co. owned Blubber Valley, Bodkins, Cochranes, Diamond, Ffryes, Freemans Upper, Jolly Hill, La Roches, Lavingtons, Long Lane, Looby's, Monteroes, Sandersons Thomas, Yorks, and Bendals Sugar Factory.
1941: Antigua Sugar Factory Ltd Cane Returns for 1941 Crop. Montero. Estimated 333 tons, – acres estate, 37 acres worked by peasants on the estate, tons of cane delivered 334.
1943: August 1st Gunthorpes Estates Ltd. was restructured (see #64 Gunthorpes) into a 'new' company renamed Antigua Syndicate Estates Ltd. The Bennet-Bryson estates were Sanderson's, Long Lane/Lavington's/Ffryes, Burkes/LaRoche/Willis Freemans, Jolly Hill (Jolly Hill, Blubber Valley, Ffryes, Montrose*, Yorke's and the Cove), Hawes and Mercer's Creek, Cochranes and Thomas', and were bought for £39,000. There were 17 estates altogether.
1949: In 1949 the Syndicate had a survey made as there had been encroachment and a comprehensive Certificate of Title should be prepared to show Jolly Hill (# 167), Yorks (#183), The Cove, Blubber Valley (#168), Montero's and part of Ffryes (#118) while another would show Creekside and Happy Hill. *Note – "Montrose" might be "Montero's" – unable to find a "Montrose". .
Legacies of the British Slave-ownership: Monteros was awarded £926 1s 11a for 112 enslaved. The awardees were Richard French and Rowland Edward Williams. Beneficiary mortgage was Henry Anthony Hardman and unsuccessful was Henry Anthony Hardman.
Enslaved People's History
Based on contemporary research, we have little information to share about the enslaved peoples from this plantation at this time. We do know that when slavery was outlawed in England in 1829, Monteros was awarded £926 1s 11a for the release of 112 enslaved peoples.We will continue our quest for more information about these vital individuals.
Ownership Chronology
1711: Gyles Watkins – Will 1702
1702: Samuel Watkins ( d.1745) 'died of very advanced age.'
1755: John Samuel Watkins (bapt.1729) – 250 acres
1788: Samuel Watkins – Inherited Dunnings (#190) 1780 1777/78 Luffman map
1829: Thomas Clarke (1784-1833, 49 years old) – 115 slaves
1843: J. Clark
1846: Messrs W.& F. Shand 1846 Horsford Almanac
1878: W.H. Edwards, Dr. 1872 Horsford Almanac
1891: Heirs of Henry O. Bennett (d.1895)
1933: G.W.B Bryson & Co. 1933 Camacho map.
1943: Antigua Syndicate Estates Ltd.
1967: Antigua Government – Crown Land