About
Type: Extant
Parish: St.Mary
Founding date: 1750
See on Google Maps!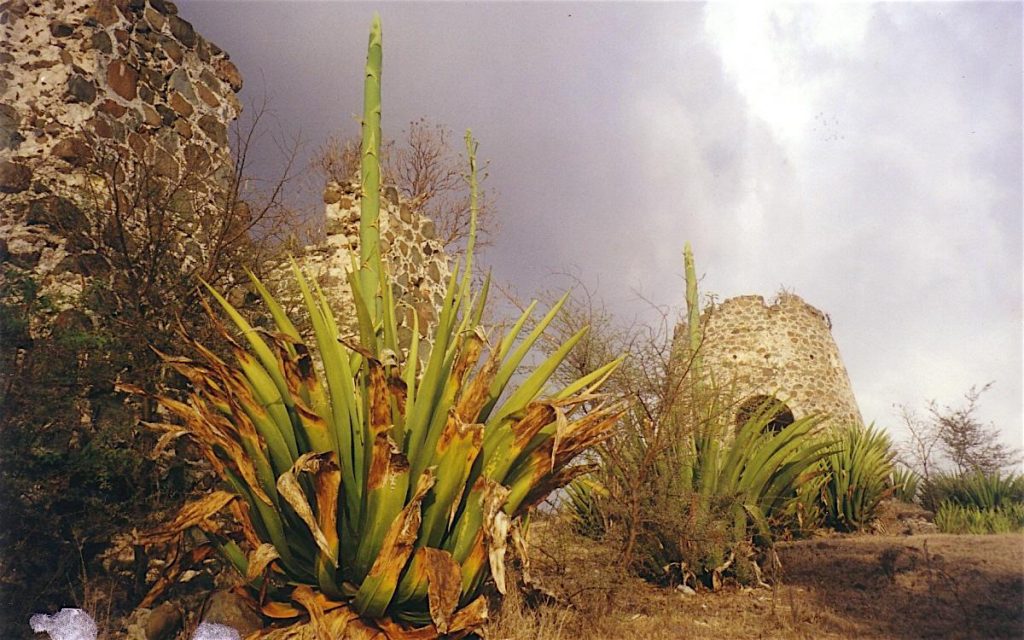 Current Status
There remains evident stone structures below the mill on the headland overlooking the sea. A very picturesque spot. A small disused quarry nearby shows the red clay of the soil in the area. The sweeping beach south of the headland is known as Morris Bay is far enough south on the island not to be affected by the winter sea swells and provides a good swimming beach. The Curtain Bluff Hotel is situated on the southernmost side continuing out on the headland. The Callaloo Hotel, built by Nick Fuller, lines the beach below the mill, but is vacant and in disrepair due to hurricane damage. Apparently ownership is in question as it appears that Nick Fuller might just have 'squatted' on the land or a gentleman's agreement when he built the hotel and does not have legal ownership.
Estate Related History/Timeline
1707: Valentine Morris arrived in Antigua about 1707 as an officer of what became the 38th (Stafordshire) Regiment of Foot. This regiment stayed in Antigua for over 60 years.
1748: Baker map shows Valentine Morris (Val. Morrice) owning land in Old North Sound Division, Willoughby Bay Division and Bermudian Valley. A Thomas Morris owned land in Nonsuch Division. There are two #181a/b Brookes estates one in Old Road on Morris Bay and one in Liberta.
1777: "Indenture between John Brooks and Christopher Baldwin of London – grants all that plantation called Cades Bay or Road Plantation, containing 350 acres …… and all that plantation called Morris's lately purchased of Valentine Morris, containing 400 acres ….." Vere Oliver Vol.II p.193
John Brook Esq. "+ 300 acres East by John Brooke, West by Shute Shrimpton Yeamons known as 'Brambles." Vere Oliver Vol.I p.210
"John Brooke grants to Christopher Baldwin all that plantation called Morris's, lately purchased of Valentine Morris Esq., containing 400 acres and 1 bull, 18 oxen, 21 cows, 3 heifers, 12 calves, and 3 horses on Morris's ….. for one year." Vere Oliver Vol.II p.198.
1829: This Estate (Morris's), combined with Brooks, contained 744 acres and 207 slaves.
1851: The Antigua Almanac shows Brookes & Morris's of 744 acres belonging to Henry Hill.
1941: Nick Fuller Sr. came to Antigua in 1941 as U.S. Vice Consul and built his first venture in the late '40s, the Lord Nelson Club situated at Dutchman's Bay on the north shore of Antigua next door to the US Base. Nick was a character and a reprobate of whom stories abound and this one told by his wife Del has always tickled me. As the family grew to eventually consist of seven children, Del decided they needed a cow to provide fresh milk. So Nick contacted a farmer who said he one for sale. Going to see the animal in the field, Nick on inspecting it, said, "But where are the udders?" The farmer replied, "Dey no be no udda, is one cow me have" – it was a bull! The Lord Nelson Club built used to attract a very eclectic clientele from authors and actors to friends of Nick's. and when he built the Callaloo Hotel on Morris Bay in the 1970s, it did the same. The relaxed atmosphere, casualness combined with rum and sunsets, provided a favorite spot for visitors and locals alike, particularly Sunday brunch. The property combined three rows of attached rooms with balconies, tucked under the hill below the mill site. Guests would amble back and forth along the beach to the main complex which comprised of a bar (all on tick – help yourself honor system) built of red bricks scavenged from an old plantation site brought over as ballast in sailing ships of yore. This was at one end of a large deck off which the dining room and kitchens, as well as a common room, were built – all very open to the elements though protected from the east from whence the weather came, and facing due west over the beach to catch the sunsets. The common room had a big library of dog-eared paperbacks and was decorated with the flotsam and jetsam from beach roamings. Over time the beach has deteriorated and is no longer the wide expanse it once was, while rocks have appeared where there was once a smooth sand bottom. Agnes Meeker. 2017 has seen the groundbreaking of a new venture, the Callaloo Cay Resort by Al Caribi Antigua Development – a joint venture between Sheik Tariq Bin Faisal Al Quassimi of Dubai and the Government of Antigua & Barbuda. It encompasses a 32-acre site which includes the bluff of the Morris Bay estate mill and a portion of the beach once the site of Callaloo Hotel. The project will include a five-acre national park for local residents and guests.
Legacies of British Slave-ownership: 2,753 17s 10d with 199 enslaved. Ann Byam Hill (nee Wyke) was the awardee, Daniel Hill was the beneficiary deceased and James Salmon was the attorney.
Enslaved People's History
Based on contemporary research, we have little information to share about the enslaved peoples from this plantation at this time, aside from the fact that this estate liberated 207 enslaved people after the abolition of slavery in England. We will continue our quest for more information about these vital individuals.
Ownership Chronology
Ownership from 1750 Valentine Morris
1800: John Brooke. 400 acres, Morris's purchased of Valentine Morris (see Looby pedigree)
1829: Heirs John Brooke. Combined with Brooke's 744 acres, 207 slaves.
1835: Daniel Hill
1843: Mrs. Hill
1851: Henry Hill
1870: Francis Tucker.
1878: Francois Tucker, Mrs. 701 acres combined with Brooke's. 1872 Horsford Almanac
1933: No name appears on the 1933 Camacho map.
1970s: Nick Fuller Sr. – Callaloo Hotel.
2000: Antigua Government.
2016: Callaloo Cay Resort.