About
Type: Ruin
Parish: St.John
Founding date: 1668
See on Google Maps!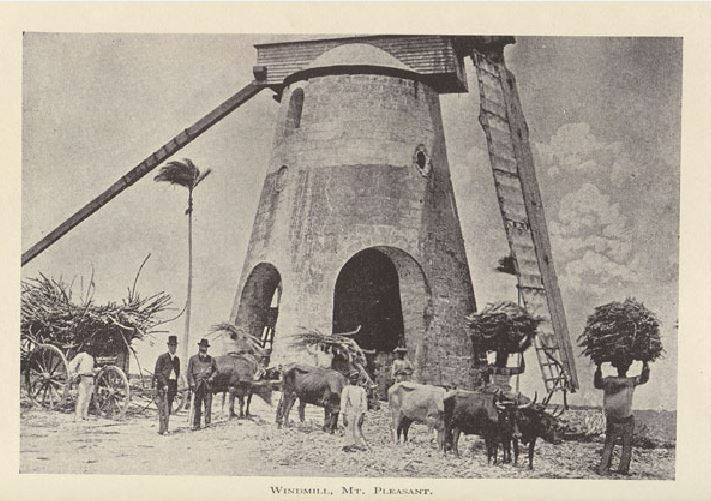 Current Status
No ruins of the sugar mill nor the estate house nor outbuildings exist today, but the flat-topped hill known as Mount Pleasant remains, bristling with several communications towers. Part of an old wall runs alongside tee box #5 on the Cedar Valley Golf Course, land which was originally part of the Mount Pleasant estate. Abutting estates included Hart's & Royal's (#3), Dunbar's (#8), and Cedar Valley (#43).
Estate Related History/Timeline
A patent for 150 acres at Popeshead and North Sound was applied for in 1668, and a year later John Jenkins sold 20 acres at Popeshead to John Humphrys for £11,000. Vere Oliver, Vol. I.
In 1680, Mary Humphrys, of Antigua, purchased a hill in Popeshead, plus land in St. Mary, from William Thomas for £24,000. The land abutted hers on the west. Then, in 1750, Nathaniel Humphrys is shown as the registered owner of the Mount Pleasant estate.
"On a very large (stone) ledger in the centre of a cane piece (at) Mount Pleasant, on the old family estate . . . The ledger is about a foot beneath the surface and is usually covered up with earth. A second ledger is also supposed to be nearby but never found.
Here lyeth the Body of / Cap. Nathanael Humphrey (sic) /who departed this life the 18th of /January 1714 in the 45th year / of his Age." Vere Oliver, Vol. I
Alexander Willock was an Antigua merchant and slave trader, and is the registered owner of this estate as of 1777/78. In 1765, when the sailing vessel Sally first entered the Caribbean, her first port of call was Barbados.
"The Browns (of Nicholas Brown & Co.) had posted several letters to the island offering (Captain) Hopkins advice on where he might most profitably sell the enslaved Africans in his hold, but none of the letters seems to have reached him. Hopkins proceeded to Antigua where he sold what remained of his cargo. Most of the surviving captives were desperately ill and fetched very low prices at auction, a fact noted in this letter, dated November 25, 1765, which accompanied the account of Alexander Willock, an Antigua slave trader who handled the sale of twenty-four captives. Willock apologized for the low prices, which he attributed to the slaves 'very indifferent' quality, and assured the Browns that, if they ever wished to 'try this market again with good Slaves I should be able to give you Satisfaction." There is also a record of Willock having sold 55 slaves to a buyer named Samuel. They had been brought to Antigua on the sailing brig Othello, captained by Thomas Rogers. In addition to Mount Pleasant, Willock also owned several estates in Montserrat and Tobago. e fathered 11 children, five of whom died in infancy. His son Francis Willock was born in St. John's in 1759 and died in Southampton, England, in 1829 the same year he owned Mt. Pleasant. He was declared bankrupt in 1793.
The Mount Pleasant estate was combined with Dunbars (#8) in 1829, when Langford's (#6) converted to steam to power its sugar mill. By 1872, the combined estates held 621 acres, 192 slaves, and was designated a Steam Works. Alexander Willock, Francis Willock, and Frank Gore Willock are listed as owners of four estates: Mount Pleasant, The Folly (#33), Blizzards, and Samuel Byams.
With the abolition of slavery in 1833, the Mount Pleasant estate was awarded £1,842. 17s. 7p. (Antigua 24) by the British Parliament for 124 slaves that were freed. The sole awardee was Robert Alexander Cuthbert, who is not shown as the estate owner, but the beneficiary was Octavia Willock and beneficiaries deceased included Alexander Willock, Francis Willock and Frank Gore Willock.
Unsuccessful claimants included Elizabeth Rebecca Cuthbert, Elizabeth Cuthbert (nee Willock), Sir Henry Willock, Rebecca Broadley, George Delmar, Ambrose Humphreys, George Savage Martin, Robert Pulsford, William Pulsford, John Gillian Stilwell, Thomas Stillwell, James Weston, Charlotte Arthuriana Williams (nee Cuthbert), the Reverend Frederick de Veil Williams, and Lawrence Blount Williams.
George Savage (b. 1789; d. 1849) married Anne Willock in 1823 at St. John, Antigua. He lived with his wife at Mount Pleasant. Mrs. George S. Martin (Ann Willock) owned the estate, and Sir W. Martin owned both Green Castle (#163) with 605 acres and Rigbys (#162) with 263 acres, both located within St. Mary's Parish. High Point (#55) with 212 acres and Nibbs (#52) with 131 acres were owned by heirs of Samuel Martin. They were both located in St. Georges Parish. Vere Oliver, Volume II.
A. J. Camacho, the Portuguese citizen from Madeira who arrived in Antigua in 1878, owned Mount Pleasant as well as Langford's (#6) and Dunbar's (#8) by 1891 as well as Otto's (#16), Woods (#12) and Jonas's (#85) for another 2,000 acres.
The radar tower for V. C. Bird International Airport stands on top of Mt. Pleasant, which was the site of Antigua's first experimental wind generator in 1985. The generator was shaped like an egg beater, the name by which it became known. It was allowed to fall into disrepair when the government could not secure the spare parts to fix it. Shoul's land abuts Mt. Pleasant on the north, and part of Cedar Valley Golf Course is also nearby. To the northwest is a housing development known as Mount Pleasant.
There is supposed to be a cave in the hill used by a fugitive from justice as a hideout, assisted by the villagers of Cedar Grove. There have been several attempts in recent years to find it, but no success.
Enslaved People's History
Based on contemporary research, we have little information to share about the enslaved peoples from this plantation at this time. What is known is that there were at most 192 slaves. Also, with the abolition of slavery in 1833, the Mount Pleasant estate was awarded £1,842. 17s. 7p. (Antigua 24) by the British Parliament for 124 slaves that were freed. We will continue our quest for more information about these vital individuals.
Ownership Chronology
1668: John Jenkins applied for patent on 150 acres
1668: John Humphrys, a carpenter, bought 20 acres
1700: Captain Nathaniel Humphrys. d. 1714
1750: Nathaniel Humphrys
1777: Alexander Willock. (1777/78 map by cartographer John Luffman.)
1829: Francis Willock (Born in Antigua:1759-1829 Died in England)
1830: Frank Gore Willock
1852: Mrs. George Savage Martin (nee Ann Willock)
1872: Thomas Langford Brooke
1891: Antonio Joseph Camacho d. 1894
1894: John J. Comacho d. 1929
1933: Aubrey J. Camacho (1933 Comacho map.)