About
Type: Extant
Parish: St.Mary
Founding date: 1750
See on Google Maps!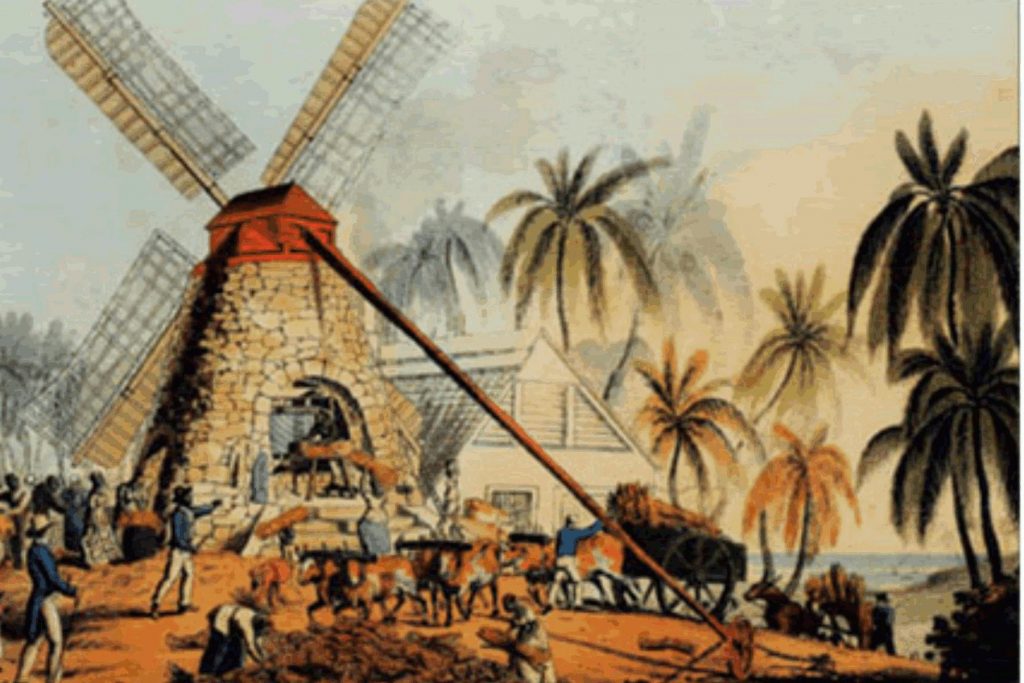 Current Status
According to the 1933 Camacho map,the mill on a small knoll just behind Dead Sands (Darkwood) on the other side of the swamp, is shown as the Orange Valley mill. Once cleared one can see that a road leads from the bottom circling up towards the mill. Below the mill on the east side is a small cut stone structure built into the rock which was used to inter errant slaves, known as the dungeon. It is in excellent condition with four steps leading up to an arched entry bounded by two narrow slits. It opens into a cave that has been hewn out of the rock. There are only a couple known 'dungeons' still in existence on the island and this site needs to be preserved historically. There are the remains of a similar cave on the west side with the footprints of a similar structure in the ground at the entrance, however none of the stonework remains.
The view from this small knoll in the center of the valley looking over Dead Sands (Darkwood) is spectacular. The beach has drastically changed in the last 15 years with the sand shifting from the northern end by the bridge to the southern end by the Darkwood bar. As a child in the 40's and 50's one of our favourite picnic spots was beneath a large old tamarind tree north of the bridge where there was a wide expanse of beach which today is all rocks. Only one or two of the tall coconut trees that used to line the beach, are left. Hurricanes, tides and sand mining take their toll.
The swamp below used to provide excellent duck and pigeon shooting up until the 1960s. Dredging for sand completely changed the way this area used to look, opening up a wide expanse of water which caused most of the swamp vegetation and plant life to disappear.
The Pigott's have turned Orange Valley into a Camping area for church groups or individuals. There is no longer a mill at this site but old walls still exist on the hill and at the foot are ruin remains and machinery that Mrs. Pigott was told was a mill for processing limes. It is beautifully situated nestled in the surrounding hills. You drive in opposite Dead Sands (Darkwood) and drive up through the valley on the right. Willocks is on the left.
Estate Related Status/Timeline
"Indenture made 7th March 1763 between the Hon. Lesslie late of Antigua, but now of Youngsbury, Herts, Esq., and Sarah Lessly his wife of the one part and William Livingston, late of Antigua, but now of Gerrard Street, Soho, Esq., of the other part…… to William Livingston all that plantation in the Parish of St. Mary and division of Bermudian Valley, Antigua containing 450 acres, etc."
1763: "1763 March 16. The Hon. Andrew Lesslie, absent 3 years, has leased his estate, and probably will not return. Vere Oliver Vol III p180.
Capt. Andrew Lessley (d.1780) master of "The Charming Sally"….. in 1763 sold 450 acres in St. Mary's Parish to William Livingston.
1763: William Livingston purchased from Andrew Lessley for L.24,000 450 acres in Bermudian Valley, Sandy Valley of 35 acres, Crab Valley or Courages of 110 acres together with 84 men, 92 women, 24 boys, 41 girls, and stock. History of the Island of Antigua by Vere Oliver Vol.II.
1790: William Livingston rated on 735 acres, 196 slaves in St. Mary's parish. In
1829: This Estate contained 735 acres – 98 slaves.
1852: Kean Osborn MD owner of Orange Valley of 735 acres in St. Mary's, Bodkins of 412 acres in St. Paul's, Rooms of 318 acres in St. Paul's, Paynters of 272 acres and Carlisles of 388 acres in St. Georges. Vere Oliver Vol.II p.368
1878: Almanac shows Orange Valley and Ffry's of 1,293 acres belonging to C.J. Manning.
1921: In 1921 707 acres.
1941: Antigua Sugar Factory Ltd Cane Returns for 1941 Crop. Orange Valley. Estimated – tons, – acres estate, – acres peasants on the estate, tons of cane delivered 114.
Legacies of British Slave-ownership: Orange Valley was awarded 1803 lsd 0s 8d for 100 enslaved. Keane Brown Osborne was successful. Unsuccessful were Alicia Osborne and John Brown Osborne.
Enslaved People's History
Based on contemporary research, we have little information to share about the enslaved peoples from this plantation at this time. We do know that Orange Valley was awarded 1803 lsd 0 s 8 d in 1829 for the liberation of its 100 enslaved persons. We will continue our quest for more information about these vital individuals.
Ownership Chronology
Ownership from 1750 Hon. Andrew Lesley. d.1780.
1763: William Livingston. purchased from Andrew Lesley for L.24,000, 450 acres plus.
1790: William Livingston. b.180? of St. Mary's. 1777/78 Luffman map known as "Furlongs"
1829: Kean B. Osborne. 735 acres, 98 slaves.
1843: Kean B. Osborne MD. 1846 Horsford Almanac
1872: James Barrett. 1293 acres combined with Ffrye's. 1872 Horsford Almanac
1878: C.J. Manning.
1891: Victor Guffray.
1921: Thomas E. Peters.
1933: J.B. Charles 1933 Camacho map.
2000: Hugh Pigott.