About
Type: Ruin
Parish: St.Peter
Founding date: 1750
See on Google Maps!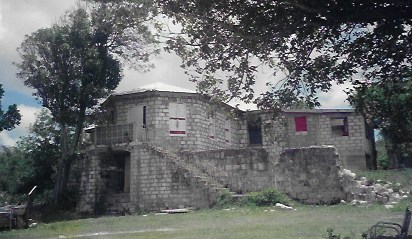 Current Status
There is no longer a mill left on this site and the village of Pares has grown, covering any signs of the works or out-buildings. The estate house however, lies in ruins on top of a sloping hill behind Pares village which is slowly encroaching. The estate house at one time has been rebuilt without consideration of the original architecture using shoddy construction and materials. It has since been abandoned.and is now in ruins but interesting walls and features exist particularly to the rear of the building. The entrance at the top of the stairs (living room or parlour) was of the same octagonal design as Body Pond's and Milly Byam (Folly's) estate houses. As recently as 2015 piles of cut stone were being removed from the area. At one time a road ran from Pares through Parham New Works to Parham – the road no longer exists but I believe there is still a footpath.
Dates of ownership are uncertain, and some are conflicting, but I have taken ownership names from Vere Oliver's History of Antigua some of which I have listed below. It is possible when it says "Rowland Otto-Baijer of Pares" it could mean that he was residing there, not necessarily that he owned it. This estate tended to stay within the family according to marriage and the four recurring names are Pare, Warner, Pell and Otto-Baijer. Just one big happy family!
Estate Related History/Timeline
1757: John Pare of Pares of 153 acres died 1757.
Ashton Warner's (d.1789) wife, Rachel was the daughter of John Pare who, in 1803 owned 153 acres. In 1787, the slave register showed 63 men, 89 women and 13 children. (all names given). She also owned Belvidere alias Hornes (#38) and the Waterford estate in Barbados which she inherited from her husband. "Samuel Otto-Baijer, Member of Council and Chief Baron of Court of Exchequer; of 'Pares': bapt. st St. George's 1 May, 1782; died at Philadelphia 20 Dec., 1835 age 54."
1803: Will of Rachel Warner, widow of Hon. Ashton Warner. "….. to my second nephew 1/2 of my moiety of Pares estate in Old North Sound…… To Kath. Edwards the other 1/2 of my moity for life, then to her children…." Vere Oliver Vol.III p.191
1805: Rachel Pare (d.1805) owned a moiety of Pares. Vere Oliver Vol.III p.191
1805: "Pares, Cochran's, Sion Hill and Mayers owned by Watkin Owen Spencer Pell. Indenture 1805 …. Samuel Otto-Baijer grants and conveys all that plantation called Pares in the Div. of Old North Sound in Antigua …. and all cattle, horses, and other quiet stock…. and of all negro and mulatto slaves …. for one whole year …..".
1810-1887: "Elizabeth Mary Otto-Baijer (1810-1887) owned Pares & Cochran's." Vere Oliver Vol.I which she left to her nephew Watkin Owen Spencer Pell.
In 1829, this Estate combined with Cochran's contained 328 acres – 308 slaves.
Rowland Archibald Otto-Baijer bapt.1756 will 1761, owned Pares and Cochrans. He married Louisa Manning aged 16 and died two months later. She returned to her Father and two years later married Dr. Heath.
1840: Owen Pell, son of Alfred Pell and Ann Elizabeth Nanton of Pares Plantation. Vere Oliver Vol.II p.290
1851: The Antigua Almanac shows Pares and Cochranes as a total of 328 acres and owned by Owen Pell.
Arnold Thomlinson.
1930: "I grew up at Pares Estate in the 1930's where my father was the Manager, and have very fond memories of my childhood. We had the run of the place, set mongoose traps and snares, shot all kinds of birds and rode horses everywhere. In fact I was jockey one year in the annual race between the estate owners and managers and still have the cup I won. I remember a pile of sand that I used to jump from the house onto and one day someone had left a rake upturned which pierced my hand. It was the type of rake made by the blacksmith on the estate with large tines. I cried for hours and in those days there was no such thing as a tetanus shot. Instead soot blackened cobwebs were gathered from the outside kitchen which was a wood burning stove and these were rolled into a ball dipped in turpentine then stuffed into the wound which was bandaged. It seemed to work."
1941: Antigua Sugar Factory, Ltd. Cane Returns for 1941 Crop. Pares & Cochran's. Estimated 2879 tons, 150 acres estate – acres peasants on the estate, tons of cane delivered 2516 at 16.77 tons per acre.
1943: August 1st: Gunthorpes Estates, Ltd. was restructured (see #64 Gunthorpes) into a 'new' company renamed Antigua Syndicate Estates, Ltd. The Dews estates were Gilbert's, Pares/Cochrane's, and Comfort Hall/Creekside.
1953: The walls at the old house at Cochran's had broken down and the stones taken away to repair a siding at Tudway by Mr. Derrick who was unaware of the pending sale to Mr. Goodhue Livingston, Jr. Reparation might have to be made. Mr. Livingston of the USA paid $570 ($3,600 BWI) for 12-14 acres. There are no buildings on the land but an old cistern, windmill, pipeline and pond. Syndicate Estates, Ltd. minutes.
1955: Dr. Tomlinson purchased two-hill sites approximately 14 and 20 acres, for $5.00 per acre. One of the hills is called Mount Joy.
1969: The Lands of Antigua & Barbuda Sugar Factory Limited and The Antigua & Barbuda Syndicate Estates Limited (Vesting) Act. 30th December, 1969. All that piece or parcel of land forming part of Pares, and Cochran's, approximately 262.145 acres as contained in Certificate of Title No.1411947 dated 16th April, 1947 and registered in Register Book R Folio 50.
Enslaved People's History
Based on contemporary research, we have little information to share about the enslaved peoples from this plantation at this time. We do know that the estate's slave register in 1787 showed 63 men, 89 women and 13 children. Later in 1829, the estate in combination with Cochran's contained 328 acres and 308 enslaved people, 170 of whom were liberated after abolition for the sum of £2,551 18 s 1 d awarded to the sharing estates. We will continue our quest for more information about these vital individuals.
Legacies of British Slave-ownership: Antigua 335 Pares Estate was awarded £2,551 18 s 1 d for 170 enslaved. The only awardee was Samuel Otto Baijer.
Ownership Chronology
Ownership from
1750: John Pare Esq. (d.1757)
1757-1803: Rachel Warner (d.1805c) Dtr. of John Pare md. Ashton Warner
1760: Rowland Otto-Baijer (1726-1761)
1788: Heirs of Pare
1805: Watkin Owen Spencer Pell (1789-1868)
1825: Owen Pell d.1867 md. Eliz. Mary Otto-Baijer
1830: Samuel Otto-Baijer (bapt.1782-1835) 396 slaves with Cochranes
1852: Owen Pell
1867: Eliz. Mary Otto Baijer (1810-1887)
1871: Mrs. Owen Pell 1872 Horsford Almanac – Steam Works
1878: William E.M. Pell
1887: Watkin Owen Spencer Pell – heir to his aunt E.M. Otto-Baijer
1899: Rowland Archibald Otto-Baijer (d.1837)
1933: J.Dew & Sons, Ltd.
1945: The Antigua Syndicate Estates, Ltd.
1969: The Antiguan Government – Crown Land