About
Type: Extant
Parish: St.Peter
Founding date: 1656
Long, lat: -61.757468, 17.105885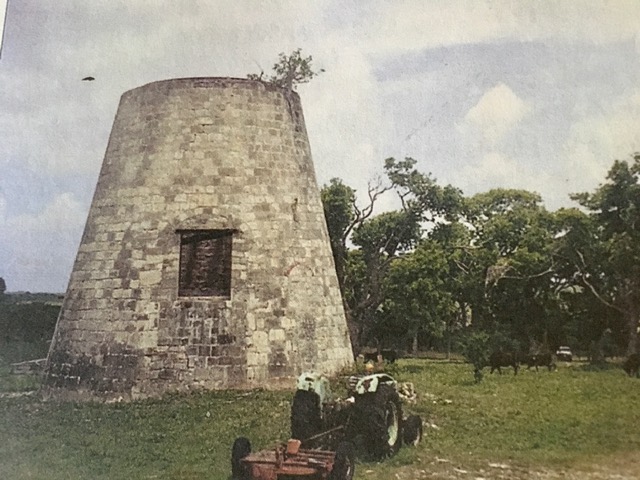 Current Status
Today there are only the ruins to show where the estate house was located though the cellar or beneath the main house, still stands with stairs leading down and a door padlocked to indicate storage. The balcony area above with pillars can still be seen. Several other structures remain such as the mill which was blocked off to serve as a cistern, part of an old cistern and ruins of the works and an avenue of old mahogany trees. A broken copper lies in the yard and the road which passed through the estate to Parham from Pares in the old days, is still discernible and winds past one of the ponds, now a dry indentation in the land. My Grandmother, Margaret Conacher (nee McSevney) who was born on, and grew up at Parham New Works, drew up a plan of the estate as she remembered it.
Estate Related History/Timeline
1743: The Parham Plantation Annual Accounts showed that 351 pounds 7 shillings had been spent erecting New Works Estate at Lindsay. No sooner had they completed the renovations than a major hurricane wrecked havoc.
1750: Parham was split around 1750 into an old and a new works, each with its own windmill and boiling house. An indenture of 1829 indicates that the property was then divided into three plantations called Parham Old Work (Parham Hill), Parham New Work and Parham Lodge.
1819: Parham New Works contained 451 acres in 1819 combined with Parham Hill (Old Works) and Parham Lodge. In 1829, combined acreage 1096 and 587 slaves.
1833: George Brand was the Manager of Parham New Works
1842: Alfred Nanton was Manager but did not recover from the earthquake and was discharged.
1847: John W. Harris was Manager until 1852.
1853: Mr. Gregory who did not last long.
In 1842, Anthony Foote (1821-1847) was the chief overseer/manager for New Works estate employed on March 1st, 1836 at an annual salary of £120. At the time of his death he was also an attorney for the Tudway estates, as was his father, Thomas Dickson Foote who resided at Parham Hill (see photographs).
1863: W. Parker after consulting with the Tudways, purchased a 'multitubular boiler' which would produce greater efficiency and a better quality sugar. He hoped to have it up and running for the 1864 crop notwithstanding that quite a bit of money had just been spent repairing the New Work mill. He felt that the estate was capable of producing 700 hogsheads of sugar should they convert to steam which many of the estates in the West Indies were in the process of doing.
1880: It was managed by John McSevney from 1880-1924 for the Tudway family.
1920: Parham New Works was able to sell hundreds of bags of sugar to W.B. Langley and Geo. W. Bennett Bryson & Co. Ltd. while still continuing limited shipments overseas.
My grandmother, Margaret McSevney Conacher, the last of five children, was born at Parham New Works on 18th August 1895. Frank Goodwin, who later owned Gaynor's estate, was the overseer and she remembers him putting her on his shoulders and walking among the cattle. She was tutored at home till the age of eight by someone from Parham, then joined her older brother (Walter McSevney who later managed Diamond) and sisters Marjorie (who married Affie Goodwin of Duer's) and Annie (Duncan) at Miss Hammond and Miss Tull's school in St. John's. They boarded during the week with their grandmother Harriet Garling who lived across from the New Club near Government house, traveling back and forth by horse and buggy on the weekends. Later she, Marjorie and Annie attended the Antigua Girl's High School while Walter attended the Boys Grammar School where he excelled at cricket. All three girls were married at Parham New Works and had very fond memories of growing up on the estate. Agnes Meeker.
1940's: Rose Nelson grew up at Parham New Works, also known as Lynsey Hill, where her mother worked in the cane fields and she remembers going into the fields herself to pull 'whist' from the cane stalks as a child. This was a vine, also known as 'whina' that wrapped itself around the cane. She also remembers a Dr. Edwards living on the estate prior to Jinx Walters. The road from Parham New Works went straight all the way across to Coconut Hall. They would have to carry water from Betty's Hope to Pare's Buff where her aunt Enid worked when water was scarce. The manager for Pares who worked for the Syndicate Estates at that time was a Mr. Thomlinson who was clear skinned.
1960's: Jinx Walter operated a chicken farm on the estate in the 1960's and the area was then known as Lindsay. Lindsay Hill is actually a hill behind Parham Hill.
Enslaved People's History
Based on contemporary research, we have little information to share about the enslaved peoples from this plantation at this time. We only know that this estate combined with Parham Hill and Parham Lodge in 1819, growing the acreage from 451 to 1096, and the number of enslaved people to 587. We will continue our quest for more information about these vital individuals.
Legacies of British Slave-ownership: Antigua 329 Parham New Work was awarded £2,468 10 s 2 d for 169 enslaved. Awardee was Sir Christopher Bethell-Codrington Bart.
Antigua 330 Parham New Work was awarded £3,001 7 s 10 d for 194 enslaved. Thomas Clark 'other association.' John Paine Tudway deceased and Robert Charles Tudway successful awardees.
Why there were two different claims for Parham New Work is uncertain – the number of slaves differ as does the awardee. There is no other Parham New Work that I am aware of.
Ownership Chronology
Ownership – see Parham Hill
1679-1933: The Tudway family 1933 Camacho map
1943: Leased to Syndicate Estates, Ltd
1958: Syndicate Estates, Ltd.
1968: Antigua Government – Crown Land
2000: Jinx Walter the estate house and surrounding land