About
Type: Ruin
Parish: St.Peter
Founding date: 1671
See on Google Maps!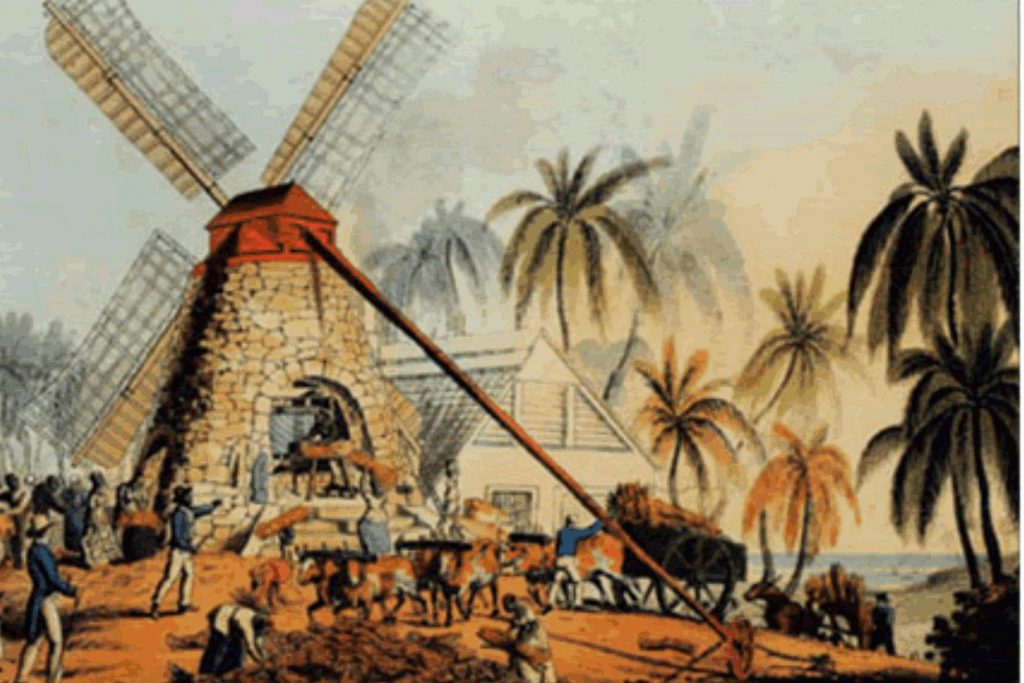 Current Status
There is no longer much remaining of this estate, the mill no longer exists and there is nothing left to show that Parry's converted to steam in the mid 1800's. There is, however, the ruin of the estate house on top of the hill which commands a magnificent view to the north east overlooking The Diamond, positioned to take advantage of the trade winds. In walking this site many china shards were discovered particularly from the blue willow pattern which was a favourite of the time. To the west is Duer's (#89) and to the south Yeamons (#91). The 1933 Camacho map shows Parry's Old Works directly to the east of Parry's.
Estate Related History/Timeline
1736: "It was at Parry's that the Legend of the Ravine is told.   It relates that in this gully or valley, the slaves, Court, Tomboy and Hercules plotted an uprising in 1736.   King Court, a 45 year old Coromantee, was elected leader.   In "the Legend" he was called Prince Klaas, but in real life, his name was Tacky and was owned by Thomas Kirby .
Whenever the slaves met in the Gulley, the slaves would utter "Death to our foes!". An Obeah Woman, Morah, gave her advice from obeah signs and the slaves worshipped their king and drank and danced and inhaled smoke from roasted cashews.
The Plot hatched was to take place at Christopher Dunbar's house in St. John's where a ball was to be held in honour of George II's coronation.   Three groups of 350 slaves were to enter the town and kill the plantocracy gathered there.    However, the ball was postponed and during the delay, a slave named Johnny, became an informer."   Antigua & The Antiguans.
There is a small park on Camacho Street at at the head of town just below St John's Medical Center, in memory of Prince Klaas. There is a statue erected to him where he stands blowing a conch shell, dressed in clothes of the times. Prince Klaas actually lived in town and was the groom for his master Thomas Kirby, who lived in the house to the west of the Museum on Long Street. Because of his position he was able to move around quite freely in order to put his plans into effect. He was later broken on the wheel at Otto's Pasture along with six other complicit slaves, a death most horrible. Prince Klaas has been named one of the nation's heroes.
It is at Parry's that the Government is reinstating the Prison Farm which used to be located in a fenced and gated area just off Anchorage Rd. on the outskirts of St. John's. Thomas Norbury Kerby (1758-1819) during is absence from Antigua leased Parry's and Weirs with all his Negroes and Slaves, to John Sowerby for one year in consideration of five shillings Thomas Kerby was President, Lieutenant-General and Treasurer of Antigua in 1809-1916, in 1817 succeeded his father-in-law Edward Byam as Judge of Court of Vice-Admiralty, President of Council and Brigadier-General in the West Indies.
George Westerill Ottley (1783-1856) He started working on Antiguan plantations in 1797, managed Bendall's for Mr. Oliver before moving on to the Tudway estates where he lived at Parham Hill for 30 years in a position of trust, eventually becoming their attorney.
1810: Will of Thomas Norbury Kerby left to daughter Anne Byam Kerby (d.1842 UK) "Parry" and "Weir's."   Vere Oliver Vol.111 p.120     
1817: Thomas Norbury Kirby was brought up for trial in a case against him for cart whipping a negro female slave of his who was pregnant.   Causing cruel and inhuman dispositions towards his slaves and wantonly inflicted upon such slaves severe excessive cruel and arbitrary punishments.  Taken from the proceedings on the Trial of John Hatchard for Libel.   
Thomas Norbury Kerby can also be found in the Slave Registers of 1813-1834.
1860: Francis Shand, Esq. and others to O'Bryan Ottley, Esq. (and another) assignment of mortgage debt on Parry's Estate in the Island of Antigua.    The Beinecke Lesser Antilles Collection at Hamilton College.
1848: George Weatherill Ottley of Parry's.
1851: The Antigua Almanac shows Parry's of 222 acres belonging to George W. Ottley.
1852: The "Diamond" in St. Peter's Parish in 1852 contained 134 acres and was owned by F.B. Ottley.   "Weir's" of 136 acres in St. George's Parish was owned by Miss Ottley and "Parry's" of 22 acres by George W. Ottley.   Vere Oliver Vol.III p.1
1860:  Appears in the West Indies Encumbered Estates Court where Francis Shand and others to George O'Bryen Ottley, Esq., an Assignment of Mortgage on debt.   Beinecke M593.
1869: For instance, George Holborow, who represented the Codrington estates, did so from before 1872 (the earliest reference I found, although he could have been on the island many years before that) until his death in 1891, and was succeeded by his son Frank; Thomas Dickson Foote, who managed the Tudway estates, also held the post from before 1872 until he died in 1908 (at age 86), and was aided and then followed by his son John Freeland Foote. Both the elder men served on the Legislative Council: Holborow was there in 1872 and remained until 1897, while Foote was a member of the Assembly in 1843! Foote had turned the position over to his son by 1890, and the son continued to serve for another thirty years, most of that on the Executive Council as well. Foote was also a proprietor in his own right, but he never seems to have held on to any estate for very long: he bought Big Duer's sometime after 1843 and Parry's through the court in 1869; he then sold Big Duer's through the court in 1877. By the 1890s, he does not seem to have owned any estates.    antiguahistory.net/
Robert Bryson by 1921 owned Bodkin's & Willis Freeman's (778 acres), Diamond (134 acres), Dimsdale (809 acres), Isaac's Hill (100 acres, Looby's & Parry's (222 acres). He acquired an interest in Geo. W. Bennet-Bryson & Co., Ltd. in 1895 and retired around 1921.
George W. Bennet-Bryson & Co., Ltd. was one of the largest and most powerful companies of their time in Antigua and owned many estates. The Company was established in 1835 and today still offers a wide range of insurance and shipping services. They represent Lloyd's of London in both Antigua and Montserrat, which they have done since 1876. In 1933 the estates owned were: Blubber Valley, Bodkin's, Cochran's, Diamond, Ffrye's, Freeman's Upper, Jolly Hill, La Roche's, Lavington's, Long Lane, Looby's, Monteroe's, Sanderson's Thomas, Yorke's & Bendal's.
1941: Antigua Sugar Factory, Ltd. Cane Returns for 1941 Crop.   Parry & The Diamond.    Estimated 3846 tons, 167 acres estate, 3 acres peasant land on the estate tons of cane delivered 3865 at 23.14 tons per acre.
1943: August 1st: Gunthorpes Estate, Ltd. was restructured (see #64 Gunthorpes) into a 'new' company named Antigua Syndicate Estates, Ltd.   The Bennett-Bryson/R.S.D. Goodwin estates (owned 2/3 by Bennett-Bryson and 1/3 by Goodwin) were Morris Looby, Bodkin's, Parrys and the Diamond, all bought for 7,400 pounds.   There were 17 estates in all.
1943:  The Lands of Antigua and Barbuda Sugar Factory, Limited and the Antigua & Barbuda Syndicate Estates, Limited (Vesting) Act.   All that piece or parcel of land forming part of Parry's as contained in Certificate of Title No.2911943 dated 3rd August, 1943 and registered in Register Book Q Folio 29, less an area of approximately 2 roods 30 poles.
Enslaved People's History
Based on contemporary research, we have little information to share about the enslaved peoples from this plantation at this time. We do know that the estate contained 222 acres and had 161 enslaved people in 1829, and all of those individuals were later liberated for the sum of £1,832 9 s 7 d after slavery was abolished in the Caribbean. We will continue our quest for more information about these vital individuals.
Legacies of British Slave-ownership:  Antigua 339 Parry's was awarded £1,832 9 s 7 d for 161 enslaved. The awardee was not listed.
In 1829, this estate contained 222 acres and had 161 slaves.
Ownership Chronology
In 1671 John Parry was granted 150 acres by Governor Warner.
1750: Hamilton Kirby (Kerby)     
1790: Thomas Norbury Kirby  (1758-1832) Aide-de-camp to Governor Sir James Leith   1777/78 Luffman map
1810: Anne Byam Kirby d.1842  
1829: Heirs of T. Kerby 
1843: George Weatherill Ottley (1735-1856)
1855: F. Garroway  (1822-1855)
1878: Thomas Dickson Foote (1823-1908)  Attorney for the Tudway estates for over 50 years            1872: Horsford Almanac – Steam Works
1891: Thomas D. Foote.   
1921: Robert Bryson.   Acquired an interest in 1895 in Geo. W. Bennett & Co.
1933: Geo. W.Bennett Bryson & Co., Ltd.      1930 Camacho map
1943: Antigua Syndicate Estates, Ltd.
1968: Antigua Government – Crown Land