About
Type: Ruin
Parish: St.John
Founding date: 1750
See on Google Maps!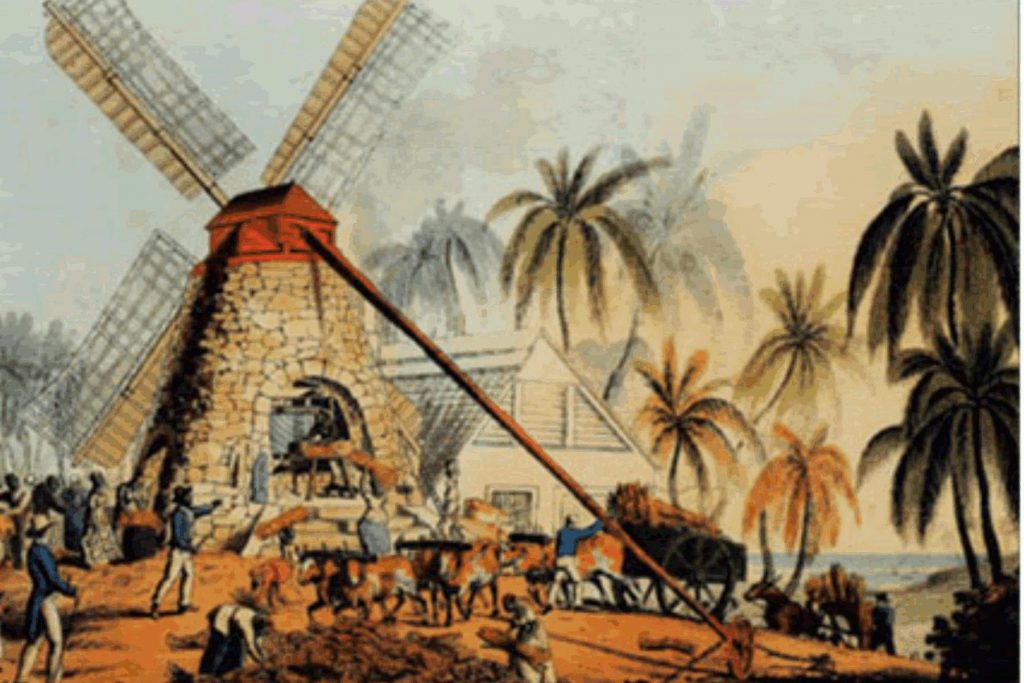 Current Status
The sugar mill no longer exists at this site, but the estate house, which is quite small compared to most estate homes, still exists on the rise west of Potters main road.  The estate raised provisions and had a herd of milk cows.  The village of Potters lies north and took its name from the estate.  The Herbert's estate (#20) is south of Potter's.
Estate Related History/Timeline
"There was a lovely view from the veranda over No. 2 dam towards the factory.  During crop time the lights sparkled and the twin stacks (chimneys) were silhouetted against the night sky.  Nearby there was a pond where the calabash tree grew.  Mother kept chickens and the old man had some milk cows and sent milk daily up to the factory houses in the cart."                                                             Evelyn (Lake) Joslyn, Memories of . . . .
       The 1777/78 map drawn by John Luffman shows Potter's owned by the Honorable William Gunthorpe, who also owned the Gunthorpe's estate (#64).  He died in 1826, specifying that the proceeds of the sale of this estate should go to his wife, Alica (Jackson) Gunthorpe, and to James Gunthorpe, presumably their son.
                  A headstone at Potter's reads:
To the Memory of / Lucy Gunthorpe / who departed this life /                           December 9th, 1832 /aged 103 years.                         
         It is said Lucy was probably a negro slave.              Vere Oliver, Volume II
McDonald & Company was a reputable and respected firm in St. John's.  It began to incur problems around 1874 when the partnership of John S. McDonald, James R. McDonald and W. W. Maclachlan expired.  John and James continued to work together until 1884.  John married his first cousin, Katherine Dora Maclachlan, in Glasgow, Scotland.  They lived at Gray's hill and had eleven children there.  The McDonald family home is now owned by the Henry family (related) and still enjoys a marvelous view overlooking St. John's harbor.
The Honorable lJ. P. McDonald was a senior partner of McDonald & Co., West Indian merchants. He was born in 1865 and educated in private school either in Scotland or London. " Sons of an Islander".
Kitty (Lanke) Yarnold recalls that Philip Downing, her brother-in-law, inherited Potter's from his father, Captain Downing. In 1945 Phillip Downing sold the estate to her father, Jospeh Lake, shortly after he lost Marble Hill estate (#9). Phillip then immigrated to the United States.
Mr. Maharaj, who worked at the Sugar Factory, recalled that in 1954, a locomotive pulling a sugar train ran off the tracks in the vicinity of Gilbert's estate (#80).  Members of the "Weigh gang" and the "Porter gang" were sent to assist in the emergency.  Joseph Lake was the foreman of the Porter Gang at that time.
The London Gazette, in 1976, listed Mrs. Ena Phyllis Judkins as receiving honours for welfare services in Antigua.
Steve Cranstoun, who had been researching his family's genealogy, mentioned that his grandfather, Langford Sally Cranstoun, sold Potters at public auction for £570.  However, we do not have the dates of ownership and he is not listed in the Ownership Chronology.
Enslaved People's History
Based on contemporary research, we have little information to share about the enslaved peoples from this plantation at this time. A headstone at Potter's reads:
                           To the Memory of / Lucy Gunthorpe /who departed this life / December 9th, 1832 / aged 103 year.
         It is said Lucy was probably a negro slave.              Vere Oliver, Volume II.
We will continue our quest for more information about these vital individuals.
Ownership Chronology
1750: Nathaniel Gilbert d. 1774
1800: Honorable William Gunthorpe (1785c-1826) 77 acres (1777/78 map by cartographer John Luffman.)
1826: Alicia and James Gunthorpe, wife and son of Wife of William. 1843: John Joseph Ronan He purchased 40 acres at auction for £3,065 and sold it the following year to George Richard White for £4,500
1844: George Richard White
1851: McDonald & Co.
1891: John R. McDonald b. 1865
1900c: Captain Geoffrey George David Dowling d. 1941.
1941: Philip Downing
1945: Joseph Lake (1890-1958)
1960: Mona Lake
1964: Mrs. Ena Phyllis Judkins
1970c: F. O. Benjamin
2012: Mrs. Gwen Edwards. Buff house only.