About
Type: Extant
Parish: St.Mary
Founding date: 1705
See on Google Maps!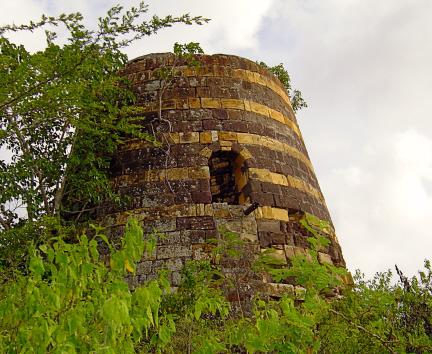 Current Status
This is the only 'striped' mill on the island, alternating a dark and light stone, making this mill stand out. Rigby's is on the left hand side of the main road before Smith's, on a slight rise. The buff and works would have been a little further up the hill.
Estate Related Timeline/History
1755: "Indenture in 1755 between Richard Rigby dec. .. for the consideration of 2,400 pounds for the absolute purchase of the plantation …. containing 286 acres. Rigby's formerly Perrys." History of the Island of Antigua by Vere Oliver Vol.III p.23
1759: James Doig inherited from his aunt (Ann Doig Franklyn) lands at Rigby's in New North Sound, Antigua, West Indies. Will dated 1 February 1759.
1758: James Doig (20 Feb, 1758-1807) inherited Rigby's 1788. A child, John Hurst Doig (1793-1833) inherited Rendezvous Bay.
1829: William Henry Doig (b.17 May 1795) inherited Rigby's in 1829. It contained 295 acres at the time and had 110 slaves. In 1829 this estate contained 295 acres and 110 slaves.
1852: Mount Pleasant in St. John's parish was the property of Mr. G.S. Martin. High Point 212 acres and Nibbs 131 acres in St. George's Parish were owned by heirs of Samuel Martin, Green Castle 605 acres and Rigby's 263 acres, in St Mary's Parish were owned by Sir. W. Martin. Vere Oliver Vol.II p.248
1852: Rigby's contained 236 acres and was owned by Sir. W. Martin. Vere Oliver Vol.III p.23
1867: The Antigua Horsford Almanac shows Rigby's of 263 acres belonging to Heirs of J. Law and rented to Fryer's Concrete Company.
1941: Antigua Sugar Factory Ltd Cane Returns for 1941 Crop. Regby (Rigby). Estimated 700 tons, – acres estate, 55 acres to peasants on the estate, tons of cane delivered 538.
Legacies of British Slave-ownership: Rigby's Estate was awarded £278 1s 9a for 22 enslaved. the awardees were William Henry Doig, Henry Mouton Dyer and Joseph Liggins. Beneficiary deceased was John Adams Wood and Alexander Coates 'other association'.
Enslaved People's History
Based on contemporary research, we have little information to share about the enslaved peoples from this plantation at this time. The most we can tell is that just before 1829 when slavery was outlawed in England, this estate reached its maximum number of enslaved peoples: 110. We will continue our quest for more information about these vital individuals.
Ownership Chronology
1705: John Perry
1750: George Moncreif
1755: Richard Rigby
Prior to 1759 Ann Doig Franklyn (d.1740)
1740: James Doig ( d. 1759) – 263 acres – Nephew & heir of Ann Franklyn
1759: William H. Doig (1795-1801) – 295 acres, 115 slaves
1801: John James Doig (1793-1891) – owned Rendezvous 1777/78 Luffman map
1852: Sir William Martin 1846 Horsford Almanac
1852: Heirs of Picart
1869: James Law
1871: Heirs of James Law. Rented to Fryers Co. 1872 Horsford Almanac
1933: Louise Roden 1933 Camacho map.