About
Type: Ruin
Parish: St.John
Founding date: 1750
See on Google Maps!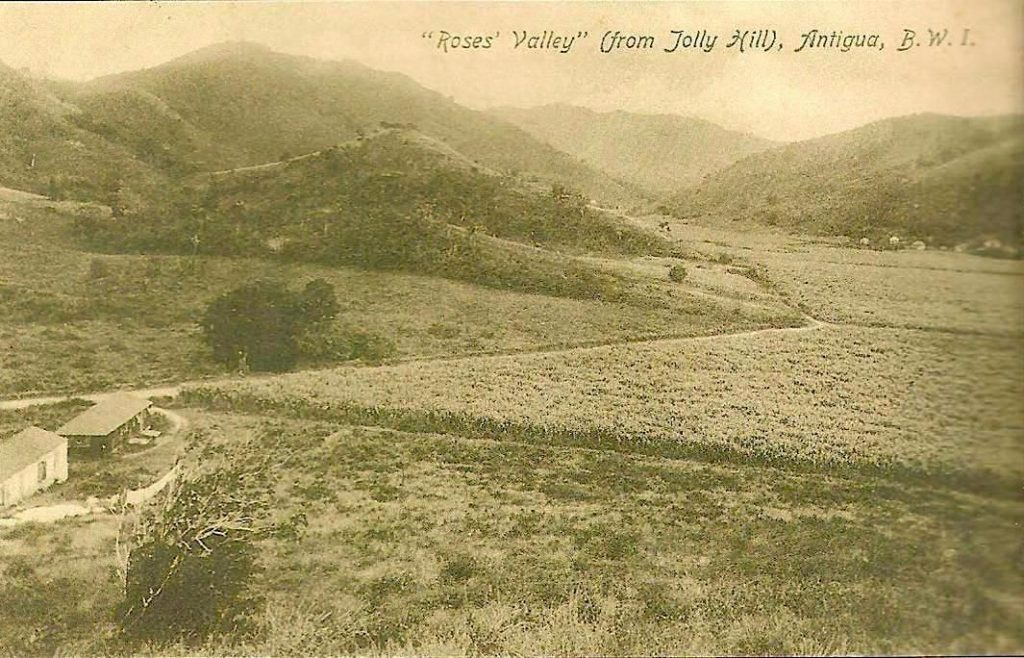 Current Status
Very little is known about this estate, which is situated halfway between Renfrew's (#21) and Buckley's (#45), very near Oliver's (#46). The letter below is from a John Rose in 1785, and the Museum of Antigua & Barbuda has a photograph of Rose's Valley under cane cultivation. It was taken from Jolly Hill, not near the location of the Rose Hill/Hammersfield estate. Also noted on the 1933 Camacho map is a "Rose Cottage." When googling Rose's estate, an area is shown on the internet in the hills overlooking English Harbour in St. Phillip's Parish.
Estate Related History/Timeline
In Vere Oliver's history of Antigua, Volume III, there appears the pedigree of Rose showing a John Rose (d. 1711) of New North Sound, Antigua. He was a merchant. There is also an indenture "30 December 1710 between Robert Weir of Antigua, planter, and Mary his wife, of the 1 part and John Rose of Antigua, merchant, of the other, the latter agrees to let his plantation in New North Sound to the former, late in the occupation of William Glanville of Antigua, merchant, for lease of twelve years at £300 a year."
1785, from John Rose:
"Dear Sir! I have the pleasure to inform you of the safe Arrival of the Ship Joshua. The late arrivals from all parts of America has sunk Lumber near 50-150p Cent. Our Men of War are stationed at all the English Islands to prevent the Americans from trading."
M30s The Beineke Collection.
Enslaved People's History
Based on contemporary research, we have little information to share about the enslaved peoples from this plantation at this time. However, we will continue our quest for more information about these vital individuals.
Ownership Chronology
1750: Nathaniel Humphrey (1722-1758)
1843: James Thibou – 63 acres in 1851
1872: Heirs of Sarah Adamson
1878: F. J. Edwards
1933: Amanda Crogman (1933 Camacho map.)