About
Type: Ruin
Parish: St.Mary
Founding date: 1730
See on Google Maps!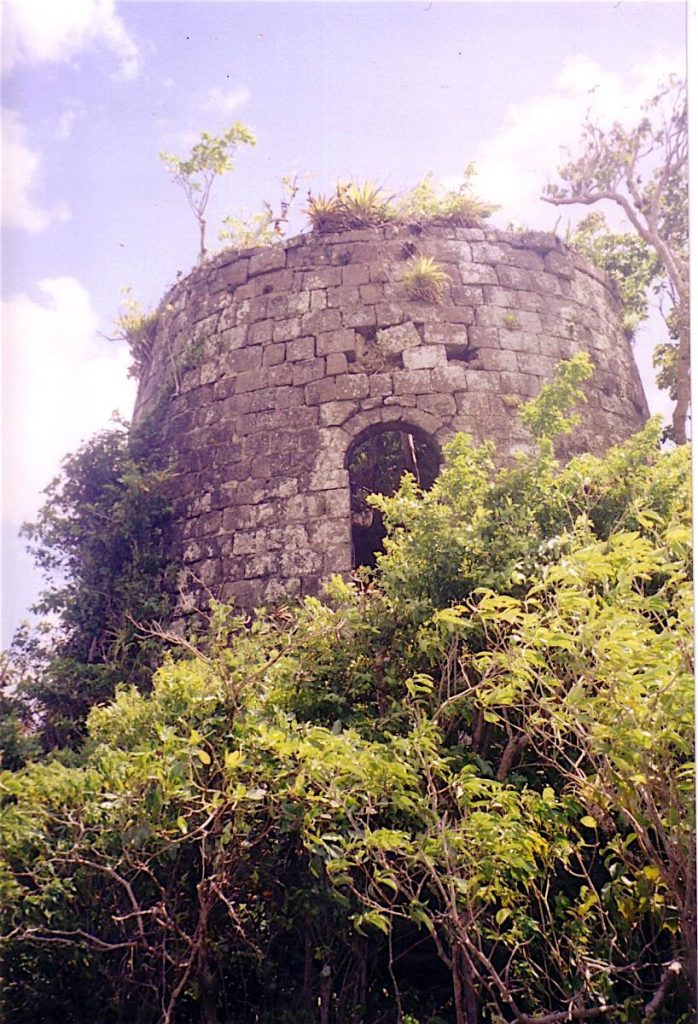 Current Status
Old maps show Tom Moore's Old Mill near this site, of Tom Moore's Spring fame. Water has always been a precious commodity in Antigua, and the few springs on the island were extremely valuable.
James Salmond was the only son of capt. James Salmond (1694-1746) when he immigrated from Scotland to Antigua in 1730 where he bought two plantations, Sage Hill and Slamond's.
Estate Related History/Timeline
1629:Williams, a Welshman, was the first family to settle in Antigua. His son Roland Williams was the first white man born on the island in 1630.
1748: Edward Williams at Road Division, "Tom Moore's " Plantation of 150 acres and 50 acres, The "Cistern" Plantation of 150 acres and The "Road" Plantation of 954 1/2 acres, surveyed 19th September 1743. Vere Oliver Vol.III p.235
1748: Rowland Williams (b.1748-1826) inherited the "Road", "Tom Moores" and the "Cistern" plantations.
1784: Edward Williams (d.1784) owned "Road" and "Body" plantation (600 pounds charged on my "Raod" and 200 pounds on my "Body"). "… To my trustees my 3 plantations called the "Road", the "Upper" or "Tom Moores" and the "Cistern" all in St. Mary's Parish, in trust for Rowland Edward Williams and his heirs…." Vere Oliver Vol.III p.231
"Cistern" contained 120 acres bounded by "Tom Moores", "Road Plantation" and "Gardiner's" in possession of Mrs. Rachel Russell …"
1794: "James Gilchrist widow. Will dated 25 March 1794. All slaves in Trust for my daughters Lydia, Mary, Cath., Eliz., and Janet Gilchrist. By virtue of deed between myself and my son Wm. Gilchrist I give 1000 pounds charged on Sage Hill to my said 5 daus. also all plate and furniture." Vere Oliver Vol.II p.16
1806: – Indenture. ".. called "Tom Moore's" plantation, contained 170 acres bounded east with Mr. Yeamans (#176 Mill Hill), South Rowland Williams #177 Claremont), west with partly Col. John Huyghue, North James Salmond and Ashton Warner. Vere Oliver Vol.III p.234
1829: In 1829 this Estate owned 103 slaves. No mention of the acreage. 1878 Almanac shows Sage Hill of 162 acres belonging to D.C. Odlum and rented to T.B. Kirwan.
1941: Antigua Sugar Factory Ltd Cane Returns for 1941 Crop. Sawcolts & Sage Hill. Estimated 500 tons, – acres estate, – acres peasants on the estate, tons of cane delivered 755.
Legacies of British Slave-ownership: Sage Hill was awarded 1763 lsd 6 s 5 d for 125 enslaved. John Adams Wood was the single awardee.
Enslaved People's History
Based on contemporary research, we have little information to share about the enslaved peoples from this plantation at this time. We do know that, together, Sawcolts and Sage Hill had about 280 enslaved peoples working for them in 1829, but Sage Hill in particular was awarded 1763 lbs 6 s 5 d for the liberation of 125 enslaved individuals in that year. We will continue our quest for more information about these vital individuals.
Ownership Chronology
James Salmond. b.1696 d.1746.
1730: William Salmond. 306 acres, 177 slaves. In 1780 456 acres, 242 slaves.
1760: Edward Williams d.1784
1784: Rowland Williams b.1748-d.1826
1790: William Gilchrist. 162 acres. (Jane Salmond b.1732 md. Dr. John Gilchrist of Antigua.)
1829: James Gilchrist (Mary Russell 1829?). 103 slaves.
1843: James Gilchrist.
1852: D.C. Odlum MD. & Jane Gilchrist, (leased to J.B. Kirwan). 1872 Horsford Almanac
1871: E. Odlum.
Walter G. Mannix. 1933 Camacho map