About
Type: Ruin
Parish: St.Peter
Founding date: 1762
See on Google Maps!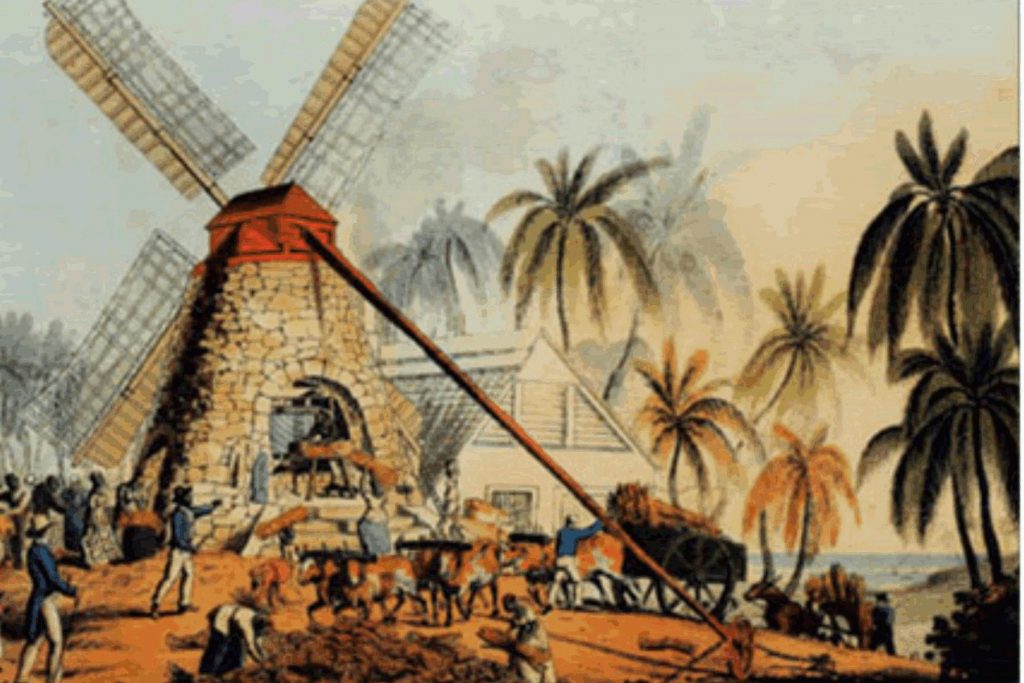 Current Status
There is no longer mill at this site and Sanderson's converted to steam in the mid 1800's. Sanderson's is situated almost across from The Diamond, with Duer's to the south and Cochran's to the north. In latter years it became a chicken farm and still later experimental in raising 'new' potatoes. Neither of these projects remain today.
Estate Related History/Timeline
1762: Samuel Wickham Sanderson Will 1762.   Vere Oliver Vol.III
"William Kelso Martin of Sanderson's and High Point, born 1816."  Vere Oliver. Vol.II p.243
1824: "In 1824, a Mr. Johnson was sent out to the West Indies by Mr. Gordon to ascertain the condition of family estates there.   The report was very voluminous and illustrated with watercolour drawings, maps, plans, etc… the following figures are taken.   He also owned Fairhall 421 acres and Brebner of 259 acres in St. Vincent. Sanderson's 311 acres – 230 cultivated.   61 men, 98 women, 82 boys and 74 girls.   Total number of slaves 315 – Osborne's 217 acres all pasture.   Lavington's 185 acres of which 155 cultivated.   28 men, 44 women, 28 boys and 45 girls.    Monks Hill 172 acres, all pasture."   Vere Oliver Vol.II
In 1829, this estate combined with Osborne's contained 528 acres – 319 slaves.
In 1921, 512 acres.
1824: The Beinecke Lesser Antilles Collection at Hamilton College contain an amazing assortment of letters, papers, maps and prints.    Included is quite a bit on the Sanderson estate of Robert Gordon along with two water colour illustrations of same and accompanying text of explanation.
The Works – "Consisting of a Boiling House, Curing House, Rom Cellar and Loft attached, and Water Mill are in tolerable repair, excepting the Boiling House which requires shingling – it was last shingled about four years and half ago.  I should also recommend, altho' not indispensable, the flooring of the Boiling House which is at present the common earth and very uneven, to be covered with stones or brick – not only for the comfort and health of the Boilers and persons attached to the Boiling during crop, but with a view to contributing to the cleanliness of the place – and to excite a feeling among the Negroes, whom I found disgracefully ragged and dirty.   I also observed much neglect in not cleaning the Coolers, and spouts, which in some measure injures the quality of the Sugars, to say nothing of the waste;  but where is carelessness or indifference to cleanliness prevails in one instance it generally in time extends its influence in a tenfold degree, and hence may be attributed the dirt conditions of the Boiling House in another aspect.   The Copper-hole Shed is much dilapidated and requires fresh tiling.   There is now only one set of Boilers (one of iron and one of copper) with two copper Clarifiers of 310 and 330 Gallons, attached, and occupying part of the space where another set of Boilers formerly stood, the old walls of which, with part of the building materials still like heaped up in the unappropriated part.   For the Liquor Loft are 21 Butts of 300 Gallons such in good order, as are also the Stills, altho' old.   A Magass House has been recently built on the opposite side of the stream, and is at present roofed with trash, a substitution of Tiles would contribute to the saving of labor (by frequently replacing the trash when decayed) and add much to the security of the Building, the trash being of an inflammable nature:  This however is not urgent.
The Dwelling and Offices occupy an elevated situation to the eastward of and overlooking the Works (one View)   The House is of an old and rather inconvenient construction and appears to have received frequent additions to its original form;  the timbers are chiefly of hardwood well put together and the whole Building is in good repair.   Its form and extent will be better conceived by a reference to the plan.   To the Westward or left hand of the Dwelling are the Kitchens and other domestic Offices;  and in the opposite direction stand the Hospital Medicine store, Stable, Cooper's shed &c… The situation and construction of these Buildings collectively, excited my surprise;  as did also the slovenly and dirty condition of the Hospital particularly which is a wooden structure of two compartments for the Males and Females of not more than 12 feet square, rendered extremely….. (not available)
M526A "List and description of Slaves, on Sanderson's estate 5th March, 1824" pp.35-39 in Antigua. 128 names.
"List and description of Eighty-two Slaves removed by Mr. Johnson from Lavingtons Estate to Sanderson's Estate September, 1824." pp.40-41of Antigua.
"Plan of Sanderson's Estate, showing the disposition of the Land for Crop, 1825." Ms. map i pencil, ink and colors. 47.7 x 32.9 cm. Bound at p.2 of Antigua. Boundaries include Archibal Cochran, John Duer, and Freeman. "Section. Shewing the declivities of the Estate at bottom of page."
1824: Part of a letter to the Leeward Conn., Grace Hill by J.J. Schick.  "I returned home by Sanderson, Mr. Gordon's estate.   The manager Mr. Allen, intending the Negroes to come to church tomorrow, had set them today to some work, which I did not wish to interrupt.   The schoolchildren had assembled in the morning, but as we did not attend school this week, they were all gone to work again.   There is a pretty company of schoolchildren here.   Brother Stobwasser at Newfield now cares for those of Lavington's."
1832: Eliza Murray was the executrix for Grant Gordon.
Letters written by Gedney C. Bispham of the Island to R & H Jefferson of Whitehaven, England.   1850-1851.
Letter dated Oct.29, 1850
"Mr. Gordon has set on foot a new process of sugar making on Sanderson's estate this year, on the principle pursued in the Beetroot manufacturing in France and a Frenchman put in charge of the whole (uncontrolled in every way). The expense of manufacturing on that principle including interest on the cost of machinery is at the rate of 4 pound @ hhd! And the best sugar produced (on the authority of Mr. Garling, Mr. Gordon's attorney) has not exceeded 42/- cwt. in London."
1851: Antigua Almanac shows Sanderson's of 528 acres belonging to James Adam Gordon.
Letter dated Feb. 27, 1851
"Since my writing you respecting Delmait's process of sugar making on Mr. Gordon's Estate Sanderson's that gentleman has concluded it in his interest to direct its discontinuance and has pulled down the expensive apparatus and returned to the old mode of boiling; it is said that Mr. Gordon' has seen a heavy loss by this experiment. We shall soon be able to judge of the utility of centrifugal machine, as I understand there are three or four expected from America by Messrs. Foreman and Nelson; I am (told) has had a small one made in the island by Mr. Gardiner, which is said to do well but is on too small a scale, when others try it we shall be better able to see whether it is worth your while to go to any expense for one, but until then it is as well that we do not.
1872: An example of a newly arrived family that benefited from act was the Maginleys. Two brothers, John and Robert, arrived from Ireland sometime between 1852 and 1872—they are not listed as owning estates in the 1852 almanac, but are 1872. The story is that they came as apprentice planters, or managers, but quickly set about acquiring estates of their own. Using both the court and private sales, they had, by 1878, accumulated almost 4,500 acres and together were the largest owners in Antigua. Their estates (Comfort Hall, Gilbert's, Long Lane, Lavington, Lyon's, Willis Freeman's, and Burke's/LaRoche/Table Hill) were primarily in the fertile southeast. By 1891—again using the court—these had been supplemented by Cedar Hill and Sanderson's, for a total of nine estates. John served on the Legislative Council for twenty years, as well as on a number of public boards, and was a leading member of the plantocracy.  antiguahistory.net
1895: When James Maginley died he was a very wealthy man who owned Glebe House in Killukin, Ireland along with several plantations on the island of Antigua.   Burke's (#133) estate, Cedar Hill (74) in the parish of St. George, Sanderson's (#86) in the parish of St Peter, Long Lane (#107) in the parish of St. Paul, Comfort Hall (#103) in the parish of St. Paul and Lavington's Frye's (  ) in the parish of St. Paul.   James Maginley had two daughters Annie Letitia (Holbrow) and Isabella Maud (Thomas) and one son John William Arthur.   On his death while residing at Burkes estate, his properties and wealth in Antigua were divided among his three children, but his Killukin House and lands were left to his son.   History of The Glbe House, Killukin, Ireland
It has been passed down through the years the story of the family who lived in the house at the time were preparing for a daughter's wedding.   Glancing out of the window several people in the room saw the figure of a white man in old fashioned dress with a high collar standing beneath a tree and looking in their direction.   Later on he was seen several times in the room that he appeared to be looking into and it was thought that he was guarding his money.    Robert J. Margetson, 1988
1941: Antigua Sugar Factory, Ltd. Cane Returns for 1941 Crop.   Sanderson's.    Estimated 5135 tons, 212 acres estate, 35 acres peasant land on the estate, tons of cane delivered 5202 at 22.87 tons per acre.
1943: August 1st: Gunthorpe's Estates, Ltd. was restructured (see #64 Gunthorpes) into a 'new' company renamed Antigua Syndicate Estates, Ltd. The Bennet-Bryson estates were Sanderson's, Long Lane/Lavington's/Ffrye's, Burke's/LaRoche/Willis Freeman's, Jolly Hill (Jolly Hill, Blubber Valley, Ffrye's, Montrose, Yorke's and the Cove), Hawes and Mercer's Creek, Cochran's and Thomas's, and were bought for £39,000.
The Lands of Antigua & Barbuda Sugar Factory, Limited and the Antigua & Barbuda Syndicate Estates, Limited (Vesting) Act. All that piece or parcel of land formerly part of Sanderson's, Upper Freeman's and Osborne's pasture, as contained in Certificate of Title No.2211943 dated 3rd August, 1943 and registered in Book Q Folio 22, less than an area of approximately 262.281 acres.
1953: A Manager's house was constructed by Mr. I Barnes for the Syndicate with a 10.999 gallon cistern for $19,000 (the same cistern mentioned in the next paragraph by Pam Spencer Watson).   The ruins of this house can be seen in the bush at the top of the hill today.
37,821 acres were transferred to Government. Reg. Liber Q. Folio 22.
One of several estates that her father, Colin Spencer, managed was Sanderson's when she was about 10 years old.   Her memory from that estate was that beneath the kitchen was a large cistern that collected water off the roof for household use. One could access it through a cupboard door in the kitchen.   She was terrified of going into the kitchen because she felt that she would fall through the floor into the dark cistern and drown.    Pam Spencer Watson
Enslaved People's History
Based on contemporary research, we have little information to share about the enslaved peoples from this plantation at this time. We do know that Sanderson's, combined with Osborne's, contained 528 acres and 319 enslaved people in 1829, and 311 of those acres were just Sanderson's. On that acreage, there were 61 men, 98 women, 82 boys, and 74 girls, totalling 315 enslaved workers. Decades later, 152 of those enslaved peoples who remained were liberated from Sanderson's explicitly for the sum of £2,289 14 s 8 d after slavery was abolished in the Caribbean. We will continue our quest for more information about these vital individuals.
Legacies of British Slave-ownership claimants: In 1833, Parliament finally abolished slavery in the British Caribbean, Mauritius and the Cape.   The slave trade had been abolished in 1807 but it took another 26 years to effect the emancipation of the enslaved.   The legislation of 1833 was the result of a combination of factors where it was felt that the plantation owners should be compensated for their slaves who were to be freed.   The amount of 20 million pounds , a huge amount in those days, was divided up between all slave owners.
Sir William Abdy 7th Bart, Rev. George Caldwell, Sir Thomas Fellowes and John Adams Gordon – awardees – absentee/resident? Antigua 342 (Sanderson's) £4,677 11 s 1 d (314 enslaved)
Antigua 342 (Sanderson's) £2,289 14 s 8 d (152 enslaved)
Ownership Chronology
Ownership prior to 1762 Samuel Wickham (d.1762)
1762: Heirs of Samuel Wickham    
1790: James Gordon (1766-1807)      1777/78 Luffman map
1824:  Robert Gordon  
1843: James Adam Gordon     219 slaves with Osborne's  
1878: William Kelso Martin (b.1816)      1872 Horsford Almanac – Steam Works
1891: James Maginley (d.1895)  
1921: Heirs of J.W.A. Maginley
1933: G.W.B.  Bryson & Co., Ltd.     1933 Camacho map
1943: Syndicate Estates, Ltd.
1968: Antigua Government – Crown Land