About
Type: Extant
Parish: St.Philip
Founding date: 1600
See on Google Maps!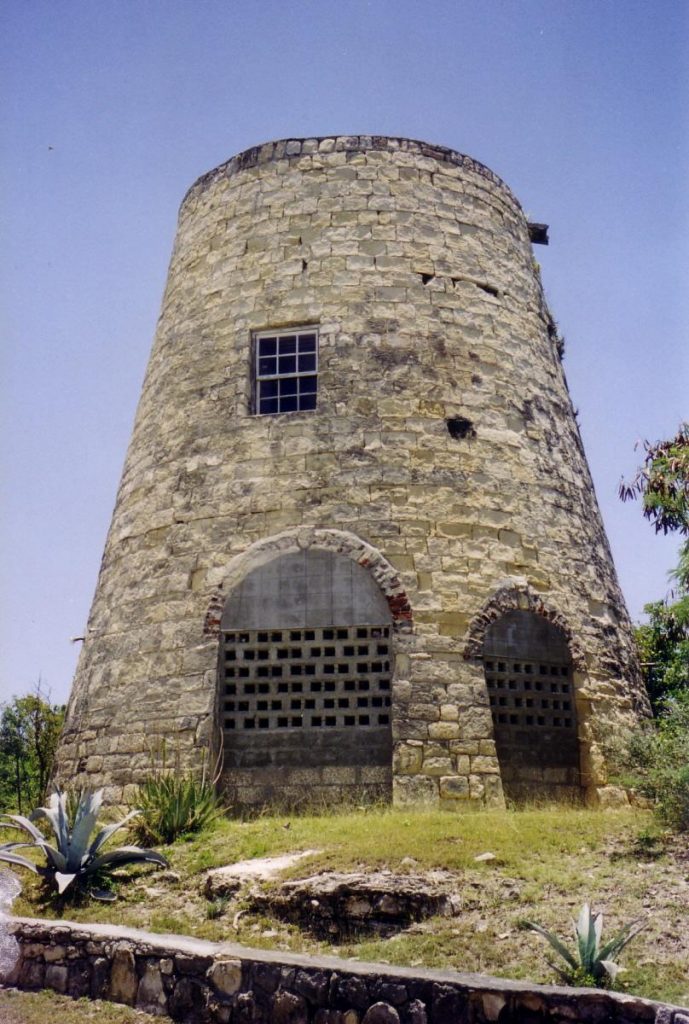 Current Status
his is the mill that gave Mill Reef its name and now stands proudly at the entrance. It has been repaired, bears the date 1843 and at one time housed a mini museum for Mill Reef.
According to Mr. David Edwards of Freetown (2015, age 92) there was a second mill belonging to Sheriff's estate, the ruins of which sit just off the road on a curve in the road prior to the turnoff to Freetown. In fact, the road curves sharply because at this point there used to be a wall right up to the road that was connected to the mill above which is no longer there. This site is now being built on by the Freetown community as a historic site for the tourist industry.
Mill Reef is a private Club and Residential area with its logo a distinctive but simple rendition of a mill..
Mill Reef has a nine-hole golf course, one of three golf courses on the island, for members and guests only.
Estate Related History/Timeline
1709: In 1709 Exchange Plantation of 284 acres.  History of the Island of Antigua by Vere Oliver.
Exchange Bay is in Mill Reef with Smith Island in the bay. Approximately where Sheriff's (#125) is today.
1753: William Sheriff of Nonsuch.  Vere Oliver Vol.III p.85
1804-1866: "St. John's Cathedral/Sacred/To the Memory of/The Honourable James/Watson Sherriff/of the Inner Temple/Barrister at Law/Late President of Nevis/A Native of this island/Mr. Sherriff for many years fill/some of the/Highest Public Offices of Antigua/Including that of Her Majesty's Attorney General/Born 15th October 1804/Died at Nevis from a carriage accident/9th March 1866/Universally esteemed and lamented."  History of the Island of Antigua by Vere Oliver Vol.III
1851: The Antigua Almanac shows Sheriff's belonging to James W. Sheriff (no acreage).
1864: In 1864 Sheriff's was for sale offering windmill, still, worm impl. 44 acres of sugar and 31 cattle.
1866: James Watson Sheriff had inherited considerable property in Antigua.  Vere Oliver Vol.III p.85
1947: In 1947 Mill Reef was conceived on 1500 acres as a private club.  It was founded by Connecticut Robertson ('Happy') Ward (1897-1988) who as a visionary architect foresaw the need after World War II.  He wanted a resort that respected the integrity of its natural beauty and avoided excessive displays of wealth which he felt had spoiled other private clubs.  The original buildings rules stated that houses were to be simply designed and cost no more than $25,000 to build and the initial 45 Proprietary members pad $7,500 for their home lots.
Membership is by invitation only and when paparazzi attempted to photograph Jacqueline Kennedy from a nearby beach on one of her many visits, they were arrested and deported by the Government.  One of the early Club members, Paul Mellon, later named his champion horse 'Mill Reef.'  The Mill Reef Fund over the years has donated millions of dollars to island services in the areas of health, education and historic preservation.
In the early 1950's John H. Moore successfully sued Government when he found out that his land had been sold cheaply under the guise of being used for animal husbandry.  When instead, it was sold to rich Americans as an exclusive club and housing development.  He won his suit and was compensated for the full price.  Selvyn Walter.
In 1945 Mill Reef contained 1600 acres.
1940s: Mr. David Edwards of Freetown (2015, age 92) remembers when Sheriff's was mostly pasture and raised a lot of animals.  When Mill Reef started to build, Rev. Carty got cutlery and glasses where he set up the basics of setting a table and taught anyone interested at the Mission House in Freetown.  Mr. Edwards attended and later bought a book on the rudiments of mixing drinks.
When Mill Reef opened he was ready and he got a job with the Gould family where he worked for many years.  He was given concessions because he was not only a hard worker but he was honest and went above and beyond when he saw something needed doing.   Because he was a fisherman and had his own boat, he was allowed to keep his boat moored on a beach nearby.  To this day the fishermen of Freetown are allowed to keep their boats in the bays of Mill Reef.  He worked in the house and in the garden.  Because of this Mr. Gould helped him with his children's education paying for two at Antigua Girl's High School while he paid for his third daughter to go to Sunnyside.
Mr. Edwards started with nothing but was never afraid of hard work.  Because of this he was able to give his children an education that he never had.
"I was present when John Rowan Henry launched the Antigua National Party. I sat near to John Laviscount and Luther George. Very close to me also was Manny DeSouza. Across the room were Strongie Jarvis and Fred James. Optimism was high. Josiah Joseph of The Nook was very optimistic that at last an organisation was being launched that would topple the monopoly of VC Bird. I have never been able to understand why the Antigua National Party needed an appendage that was a union in order to topple the monopoly of VC Bird and the Antigua Trades and Labour Union. The Antigua National Party was known as the Anvil Party because its very popular newspaper was named The Anvil.  I was a teacher at the Antigua Grammar School, but I used to associate with Kem Roberts and Manny DeSouza et al who lived nearby and they were my very close personal friends. I was also present when the new Union was launched. The name was the United Port Seamen and General Workers Union. There was a roar of approval and a surge of optimism when the new union was formed. VC Bird had a union to push his programme so John Rowan Henry, it seemed, needed his own union to help to push his Anvil Party."  Selvyn 'Walter Copying the Union in Search of Success.'
John H. Moore store?
Enslaved People's History
Based on contemporary research, we have little information to share about the enslaved peoples from this plantation at this time. However, we will continue our quest for more information about these vital individuals.
Ownership Chronology
Ownership from 1600's unknown
1753: William Sheriff (d.1779) 1777/78 Luffman map
1788: William Elmes Sheriff – Bapt. 1767 – 220 acres
1850: James Watson Sheriff (Bapt.1804-1866) 1851 Antigua Almanac.
1878: F.B. Harman. – 220 acres 1872 Antigua Horsford Almanac.
1891: Heirs of F.B. Harman
1921: M. DeSouza
1933: Heirs of J.A. DeSouza 1933 Camacho map.
1945: John H. Moore
1947: Mill Reef