About
Type: Extant
Parish: St.Philip
Founding date: 1705
See on Google Maps!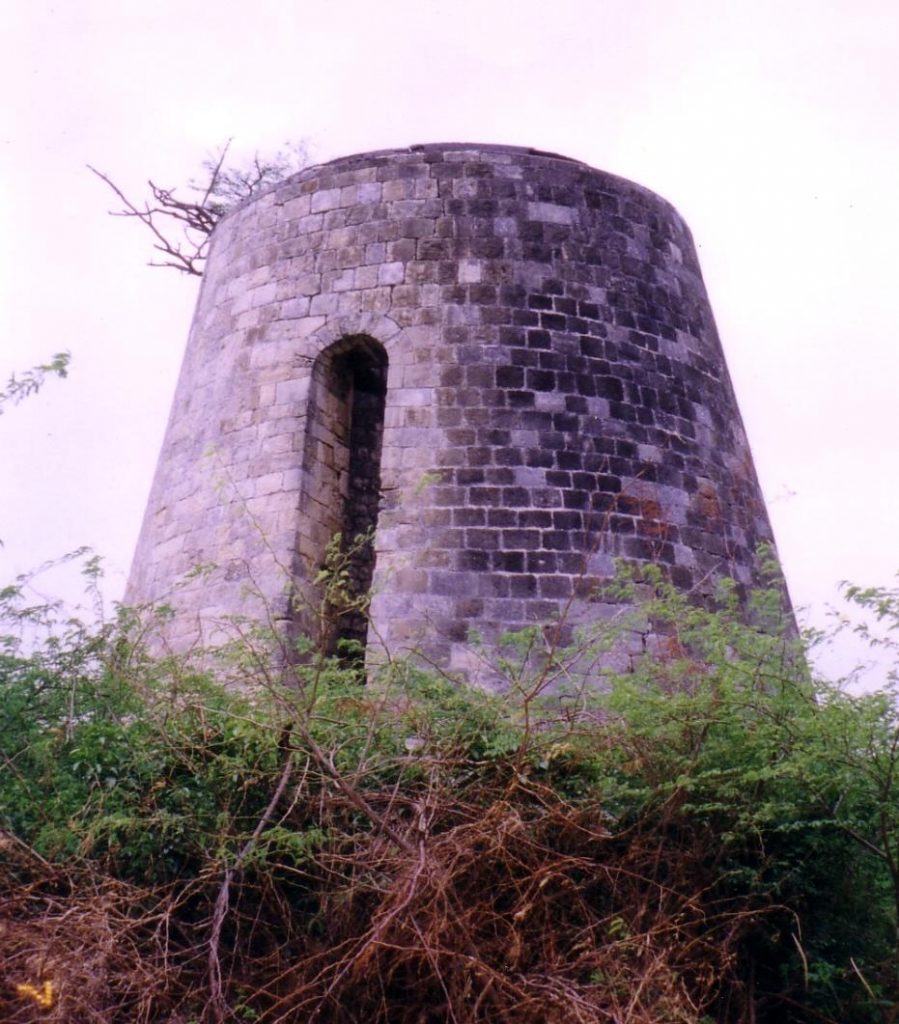 Current Status
The mill is in comparatively good shape.  This is one of the nine estates combined with Montpelier that was purchased by the Antigua Distillery in order to produce molasses for the production of Cavalier Rum.
Estate Related History/Timeline
Skerrett's were one of the old clans from Galway, Ireland, and one of the original Irish families to have settled in Antigua. " Stephen Lynch came of an ancient Galway family settled in Montserrat before 1712 and at Antigua before 1707". Caribbeana
1705: Thomas Skerrett purchased 50 acres
1707: Thomas Skerrett purchased 214 acres at Nonsuch by Governor Daniel Park.
1752: William Skerrett died 1752.  In 1750 500 acres.  Vere Oliver Vol.III P.87
1765: The 'Nugent' estates were in 1765 sold by Oliver Nugent to Robert Skerrett, who had married his sister, Antoinetta, creating the 'Skerrett' estates.
1777-78 map by John Luffman shows "Skerrett's Folly" but no owner.
1787-1814 : Papers relating to the estate of Sir Peter Parker of Skerrett's, Antigua, include estate bills numbered.   Held at The Gloucestershire Archives Ref.#D1610/L5a
1829: In 1829 contained 314 acres – 170 slaves.
1851: The Antigua Archives show Skerrett's of 314 acres belonging to Oliver Nugent.
1852: In 1852 it contained 314 acres, and was owned by Oliver Nugent.
1891: In 1891 Sir Oliver and Lady Nugent acquired 'Skerrett's and Folly', previously owned by his father who had died in 1843 – probably part of the land originally acquired by Walter Nugent around 1720.   At some stage Sir Oliver, or perhaps Lady Nugent, gave or sold plots from Skerrett's and Folly' for good causes, including a home for truant boys and a cemetery for the poor (Nugent Cemetery), the land on which now stand Antigua Grammar School, the old and new Parliament buildings and Holberton Hospital are all thought to have been owned by the Nugents at this time.   A tranche of land identified as 'Skerretts, otherwise Clare Hall' consisting of 612 acres was sold at Gray's Inn coffee house, London, on 13 September 1847 ".pursuant to an order of the High Court."   The land sold was bordered by Frenches (north), Cassada Gardens and lands of William White deceased (east), of Bayer Otto Bayer (south) and by the government and of J.D. Halliday and T.L. Brooke, both deceased (west).   On his death in 1894, Sir Oliver bequeathed what remained of 'the Skerrett estates' to his eldest son, Nicholas, whilst land in Redcliffe Street, St. John's, went to his elder daughter, Emily. 
Land records show two distinct Skerrett properties by this time: 'Skerrett's Pasture' was the site of the boys' home and paupers' cemetery and the street known as Lady Nugent Avenue, so would not have been available for Sir Oliver to bequeath.  (see Camacho 1933 map)   Then there was 'Skerrett's and Folly', originally known as Nugent's according to the land registry, though its pre-1769 ownership is unclear.   This had passed from Robert Skerrett to John Lynch (nephew of Antoinetta's) in 1790, then to Nicholas Nugent in 1829 and Sir Oliver Nugent in 1891.   It was sold to J. Maginley in 1921, presumably by Sir Oliver's sons (d.1894).  We know that in mid 19th Century it consisted of 314 acres, but had consisted of 500 acres a century earlier.
'Skerret's Pasture' may have been split off from the main estate, whilst the 'Folly' element suggests a merger since there was at one time a separate Folly estate. (See 1826 Johnson map where Skerrets, Folly and Clare Hall are shown as distinct estates.) In 1944 'Skerrett's and Folly' became part of Antigua Distilleries/Montpelier Sugar Factory. Nugents in Antigua
Sir Oliver's second son, Oliver, returned to Antigua after schooling in Britain.  Around 1891 he set up home at Hodges Bay House near the island's northernmost tip.   Later he lived at Renfrew, 7 miles south of St John's, and after briefly occupying Scotts Hill spent the last ten years of his life at Erdiston, close to High Street in St. John's.
Oliver's only son, George, spent his early married life between the family home in Berkshire, England and his work as a colonial officer in Nigeria.   On George's retirement in 1924, he took his family back to Antigua and set up home on the southwestern outskirts of St John's at Scotts Hill which – the Antigua Star of October 1936 reported – "formed part of the original property …. now once more in the possession of the Nugent family and is the home of Mr. George Nugent."   George Nugent's widow, Gladys, sold Scotts Hill to Egbert Harney about 1940.   George's mother, Mary Nugent lived on at Erdiston till her death in 1956.   Oliver and Mary Nugent are buried at St John's cemetery.   George Nugent is buried in St. George's churchyard alongside his grandparents, Sir Oliver and Lady Nugent, while Walter Nugent, the first Nugent in Antigua, is buried in St. John's churchyard.
Nugents of Antigua.
Enslaved People's History
Based on contemporary research, we have little information to share about the enslaved peoples from this plantation at this time. We only know that the estate was awarded £2,884 17 s 8 d for the liberation of 178 enslaved people when slavery was abolished in the Caribbean. Nicholas Nugent was the sole awardee. However, we will continue our quest for more information about these vital individuals.
Ownership Chronology
Ownership 1705 Stephen Lynch d.1771 June 25 near Epsom. His will as of Ashted, co. Surrey was dated 10 July 1769 and p. 2nd July 1771. He owned two plantations in Antigua, mar. thrice, and left three sons John, Edward and Stephen.
1730: Stephen Lynch
1750: William Skerrett purchased for £20,704
1788: John Lynch – Nephew of Antoinetta Skerrett 1777/78 Luffman map
1829: Nicholas Nugent (1781-1843) 170 slaves
1851: Oliver Nugent – 314 acres 1851 Antigua Almanac
1872: Oliver Nugent – 314 acres 1872 Antigua Horsford Almanac.
1891: Sir Oliver Nugent (1815-1894)
1921: John Maginley
1933: Ernest O. Dew. (d.1900c) 1933 Camacho map
1944: The Antigua Distillery