About
Type: Ruin
Parish: St.Mary
Founding date: 1668
See on Google Maps!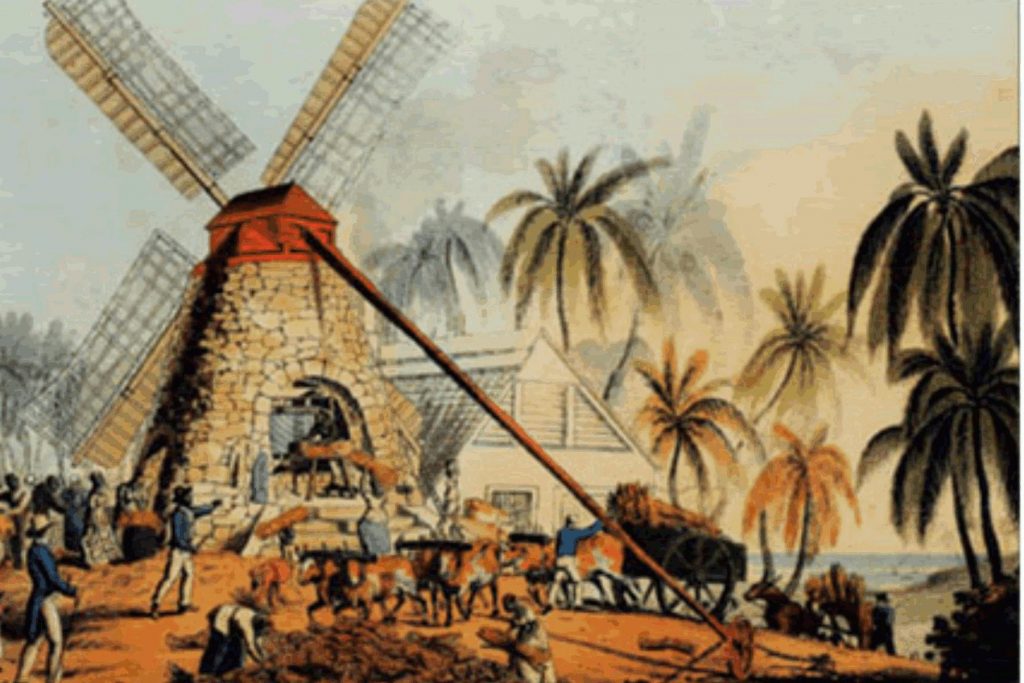 Current Status
There is no longer a mill at this site – the stones were used to build the foundation of the Hall's home at Smith's by Robert Hall. This is one of the few remaining running estates on the island, raising cattle, sheep and goats for market. The Hall Valley Farm has breathed new life into the legacy left by Robert Hall by his grandson Adrian Hall and family. They have been building up the stock and now supply farm raised chickens, eggs, lamb and pork and are experimenting with cheese and bacon, all pesticide free in this ever important field. Darby's & Cashew Hill (in Misc. Estates at the back) are part of Smith's estate. The name Darby also appears in Barbuda as Darby's Cave. This is a sink hole about 3 ½ miles north-east of Codrington village, which has been undercut by 30 ft. to look like a cave. The cliffs are 70 ft. high and the hole is 350ft. in diameter.
Estate Related History/Timeline
1668: Henry Smith a patent for 100 acres. Records also show an Ensign Robert Smith purchasing land at Rendezvous Bay 1679/80. History of the Island of Antigua by Vere Oliver Vol.III.
Also that Mary Smith owned nearby "New Division" estate which on her death was put in trust for her sister Sarah Smith.
1723: "1723 Wavell Smith writes that his wife was onboard one of the ships in the harbour, during the hurricane, but got safely ashore during a lull, and complains that he has probably lost all his effects."
1756c: "Mary Smith named as niece 1756 in the will of Mrs. Elizabeth Haddon nee Gamble, conveyed "Smiths" of 122 acres in St. Mary's Parish to Alderman Richard Oliver 1772."
"William Smith of Grenada, Esq., co-heir to his uncle Wavell 1755 and to his cousin Alderman R. Oliver 1784." Vere Oliver Vol.III p.94
1772: Indenture between Mary Smith and Richard Oliver … "grants to Richard Oliver and his heirs forever all that plantation in the Parish of St. Mary's, Antigua, containing 122 acres, called "Smiths" abutting N on the lands now or late in the possession of George Moncrieff and W. of Nesbit Darby & Samuel Watkins." Vere Oliver Vol.III p.97
1780: Mary Smith rated on 160 acres – 59 slaves.
1972: "Indenture made April 1972 between Mary Smith of Golden Square, spinster, of the one part, witnesseth that for docking and barring all estates tail or remainders in the plantation, lands, etc….. in consideration of 5/-Mary Smith grants to Richard Oliver and his heirs forever all that plantation in the Parish of St. Mary's, Antigua, containing 122 acres called Smith's." Vere Oliver Vol. III p.97
1829: In 1829 this Estate contained 170 acres – 64 slaves.
Richard Wesston Nanton served as Chief Justice of Antigua after the end of slavery. He was unsuccessful in his claim for compensation for Smith's estate but was successful in his claim for a smaller claim of three persons. Antigua 797 L.39 0s 7d.
1846: The Shands were a Liverpool based West India merchant company, shipowner and Antigua proprietors for several estates. Francis Shand married Lydia Byam in St. George's parish and had 13 children.
1872: Anna Doig. Of Scottish descent, Doig's have been in in Antigua since the early 1700's. James Rigby (d.1759) owned Rigby's (#162) next door to Smith's and there is an estate called Doig's at Rendezvous Bay near Falmouth. An indenture between Ann Doig and James Gordon dated 15th July 1874 is listed in Vere Oliver Vol.I, but not certain if Ann and Anna are one and the same.
1878: Almanac shows Smith's of 110 acres as being owned by J.W. Foriscou (Fonesca) H.'Kit' Hall owned Smiths, Darby's, New Division and Cashew Hill.
Ghost story by Yvonne MacMillan:
"One Saturday night, in the early 1970's, my mother Lyda Hall (nee Veira) left for 7pm church service. My father, husband, some of my brothers, my children and I were sitting around the dining table chatting. We heard a car drive up, door open, footsteps and Frankie Nunes (first cousin) say "good evening" before joining us. My father asked him who he had been talking to because there should have been no one else in the house and Frankie, looking surprised, said "Aunt Lyda." Just at that time I looked through a window into the pantry and saw a person in a light coloured shirt go pass. I said out loud, "who is that person in the pantry?" We all took off in different directions to catch the intruder, and found no one. We never did figure out who our visitor had been and when Lydia returned home she was extremely skeptical of our 'ghost' story, but someone had definitely paid us a visit."
2014: Yvonne MacMillan, daughter of Robert Hall. Robert bought Smith's at auction "block' , H.J. Hall put it up for auction. Yvonne thinks Darby's was bought after Smith's Est. from someone else but not sure. There is another area called Larby-Darby, but not sure if it is part of Darby's. Smith's now contains — Smith's Est., Brown Hill ' Est. Owned by Erskin', Darby's , 'Larby- Darby ? ' , Dog Flea Hollow , Manta, and Willcox's Nest. This may have been just a home at one time. Yvonne thinks each piece was bought by itself at different times.
Sir Robert Langford Vernon Hall KCN.
27 August, 1909 – September 1994.
"Robert Hall has been the most successful of all Ministers of Agriculture who have ever occupied the post and his love of the soil was exemplified by the example he set for others. Up at the crack of dawn to attend to his huge herd of Holstein cows and hundreds of sheep and goats, he preached thrift and was a shining example to the whole country of how farming ought to be done…. When he expired, the political arena lost an outstanding role model of a humble, dedicated, hardworking man from whom the youth and people from all walks of life could draw comfort and find a pattern to emulate".
Robert Hall expanded the pineapple plot at Cades Bay from 5 to 35 acres.
Set up the Orange Valley pineapple extension scheme.
Instigated the 65 acre Christian Valley Plant Nursery Project.
Settled 40 small farmers on 5 acre holdings at Table Hill Gordon.
Expanded the 35 acres Diamond Estate gardens to 165 acres and grew a variety of vegetables on an experimental basis.
Established the Food Processing Laboratory Unit at Dunbar's. Land previously under cultivation was subdivided.
The number of small farmers registered grew from 576 in 1970 to over 2000 in 1974.
By 1975, Antigua & Barbuda was exporting fruits and vegetables including sorrel to other Caribbean islands and Canada.
Antigua & Barbuda' food exhibit won the top award in 1975 at the US Virgin Islands Agriculture and Food Fair, beating all competition.
Cotton Farmers in 1971 increased from 26 in 1971 to over 200 in 1974, and yield increased from £11,431 from 200 acres in 1970 to £240,633 from 883 acres in 1973.
The coconut grove in Barbuda was extended by some 50 acres.
A Fisheries Development Act was passed in order to formulate a Fisheries Development Plan and generally to regulate the industry in order to utilize marine resources in a sustainable way.
A Fish Market with cold storage facilities was established. A Fisheries Slipway was constructed at Point.
The Marine Areas Act, Regulations, and Marine legislation to protect, preserve and enhance Salt Fish Tail Reef Park off Antigua and Palaster Reef Park off Barbuda was established.
The migratory patterns and breeding habits of lobsters were studied and legislation to protect marine life in the Barbuda Lagoon.
A Fish Farm Project was established at Collins Dam. Fish pot wire and fishing equipment was imported and sold at cost price to fishers.
Investments were made in the development of the government herd of cattle introducing Holstein and Sene-pol breeds to improve the strain.
The Government herd was increased from 50-200.
Crops of grass and legumes were planted in Barbuda and 240 acres cleared and fenced for fattening and grazing purposes.
Some 500 mallard ducks, 50 partridges, and 200 quails were introduced in order to augment meat production.
The remaining sugar cane was utilized for livestock feed.
Research was started into cattle ticks, at that time called 'mange' which led to the identification of the Ambyloma or Tropical Bon tick. GARD Center
Sir Robert's Profile of Smith's Estate Farm (1930-40)
Background: Farm started in late 1930's, with well-nigh all lands covered in acacia, wild tamarind, and last but not least the scrub known locally as "Piss-a-bed."
Ownership: Robert Hall; acquired from my Father.
Location: Smith's Estate, St. Mary's Parish.
Physical Infrastructructure: Dipping tank, Tractor & Cart, Brush Cutter, Artificial Manure Spreader, Disk Harrow, Thousands of iron fence posts and miles of fencing and barbed wire.
Water Supply: One dam of approx. 2-3 million gallons of water, plus 3 ponds which add up to another couple million gallons. Water is piped to all paddocks.
Livestock:
(a) Population: Cows, Heifers, Young Bulls.
(b) Feeding: When milk was sold elephant grass was cut into chaff and saturated with molasses. Cottonseed meal was the chief concentrate given. Today non, i.e. no molasses or cottonseed meal given. For some time now all animals are grass-fed – various types of grass.
(c) Breeding: Chiefly Holstein Grades
(d) Mortality: Low. Once in a while have lost the odd cow in birthing or an animal from tick fever.
Personnel: Labour is not interested in this kind of work as the hotels and construction industries pay two, three times as much as farmers can afford. Some workers realize what farmers are up against, but cannot blame them for going where the going is better. Who would not.? At present there are only 3 people, sometimes 4-5 employed. In the early days 15-20 people would be employed. Today the spray can helps greatly.
Financing: Overdraft at the Bank.
Marketing: Animals sold locally, i.e. butchers and others still interested in livestock. Plans for the Future: Improvement of pastures.
Comment: I am confident if I had invested in something else other than Agriculture my Bank Account would be in 7 figures without any kick-off's. Under present conditions you cannot blame the youth for not being interested in Agriculture.
Both articles taken from "Sir Robert: His Life and Work in Agriculture". Sue Evan-Wong & Brian Cooper for GARD Center.
Legacies of British Slave-ownership: £1,084 19s 8d awarded, 73 enslaved. John Allen and William Shand were successful awardees, R.W. Nanton unsuccessful.
Enslaved People's History
Based on contemporary research, we have little information to share about the enslaved peoples from this plantation at this time. We do know that they had less than 100 enslaved people working on the plantation at the height of slavery in Antigua. In 1829 when slavery was ended in England, the Smith estate was awarded £1,084 19s 8d for 73 enslaved peoples' release by John Allen and William Shand, and it was also awarded £797 0s 7d as compensation for the freedom of three other enslaved persons by R.W.Nanton. We will continue our quest for more information about these vital individuals.
Ownership Chronology
Ownership from 1668 Henry Smith
1750: William Smith.
1770: Miss Mary Smith (d.1806) – 1774 contained 150 acres.
1777: Heirs of Darby 1777/78 Luffman map
1784: William Smith & Richard Oliver (1734c-1784) (*conveyed 1772)
1839: Richard Weston Nanton
1846: Messrs. William (1784-1848) & Francis Shand (1800-1868) 1846 Horsford Almanac
1872: Anna Doig. 59 acres 1872 Horsford Almanac
1877: George A. Lardy – 96 acres
1878: J.W. Fonesca – 110 acres 1878 Horsford Almanac
1891: A.E. Fonesca
1900: Henry "Kit" Hall
1933: Robert Hall 1933 Camacho map.
1996: Heirs of Hall