About
Type: Extant
Parish: St. George
Founding date: 1671
See on Google Maps!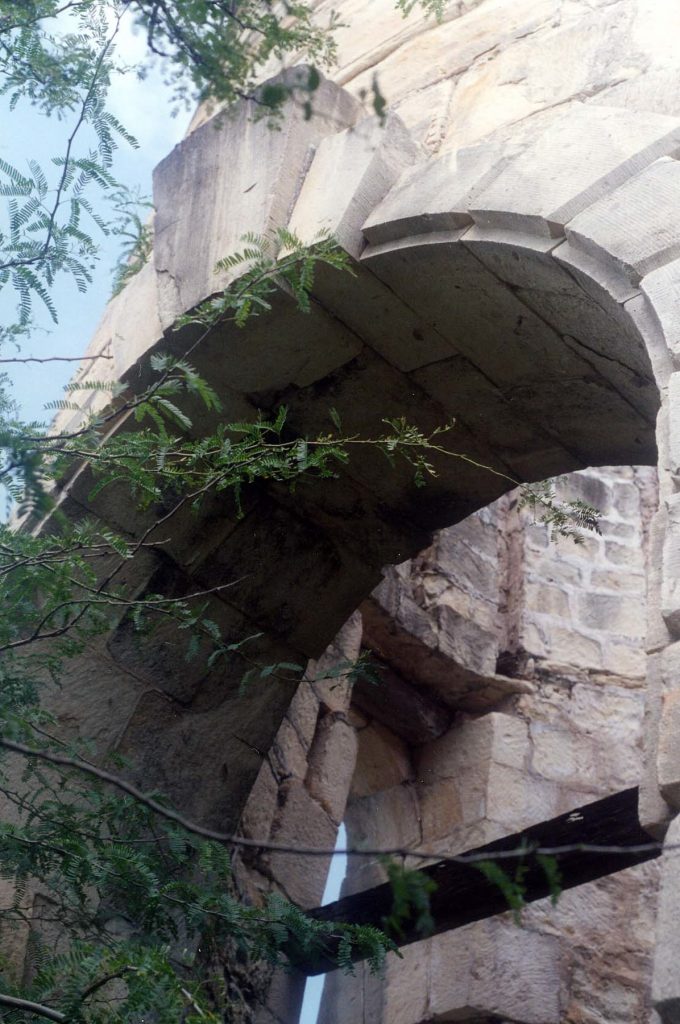 Current Status:
A small Plantation which consisted of 83 acres in 1829 and 53 slaves. The mill is in excellent shape and was extremely difficult to get to and though can be seen from Thibou's which is to its west, it was inaccessible due to bush. The rise of the land is sufficient to afford views of the sea at what is now referred to as Jabberwock Beach. After three abortive attempts, in October 2004 Jane Seagull & David Sullivan managed to hack their way in taking five hours. The attached photographs were taken by them. Beautiful stonework and the one unusual feature was an enormous rectangular pit in the floor, not seen at any other mill site. Interestingly, there is a boat landing near Spanish Point in Barbuda known as Gravenor's Landing.
Estate History/ Timeline
1671: "John Heely of Antigua, planter, Ex'or of Richard Veele, sells to Thomas Gravenor 5 acres at New North Sound." Petition of Thomas Gravenor Gent, for grant of a rock, called Exchange, north of Antigua, for building stone for erecting of a dwelling-house." Vere Oliver Vol.II P.33

1754: The Gravenor Family (John and Ann with daughters) painting by Thomas Gainsborough (1727-1788) now at Yale Center for British Art (USEVM) "Petition of Thomas Gravenor for grant of a rock called `Exchange' for erecting a dwelling house. Rec. 30 Jan.1756" Oliver Vol.II p.34. It is also understood that the Courthouse in St. John's built in 1750 (architect Peter Hamilton) around the same time, was constructed from stone quarried from the North Shore islands and ferried round to St. John's. Looking at Exchange Island today, one can clearly see that the stone has been removed.
"Anne Gravenor of Antigua, spinster Will 1789. To be buried in the burying ground on the plantation of my late father Thos. Gravenor, Esq." Vere Oliver Vol. II P30 John Laviscount married Ann Gravenor Buckley, the granddaughter and co-remainder for Gravenor's estate under the will of her grandfather. John Laviscount Anderdon (1792-1874) was a partner in the firm of Manning & Anderdon. "Jane Richardson Buckley had 1/4 of Gravenor's. Bapt.1769." Indenture 1812 "conveys to Wlm Ew. King and John Lavicount their undivided 4th part of all that plantation called "Gravenor" in the Div. of Popeshead, containing 100 acres, all in cane except a small quantity of pasture lying between the estates of Mr. Nibbs and Mr. Jarvis which encircle the said plantation all around." Vere Oliver Vol. I p.81 The name of the first Ledeatt shows up in 1632 when the first settlers arrived in Antigua. Forty years later it is recorded one Thomas Lyddiat of Antigua, Planter, "leased 12 acres of land to John Cable." The name Ledeatt continued on in Antigua till the mid-1940s while grave stones commemorating this family can still be found in the church graveyard of the All Saints Anglican Church.

In 1890, Dr. John Freeland, a Government Medical Officer, estimated that in August 1890 there were 53 lepers in Antigua, 12 men and 19 women among them, who lived in the leper asylum. A global panic about leprosy had been galvanized in particular by the death in 1889 of Father Damien de Veuster, a missionary priest, at a leper asylum in Hawaii. Freda Cassins' "With Silent Tread" was also written around this time. The British Medical Journal on October 5, 1889, published the article "Notes on Leprosy as Observed in Antigua, West Indies", by Dr. John Freeland. Legacies of the British Slave-ownership.

1851: Antigua Almanac shows Gravenor's 83 acres belonging to Heirs of John Freeland. www.tombstones.bb (2005) Registered but not found.
Enslaved People's History
Based on contemporary research, we have little information to share about the enslaved peoples from this plantation at this time. We only know that this estate was awarded £891 5 s 11 d for the liberation of 46 enslaved people after slavery was abolished in the Caribbean. We will continue our quest for more information about these vital individuals.

Legacies of British Slave Ownership: Gravenor was awarded £891 5s 11d for 46 enslaved. The awardees were William Clarke and Clement Tudway Swanson.
Ownership Chronology
Ownership from 1671 Thomas Gravenor
1750: Thomas Gravenor – Will 1757 1777/78 Luffman map
1769: Jane Richardson Buckley
1790: Heirs of William Gravenor in 1/4 parts
1812: William King & John Lavicount 4th part
1839: Swanston & Clarke
1843: Heirs of John Freeland Dr.
1851: Heirs of John Freeland
1872: Horsford Almanac
1891: C.D. Ledeatt
1933: Commander Joseph T. Dew. – 1933 Camacho map
1946: Antigua Syndicate Estates, Ltd.
1968: Antigua Government – Crown Land
References
Legacies of British Slave Ownership:
www.tombstones.bb (2005)